20TH CENTURY STUDIOS, NEW REGENCY AND ENTERTAINMENT ONE RELEASE TRAILER AND POSTER FOR EPIC SCI-FI ACTION THRILLER "THE CREATOR," OPENING IN CINEMAS SEPTEMBER 29
DIRECTED BY GARETH EDWARDS ("ROGUE ONE, "GODZILLA"), FILM STARS JOHN DAVID WASHINGTON ("TENET"), GEMMA CHAN ("ETERNALS"), KEN WATANABE ("INCEPTION"), STURGILL SIMPSON ("DOG"), NEWCOMER MADELEINE YUNA VOYLES AND ALLISON JANNEY ("I, TONYA")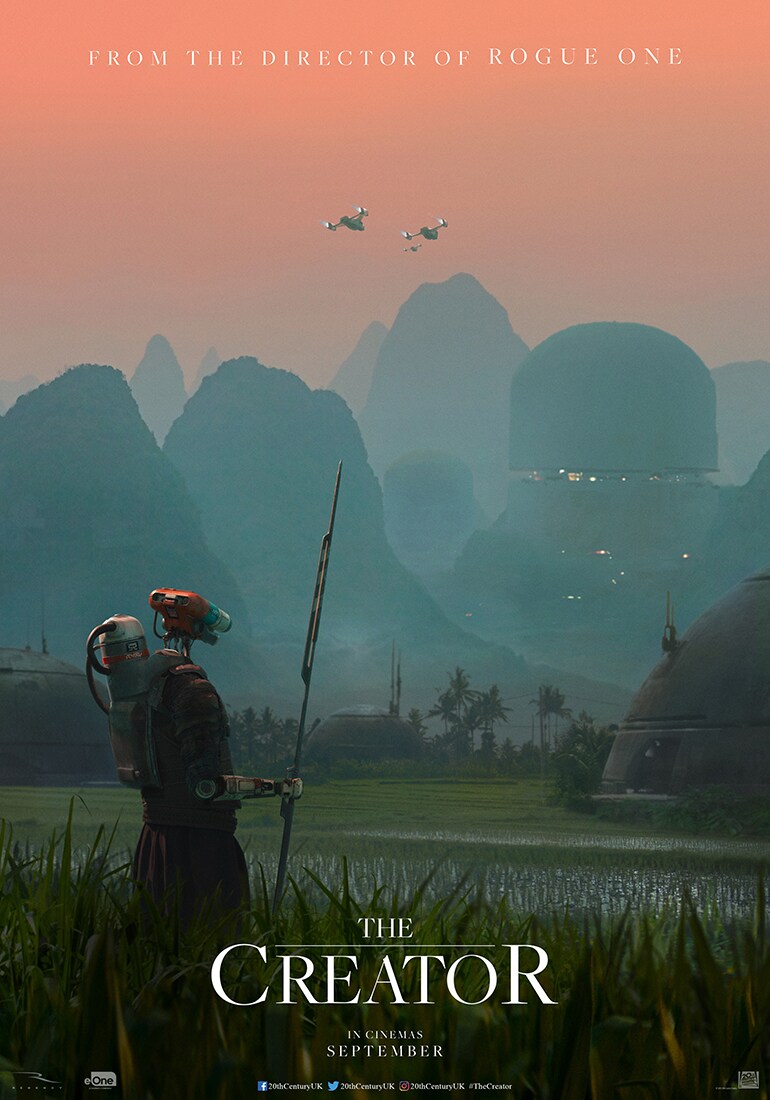 WATCH THE TRAILER NOW: https://www.youtube.com/watch?v=t1mXMEhxLtQ
EMBED CODE: <iframe width="560" height="315" src=https://www.youtube.com/embed/t1mXMEhxLtQtitle="YouTube video player" frameborder="0" allow="accelerometer; autoplay; clipboard-write; encrypted-media; gyroscope; picture-in-picture; web-share" allowfullscreen></iframe>
DOWNLOAD THE POSTER AND STILLS: https://dam.gettyimages.com/s/fg7h77vn87vp4pmx4v5pc
LONDON, U.K. (May 17, 2023) – 20th Century Studios, New Regency and Entertainment One have released the trailer and poster for their epic sci-fi action thriller "The Creator," which opens in cinemas September 29. Directed by Gareth Edwards ("Rogue One," "Godzilla"), the film stars John David Washington ("Tenet"), Gemma Chan ("Eternals"), Ken Watanabe ("Inception"), Sturgill Simpson ("Dog"), newcomer Madeleine Yuna Voyles and Academy Award® winner Allison Janney ("I, Tonya"). The film's screenplay is by Gareth Edwards and Chris Weitz, from a story by Edwards. The producers are Gareth Edwards, p.g.a., Kiri Hart, Jim Spencer, p.g.a. and Arnon Milchan. The executive producers are Yariv Milchan, Michael Schaefer, Natalie Lehmann, Nick Meyer and Zev Foreman.
Amidst a future war between the human race and the forces of artificial intelligence, Joshua (Washington), a hardened ex-special forces agent grieving the disappearance of his wife (Chan), is recruited to hunt down and kill the Creator, the elusive architect of advanced AI who has developed a mysterious weapon with the power to end the war… and mankind itself. Joshua and his team of elite operatives journey across enemy lines, into the dark heart of AI-occupied territory… only to discover the world-ending weapon he's been instructed to destroy is an AI in the form of a young child.
About 20th Century Studios:
20th Century Studios is an Academy Award®-winning producer of feature films for both theatrical and streaming release. It is home to such iconic franchises as "Avatar," "Alien," "Planet of the Apes," "Predator," "Die Hard," and "Kingsman" and creator of hit films including "Bohemian Rhapsody," "The Greatest Showman," "The Martian," and "Ford v Ferrari" and "Free Guy." It also launched the successful "Deadpool" and "X-Men" film series, Oscar®-winner "West Side Story," "Prey" and "Avatar: The Way of the Water," the fourth highest grossing film worldwide. Previously known as 20th Century Fox prior to becoming a part of The Walt Disney Company, 20th Century Studios is recognized for its incredible 80-year legacy. It is the studio that brought the world the first six "Star Wars" films, in addition to standouts from across the decades, including "Miracle on 34th Street," "All About Eve," "The King and I," "The Sound of Music," "Butch Cassidy and the Sundance Kid," "The Princess Bride," "The Abyss," "Edward Scissorhands," "Home Alone," "My Cousin Vinny," "Speed," "Cast Away," "Moulin Rouge!," "Minority Report," "Gone Girl" and "The Revenant."
About New Regency
Founded in 1991 by renowned producer Arnon Milchan, New Regency is actively engaged in entertaining the world. The company is run by Chairman and CEO, Yariv Milchan, and has produced some of the most successful and critically-acclaimed films of all time with over 140 films and more than 50 television series in the company's vast library, including Academy Award®-winner THE REVENANT (2016), the back-to-back Academy Award®-winning Best Pictures, 12 YEARS A SLAVE (2014) and BIRDMAN (2015) as well as the 2018 box office hit BOHEMIAN RHAPSODY. The company also backed celebrated filmmaker Alejandro G. Iñárritu's conceptual virtual reality installation "Carne y Arena," and the Broadway musical "Pretty Woman," adapted from the beloved 1990 romantic comedy film originally produced by Arnon Milchan. New Regency is dedicated to continuing to foster its unparalleled filmmaker relationships and today boasts partnerships with the most acclaimed and sought-after creative forces in the industry.
About eOne
Entertainment One Ltd. (eOne) is a talent-driven independent studio that specialises in the development, acquisition, production, financing, distribution and sales of entertainment content. As part of global play and entertainment company Hasbro (NASDAQ: HAS), eOne's expertise spans across film, television and family programming. Through its extensive reach and scale, and a deep commitment to high-quality entertainment, eOne unlocks the power and value of creativity. eOne brings to market both original and existing content, through a diversified network of creative partners and eOne companies.
For images click here, and for AV assets, click here

SOCIAL MEDIA:
Twitter: @20thCenturyUK
Instagram: @20thcenturyuk
Facebook: @20thCenturyUK
YouTube: @20thCenturyUK
#TheCreator
UK STUDIOS PRESS CONTACTS:
Charlotte Peters
Charlotte.Peters@disney.com
Gemma Brooks
Gemma.Brooks@disney.com
Edith Thomas
Edith.Thomas@disney.com