Epic, Sci-Fi Adventure Hits the Big Screen February 17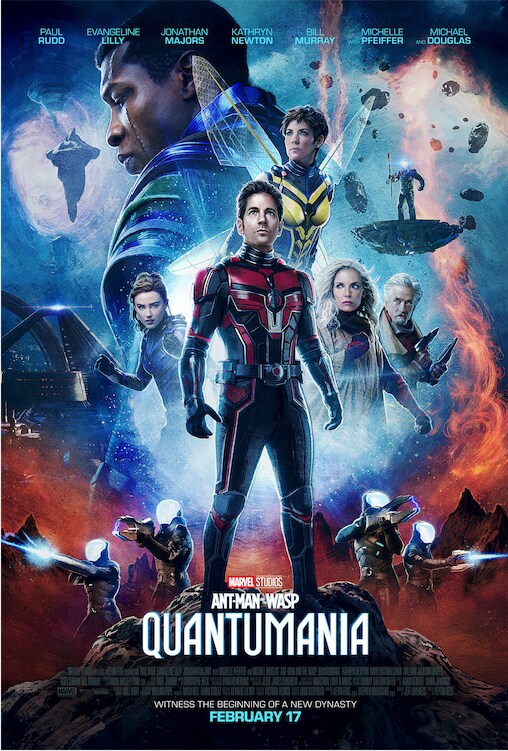 Download trailer here:
https://www.youtube.com/watch?v=WenIJDANnsQ
Embed Code: <iframe width="560" height="315" src="https://www.youtube.com/embed/WenIJDANnsQ" title="YouTube video player" frameborder="0" allow="accelerometer; autoplay; clipboard-write; encrypted-media; gyroscope; picture-in-picture; web-share" allowfullscreen></iframe>
Download poster and new images here:
https://wdsprod.box.com/s/5266mvt7ri42ykti1dks4hn93cse1dc7
A new, action-packed trailer for Marvel Studios' "Ant-Man and The Wasp: Quantumania," which opens in cinemas Feb. 17, 2023, debuted at last night's College Football Playoff National Championship. Kicking off Phase 5 of the Marvel Cinematic Universe, the fast-paced, big-screen adventure features the MCU's most powerful villain to date: Kang the Conqueror. Check out the trailer, plus a new poster and images, and please share with your readers.
Super-Hero partners Scott Lang (Paul Rudd) and Hope van Dyne (Evangeline Lilly) return to continue their adventures as Ant-Man and the Wasp. Together, with Hope's parents Janet van Dyne (Michelle Pfeiffer) and Hank Pym (Michael Douglas), and Scott's daughter Cassie Lang (Kathryn Newton), the family finds themselves exploring the Quantum Realm, interacting with strange new creatures and embarking on an adventure that will push them beyond the limits of what they thought possible. Directed by Peyton Reed and produced by Kevin Feige, p.g.a. and Stephen Broussard, p.g.a., "Ant-Man and The Wasp: Quantumania" also stars Jonathan Majors as Kang, David Dastmalchian as Veb, Katy O'Brian as Jentorra, William Jackson Harper as Quaz and Bill Murray as Lord Krylar. The sci-fi adventure opens in cinemas on Feb. 17, 2023.
SOCIAL MEDIA:
Facebook: @MarvelUK
Twitter: @MarvelUK
Instagram: @marvel_uk
Hashtag: #AntManAndTheWasp
For images click here, and for AV assets, click here
PRESS CONTACTS
Disney Studios Publicity UK
Charlotte Peters - Charlotte.Peters@Disney.com
Gemma Brooks - Gemma.Brooks@Disney.com