Official Trailer for 10-Part Sci-Fi Series from Leading African Directors Available NowAnimated Anthology of Short Films Set to Enthrall Viewers this Summer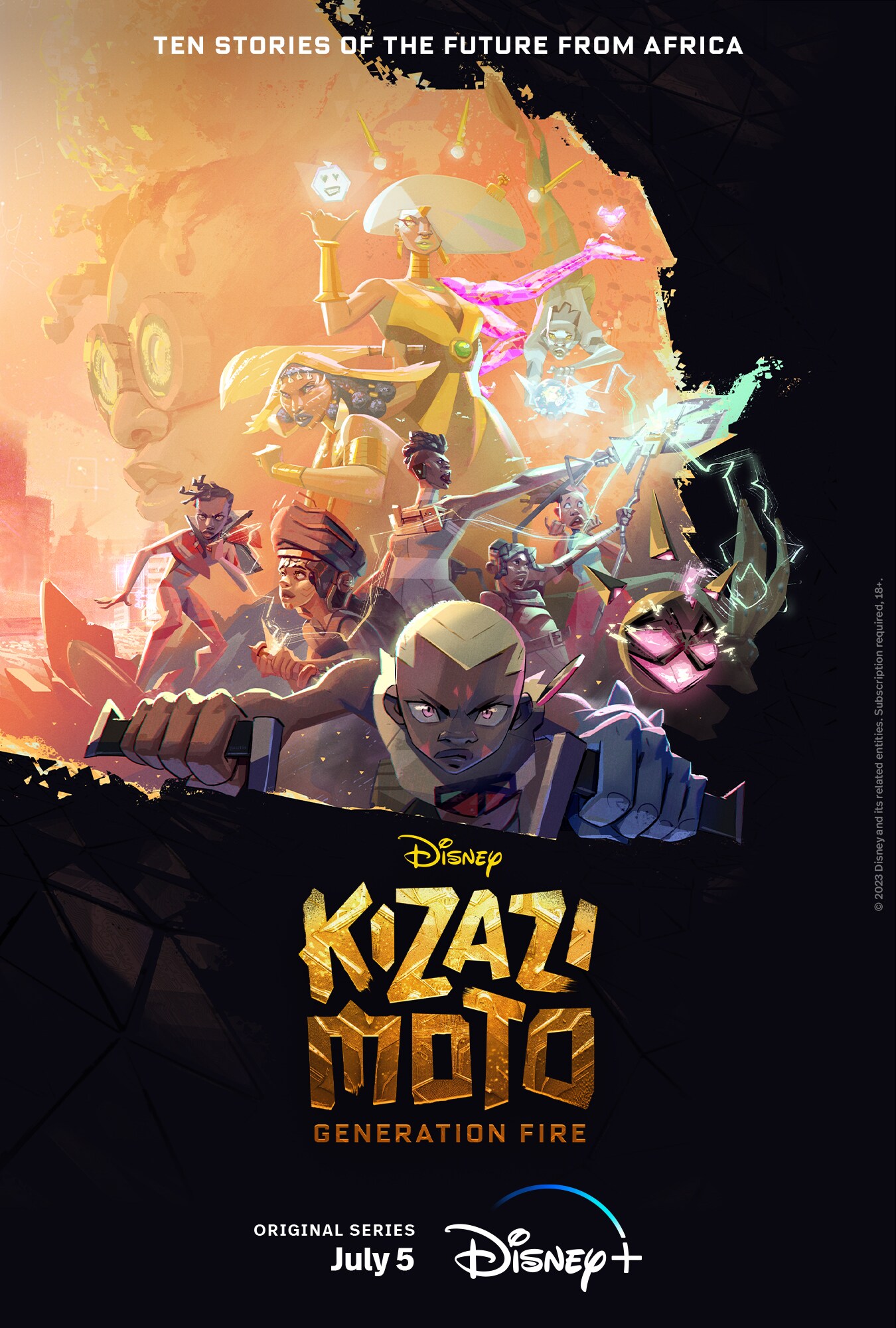 Key Art: HERE
Trailer: HERE
Embed: <iframe width="560" height="315" src=https://www.youtube.com/embed/jFBu33_XeUI title="YouTube video player" frameborder="0" allow="accelerometer; autoplay; clipboard-write; encrypted-media; gyroscope; picture-in-picture; web-share" allowfullscreen></iframe>
Stills: HERE
LONDON, United Kingdom. (13 June, 2023) – As Disney Europe, Middle East & Africa (EMEA) announced the upcoming Disney animation slate at the Annecy International Animation Film Festival today, Disney+ released the trailer for the upcoming animated anthology "Kizazi Moto: Generation Fire", which will premiere exclusively on Disney+ on Wednesday 5 July.
Featuring stories from creators hailing from Egypt, Kenya, Nigeria, South Africa, Uganda, and Zimbabwe, "Kizazi Moto: Generation Fire" promises to take viewers on an unforgettable ride into Africa's future, presenting visions of the continent as never before seen.
The action-packed animated anthology draws on the continent's rich and diverse histories and cultures to present 10 sci-fi and fantasy stories featuring bold and brave new worlds of advanced technology, aliens, spirits, and monsters.
The 10 films are: "Stardust" (Ahmed Teilab, Egypt), "Mkhuzi: The Spirit Racer" (Simangaliso "Panda" Sibaya and Malcolm Wopé, South Africa), "Hatima" (Terence Maluleke and Isaac Mogajane, South Africa), "Enkai" (Ng'endo Mukii, Kenya), "Moremi" (Shofela Coker, Nigeria), "Surf Sangoma" (Nthato Mokgata and Catherine Green, South Africa), "Mukudzei" (Pious Nyenyewa and Tafadzwa Hove, Zimbabwe), "First Totem Problems" (Tshepo Moche, South Africa), "Herderboy" (Raymond Malinga, Uganda) and "You Give Me Heart" (Lesego Vorster, South Africa).
"Kizazi Moto: Generation Fire" is executive produced by Peter Ramsey (co-director of the Oscar®-winning "Spider-Man: Into The Spider-Verse"), alongside Tendayi Nyeke and Anthony Silverston from Triggerfish, the lead studio on this anthology.
"Kizazi Moto: Generation Fire" will debut globally on 5 July 2023, exclusively on Disney+.
ABOUT DISNEY+
Disney+ is the dedicated streaming home for movies and shows from Disney, Pixar, Marvel, Star Wars, and National Geographic, along with The Simpsons and much more. In select international markets, it also includes the general entertainment content brand, Star. The flagship direct-to-consumer streaming service from The Walt Disney Company, Disney+ offers an ever-growing collection of exclusive originals, including feature-length films, documentaries, live-action and animated series, and short-form content. With unprecedented access to Disney's long history of incredible film and television entertainment, Disney+ is also the exclusive streaming home for the newest releases from The Walt Disney Studios. For more, visit disneyplus.com, or find the Disney+ app on most mobile and connected TV devices.

Twitter: @DisneyPlusUK
Instagram: @DisneyPlusUK
Facebook: @DisneyPlusUK
TikTok: @DisneyPlus
Hashtag: #KizaziMoto
MEDIA CONTACTS
Disney+ Media Relations

Morgan Epperson
Morgan.Epperson@disney.com