From Executive Producers Dwayne Johnson, Dany Garcia, Hiram Garcia and Brian Gewirtz – Through the Seven Bucks Productions Banner – the Film is Directed by Kurt Mattila 'Stuntman' Stars Stunt Performer Eddie Braun and is executive produced by Kelly Knievel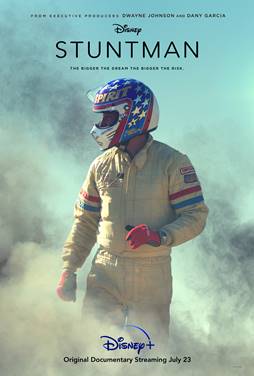 Today, Disney+ revealed the official trailer and key art for "Stuntman," streaming on Friday, July 23. The documentary film follows legendary stuntman Eddie Braun as he attempts one of the most dangerous stunts in history. Contemplating retirement and having survived over three decades of hellacious car crashes, explosions, high falls and death-defying leaps, Eddie decides to complete what his childhood hero never finished – the infamous Snake River Canyon rocket jump – an audacious televised event that almost killed famed daredevil, Evel Knievel.

TRAILER: https://youtu.be/ZpkRgaXNGyo
EMBED: <iframe width="560" height="315" src="https://www.youtube.com/embed/ZpkRgaXNGyo" title="YouTube video player" frameborder="0" allow="accelerometer; autoplay; clipboard-write; encrypted-media; gyroscope; picture-in-picture" allowfullscreen></iframe>
KEY ART AND MEDIA KIT: https://dmedmedia.disney.com/disney-plus/stuntman
"Stuntman" is executive produced by Dwayne Johnson, Dany Garcia, Hiram Garcia and Brian Gewirtz from Seven Bucks Productions. Producers from Driven Pictures are Steven Golebiowski, Eddie Braun and Kurt Mattila. Mattila also directed and edited the feature documentary. Kelly Knievel serves as executive producer. "Stuntman" includes music by Slash featuring Myles Kennedy and the Conspirators.
@DisneyPlusUK
#DisneyPlus
#StuntmanDoc
About Disney+
Disney+ is the dedicated streaming home for movies and shows from Disney, Pixar, Marvel, Star Wars, and National Geographic, as well as the new general entertainment content brand in select International markets, Star. As part of Disney's Media and Entertainment Distribution segment, Disney+ is available on most internet-connected devices and offers commercial-free programming with a variety of original feature-length films, documentaries, live-action and animated series, and short-form content. Alongside unprecedented access to Disney's incredible library of film and television entertainment, the service is also the exclusive streaming home for the latest releases from The Walt Disney Studios.
About Seven Bucks Productions
Co-founded by Dwayne Johnson and Dany Garcia, Seven Bucks Productions is a multi-platform production company pioneering original content for television, film, emerging technologies, and digital networks. Crossing all entertainment verticals, Seven Bucks Productions creates innovative content rooted in authenticity, strong storytelling, and passion.
Seven Bucks Productions has an ever-expanding slate including tent-pole movies such as Disney's Jungle Cruise, Netflix's Red Notice, Warner Bros. Black Adam and DC League of Super-Pets, Sony's Jumanji: Welcome to the Jungle and Jumanji: The Next Level, Universal's Hobbs and Shaw, among others. The company also produces original television programming including NBC's "Young Rock," HBO's "Ballers," Disney+'s "Behind the Attraction" and "Stuntman," NBC's "The Titan Games," and Paramount Network's "Rock the Troops.
About Driven Pictures
Driven Pictures is an award-winning film and television production company founded by professional stuntman Eddie Braun, writer/producer Steven Golebiowski, and director Kurt Mattila. Driven Pictures' debut film, Stuntman, is Executive Produced by Dwayne "The Rock" Johnson and Dany Garcia's Seven Bucks Productions, won the Audience Choice Award at the Los Angeles Film Festival and will be released worldwide July 23rd 2021 on Disney+. With an expanding slate of scripted and non-scripted film and television projects in development, Driven Pictures' mission is to inspire and captivate by focusing on multidimensional stories. 
Media Contacts
Disney+ Press Office
DisneyUKpressoffice@disney.co.uk