The latest Marvel Studios' release debuted at Number 1 at the UK & Ireland Box Office, taking £19.8M ($24.3M) in its opening weekend (including Thursday).
Monday, May 9: Marvel Studios' DOCTOR STRANGE IN THE MULTIVERSE OF MADNESS secured the No.1 spot in the UK & Ireland box office in its opening 4 day weekend. This marks the biggest opening weekend for a film in 2022 and fourth best in the history of the MCU. The latest instalment in the Marvel Cinematic Universe opened in UK cinemas on May 5.
The film stars Benedict Cumberbatch, Elizabeth Olsen, Chiwetel Ejiofor, Benedict Wong, Xochitl Gomez, with Michael Stühlbarg, and Rachel McAdams, directed by Sam Raimi and Kevin Feige as producer. Marvel Studios' next instalment, THOR: LOVE AND THUNDER, directed by Taika Waititi and starring Chris Hemsworth, Natalie Portman, Tessa Thompson and Christian Bale, is due to release on July 8.
"It's a treat to behold Raimi back in action" – Dan Jolin, Empire
"Sophisticated, beautifully-acted, emotional and very funny" – Charlotte O'Sullivan, Evening Standard
"The movie has Raimi's fingerprints all over it" – Ian Sandwell, Digital Spy
In Marvel Studios' DOCTOR STRANGE IN THE MULTIVERSE OF MADNESS, the MCU unlocks the Multiverse and pushes its boundaries further than ever before. Journey into the unknown with Doctor Strange, who, with the help of mystical allies both old and new, traverses the mind-bending and dangerous alternate realities of the Multiverse to confront a mysterious new adversary.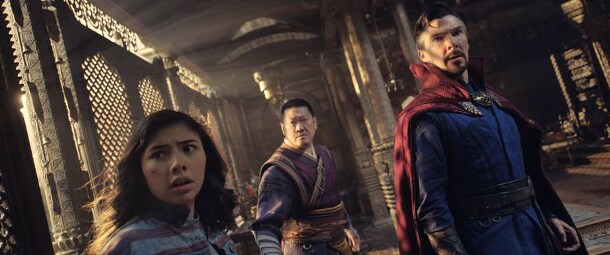 DOCTOR STRANGE IN THE MULTIVERSE OF MADNESS IS IN UK CINEMAS NOW
Press Materials:
For images click HERE
Press contacts:
Disney Studios UK Publicity:
Esther Paterson Esther.X.Paterson@Disney.com
Gemma Brooks Gemma.Brooks@Disney.com
Twitter: @MarvelUK
Facebook: @MarvelUK
Instagram: @Marvel_UK