- Iconic London landmarks have been 'iced over' to celebrate 10 years of Disney's Frozen –
- Oscar-winning movie broke record for highest-grossing animated film of all time in year of release
- New research released on the anniversary identifies music and themes of sisterhood, self-discovery and empowerment as key factors to the franchise's success –
- Anniversary celebrations include movie re-release, new podcast series of a standalone adventure set after Frozen 2, fan-favourite content on Disney+, updates to the hit musical, and a range of new products, toys, and costumes -
London, 3rd October: A Piccadilly Circus black taxi and classic red phone box in Leicester Square have been given an ice-cold transformation overnight to celebrate the 10th anniversary of Disney's Frozen.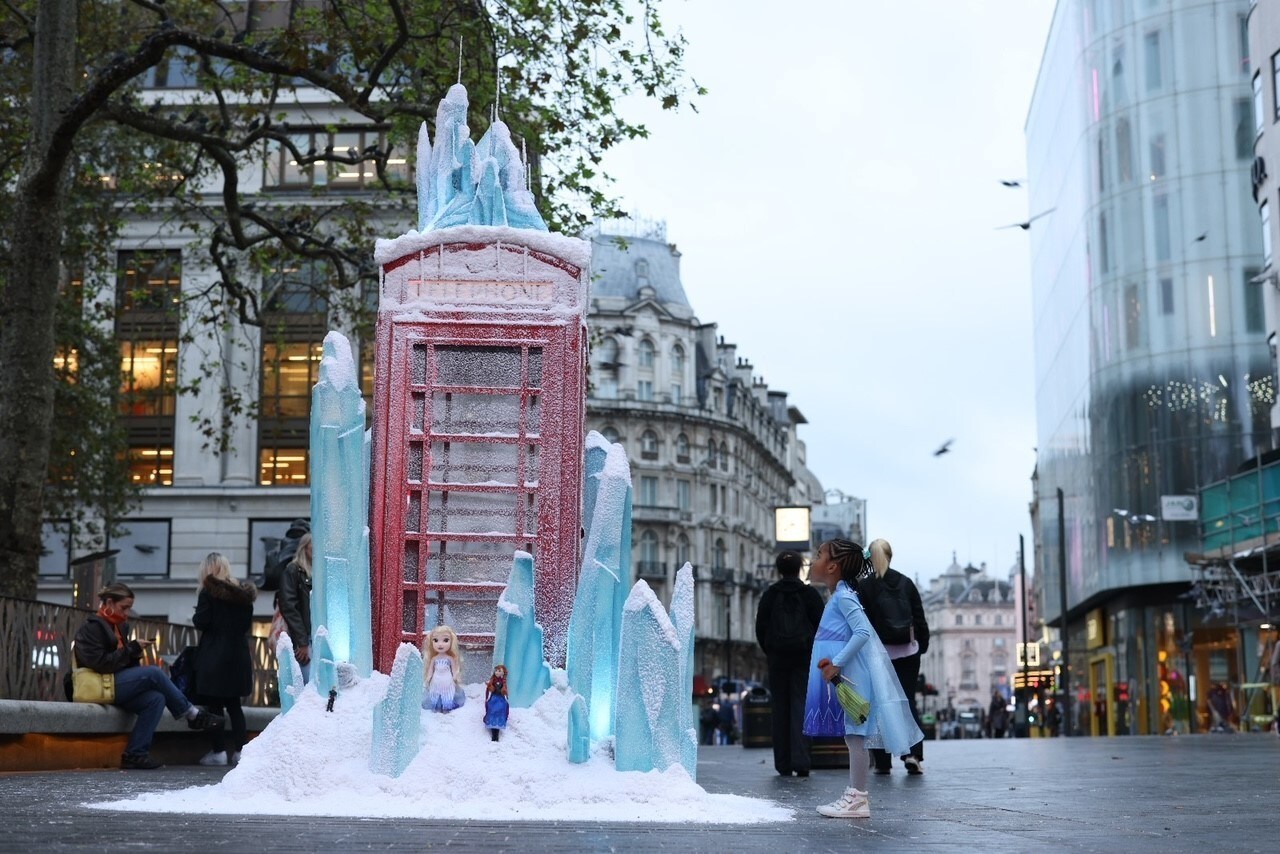 The record-breaking movie has been a pop culture phenomenon since release, inspiring millions of toys, video games, books, sing-alongs, recipes, hairstyles and immersive live experiences – including a hit stage show. The film follows princesses Elsa and Anna in an epic and empowering adventure about the bond of sisterhood, letting go of others' expectations and never giving up.

Now, a new study commissioned by Disney from Dr Sarah Godfrey of the University of East Anglia, Lessons From Arendelle: The Cultural Phenomenon of Disney's Frozen (found here) details its impact on society - from a tourism boom in Norway increasing by 40 per cent2 as a result of the country being the real-life inspiration for Arendelle, parents desperate to get their hands on must-have product for Christmas, to the rise of sing-along videos on YouTube – including 3.2 billion views of Let it Go - and popularity of the name Elsa.
Godfrey's study notes that the theme of sisterhood is a key factor in the film's success, a reference supported by anecdotal feedback from young adults from around the world, as well as new research1 by Disney, resonating with one in two children. Half of parents (46 per cent) feel the characters had a positive impact on the representation of gender roles in animated films, and 33 per cent credited this for boosting their sons and daughters' confidence.
Parents agreed that the movie's themes positively affected their child, the top ones being kindness (44 per cent), courageousness (33 per cent), acceptance (30 per cent) and teamwork (29 per cent).
Three in four parents (71 per cent) said the timeless story of love, bravery and perseverance sparked their children's imaginations and encouraged their children to role-play the characters or play with Frozen toys and dolls.
Dr Sarah Godfrey, Associate Professor, Art and Media at the University of East Anglia, said: "Frozen is a global phenomenon which pervaded popular culture in a way we can't ignore, having a massive impact on everything from the names we call our children, to inspiring multiple viral trends such as Elsa hair tutorials, celebrity lip synch battles to the popularity of the sing-along concept on YouTube and TikTok. It was the first time many young girls saw an act of sisterly love given more prominence over a romantic one. Elsa and Anna have been crucial in creating spaces for new female characters, not just within the Disney canon but in cinema and media culture more broadly."
Claire Terry, SVP, Disney Consumer Products, Games & Publishing EMEA, said: "As we celebrate Frozen's10th anniversary and acknowledge its continued impact on audiences around the world, we're looking forward to surprising Londoners by freezing over famous icons, complete with Elsa, Anna and Olaf products. We hope to inspire families to get into the Frozen spirit this month with new toy and dress-up ranges released – perfect to bring along to watch the film's re-release in cinemas."
A series of Frozen celebrations has kicked off around the world, including exclusive fan screenings taking place throughout Europe this month. Frozen the Musical is also celebrating its second anniversary, having already attracted 1.5 million spectators in the UK alone. Fans will also be able to immerse themselves at the world's first Frozen themed land, World of Frozen, at Hong Kong Disneyland set to open from 20 November 2023 and at the Kingdom Of Arendelle coming soon to Disneyland Paris. And earlier this year, Bob Iger also announced a third movie.
October will also see the new Disney Frozen Podcast: Forces of Nature that extends the storytelling as an audio-first offering, complete with new characters and an original, standalone adventure set after the events of Frozen 2.
Jennifer Lee, the writer/director of Frozen and Frozen 2, has also joined the epic line up of creative visionaries supporting Disney's Create 100, a global celebration of creativity marking 100 years of Disney storytelling. The new initiative offers fans around the globe the chance to bid on unique items and experiences inspired by each creator's personal connection to Disney, Pixar, Marvel, Star Wars and 20th Century Studios' stories and characters. Jennifer Lee donated a signed crew-exclusive Frozen 2 maquette of Elsa, which fans across 18 countries will be able to bid on from 12 October until 30 October 2023 with funds from auction sales going to Make-A-Wish.
For those re-recreating their love for Frozen at home can visit flagship M&S stores to discover the new range of fashion and beauty Frozen products and take a trip to Hamleys in Regent Street to find the Frozen castle home to a range of dolls, playsets and soft toys.
A huge range of toys, clothes, costumes and products, such as the Mattel Elsa Singing Doll, DuneIm Frozen home range and a new H&M Frozen clothing collection, are available to buy now to mark the anniversary. Product information and imagery can be found here.
- ENDS -
Notes to Editors
For more information, please contact:
Find out more about Disney's Frozen 10th Anniversary here - https://frozen.disney.com/
Find out more about Create 100 here - https://www.disney.co.uk/disney100/create-100
About Research
13,000 parents of children aged 3-21 years old were surveyed by Fly Research across the UK, France, Germany, Spain and Italy in August 2023.
2 Source: https://www.travelweekly.com/Travel-News/Tour-Operators/Frozen-is-sending-tourists-packing-for-Norway
About Disney Consumer Products, Games and Publishing
Disney Consumer Products, Games and Publishing (CPGP) brings the magic of The Walt Disney Company's brands and franchises—including Disney, Pixar, Marvel, Star Wars, National Geographic, and more—into the daily lives of families and fans around the world through products and experiences across more than 100 retail categories from toys and t-shirts to apps, books, video games, and more. A division of the Disney Parks, Experiences and Products segment, CPGP's global operations include: the world's largest licensing business, one of the biggest children's publishing brands, a leading licensor of interactive games across platforms, and the shopDisney e-commerce platform.