An Exciting Collaboration Between Japanese Director Miike Takashi and an All-Star Korean Cast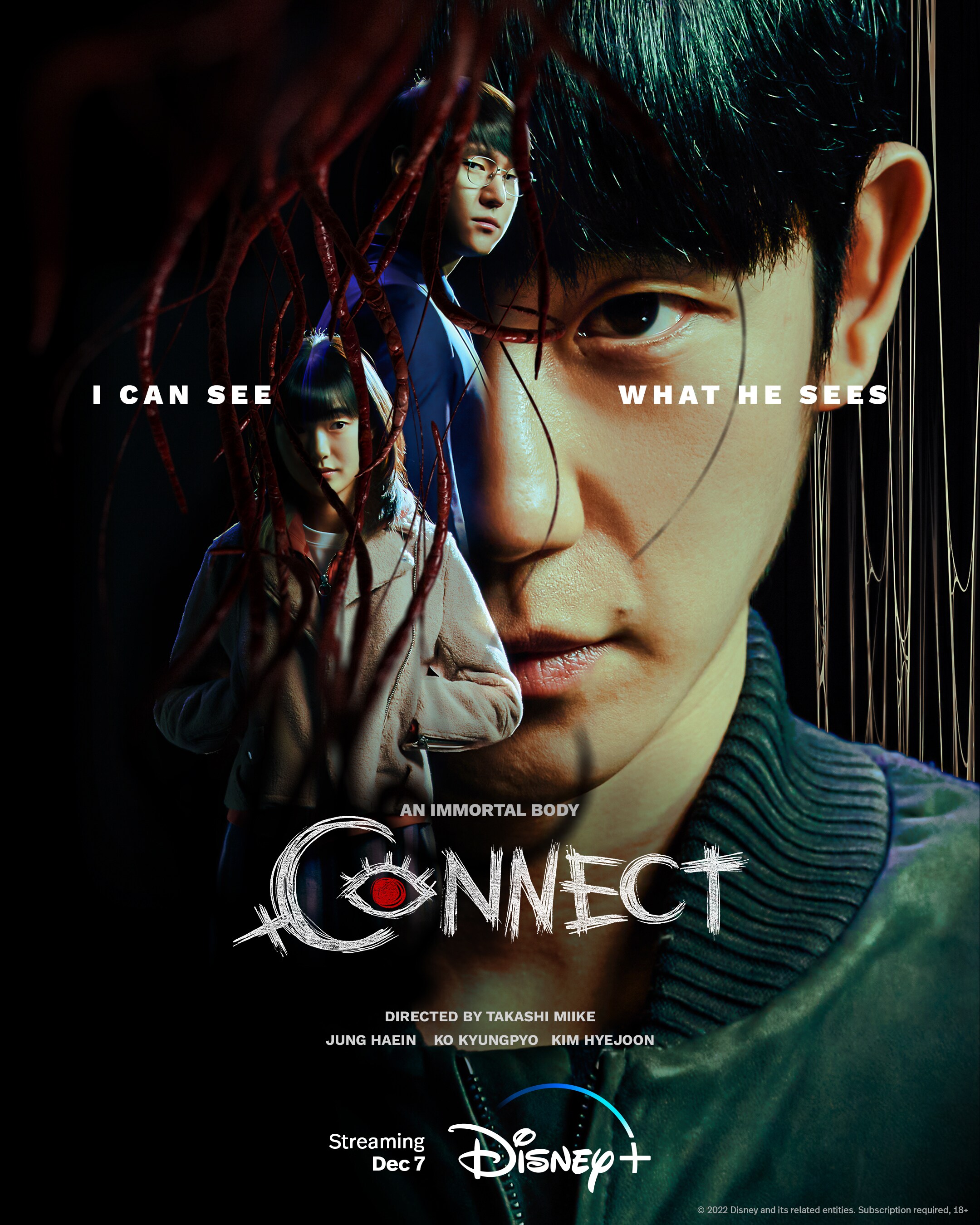 Download Key Art: HERE
LONDON, U.K. (7 December, 2022) – Following rave reviews at a public screening at Busan International Film Festival's On Screen program, the highly anticipated Korean Original thriller "Connect" is now streaming all six episodes only on Disney+.
"Connect" stars Jung Haein as "Ha Dongsoo" - a new type of immortal human known as 'Connect', who is kidnapped by a gang of organ harvesters that are determined to take his eyes. After waking up on an operating table part way through the surgery, Dongsoo is able to escape with one eye remaining. He soon discovers that he can still see out of his missing eye, which is now being used by a serial killer who has been terrorizing the residents of Seoul. Determined to get back what was taken, Dongsoo will pursue the killer, taking whatever steps are necessary to make himself whole again.
"Connect" is directed by Miike Takashi ("Audition", "Ichi the Killer," "Gozu") and also stars Ko Kyungpyo ("Reply 1988," "Seoul Vibe," "Chicago Typewriter") as serial killer "Oh Jinseop," and Kim Hyejun ("Kingdom," "Inspector Koo," "Matrimonial Chaos") as the mysterious "Irang."
Robust parental controls ensure that Disney+ remains a suitable viewing experience for everyone in the family. Subscribers can set access limits on mature content and create PIN-protected profiles alongside the already existing Kids Profiles to give parents and guardians peace of mind.
Twitter: @DisneyPlusUK

Instagram: @disneyplusuk

Facebook: @DisneyPlusUK

YouTube: Disney UK
Hashtag: #DisneyPlusUK
ABOUT DISNEY+
Disney+ is the dedicated streaming home for movies and shows from Disney, Pixar, Marvel, Star Wars, and National Geographic, along with The Simpsons and much more. In select international markets, it also includes the general entertainment content brand, Star. The flagship direct-to-consumer streaming service from The Walt Disney Company, Disney+ is part of the Disney Media & Entertainment Distribution segment. The service offers an ever-growing collection of exclusive originals, including feature-length films, documentaries, live-action and animated series, and short-form content. With unprecedented access to Disney's long history of incredible film and television entertainment, Disney+ is also the exclusive streaming home for the newest releases from The Walt Disney Studios. For more, visit disneyplus.com, or find the Disney+ app on most mobile and connected TV devices.
MEDIA CONTACTS
Disney+ Media Relations
Joe Coupe
Joe.Coupe@disney.com
Alfie Waugh
Alfie.waugh@disney.com