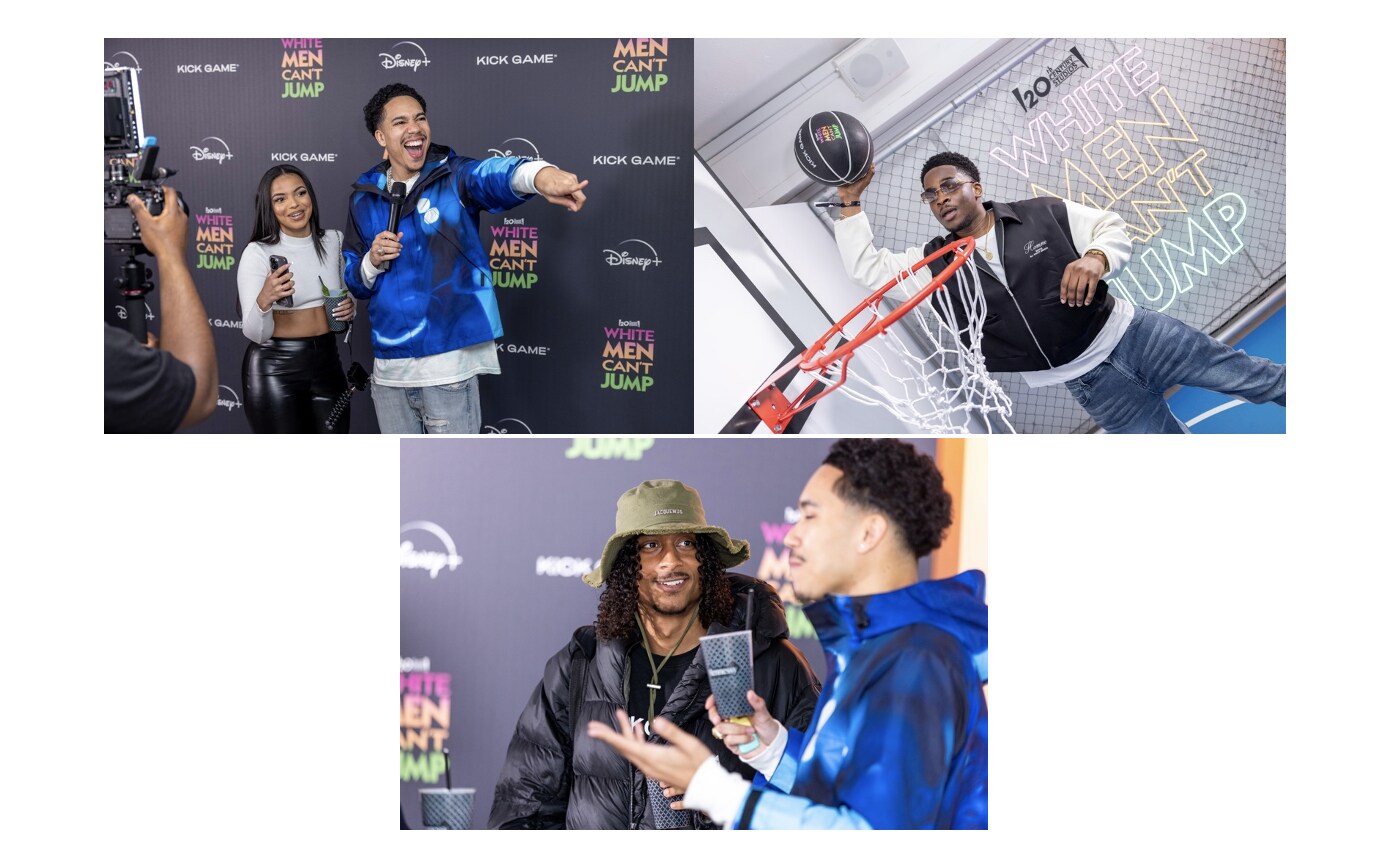 Link to images: https://dam.gettyimages.com/thewaltdisneystudios/whitemencantjumplondonscreening
LONDON, U.K. (19 May, 2023) – Leading luxury sneaker retailer Kick Game have teamed up with Disney+ to celebrate the release of 20th Century Studios' "White Men Can't Jump" with a screening event and in-store competitions.
Kick Game's positioning at the forefront of the sneaker world in the UK make them a perfect fit for such a nostalgic, streetwear-heavy film. The collaboration was kicked off last night with a pre-screening reception at their flagship Covent Garden store.
The event was hosted by Craig Mitch, the presenter of Kick Game's landmark "Sneaker Shopping" YouTube series, the pre-reception had entertainment from a live DJ, as well as basketball themed competitions and saw guests Sienna King and, captain of the GB Basketball team, Myles Hesson in attendance.
Following today's "White Men Can't Jump" launch on Disney+, Kick Game will be running competitions available to sign up exclusively at Kick Game UK store locations and offers participants an opportunity to win a range of prizes, including an Ultimate Home Entertainment bundle, premium sneakers and basketballs.
About "White Men Can't Jump":
"White Men Can't Jump" is a modern remix of the iconic 1992 film that celebrates the streetball hustling culture of Los Angeles. Sinqua Walls stars as Kamal, once a promising player who derailed his future in the sport, and multi-platinum rap superstar Jack Harlow makes his movie debut as Jeremy, a former star of the game whose injuries stalled his own career. Juggling tenuous relationships, financial pressures and serious internal struggles, the two ballers - opposites who are seemingly miles apart - find they might have more in common than they imagined possible.
The all-new comedy begins streaming on May 19, exclusively on Disney+ in the UK. Directed by Calmatic, the movie also stars Teyana Taylor, Laura Harrier, Vince Staples, Myles Bullock and Lance Reddick.The film is written by Kenya Barris and Doug Hall. "White Men Can't Jump" is produced by Kenya Barris and Paul Hall; it's executive produced by Blake Griffin, Ryan Kalil, Noah Weinstein, Calmatic, Doug Hall, E. Brian Dobbins and James Powers.
About Kick Game:
As Kick Game continues to dominate the luxury sneaker market, their collaboration with Disney+ and 20th Century Studios' "White Men Can't Jump" showcases their ability as a brand to keep their finger on the pulse across sport and culture. The brand has become inseparable from streetwear culture and is renowned for producing leading content across its YouTube and social channels, where their videos have been watched millions of times over.
About Disney+:
Disney+ is the dedicated streaming home for movies and shows from Disney, Pixar, Marvel, Star Wars, and National Geographic, along with The Simpsons and much more. In select international markets, it also includes the general entertainment content brand, Star. The flagship direct-to-consumer streaming service from The Walt Disney Company, Disney+ offers an ever-growing collection of exclusive originals, including feature-length films, documentaries, live-action and animated series, and short-form content. With unprecedented access to Disney's long history of incredible film and television entertainment, Disney+ is also the exclusive streaming home for the newest releases from The Walt Disney Studios. For more, visit disneyplus.com, or find the Disney+ app on most mobile and connected TV devices.
DISNEY SOCIALS:
Twitter: @DisneyPlusUK, @20thCenturyUK
Instagram: @DisneyPlusUK, @20thcenturyuk
Facebook: @DisneyPlusUK, @20thCenturyUK
YouTube: @20thCenturyUK
KICK GAME SOCIALS:
Twitter: @KickGameUK
Instagram: @KickGameUK
Facebook: @Kick Game

YouTube: @KickGame
UK STUDIOS PUBLICITY CONTACTS:
Naomi Meanwell
Naomi.Meanwell@disney.com
Edie Thomas
Edith.Thomas@disney.com