Into Film and Disney UK have launched a cross-curricular Disney Princess themed learning resource – Ultimate Princess Celebration: Kindness Quest – in over 200 UK primary schools, aimed at children aged 5–8.
Over 30,000 children are expected to use the resources, which will see them embark on a quest for kindness as they delve into the world of Disney to identify how a range of characters from Disney Princess films show kindness, bravery and ultimately friendship during the course of their adventures.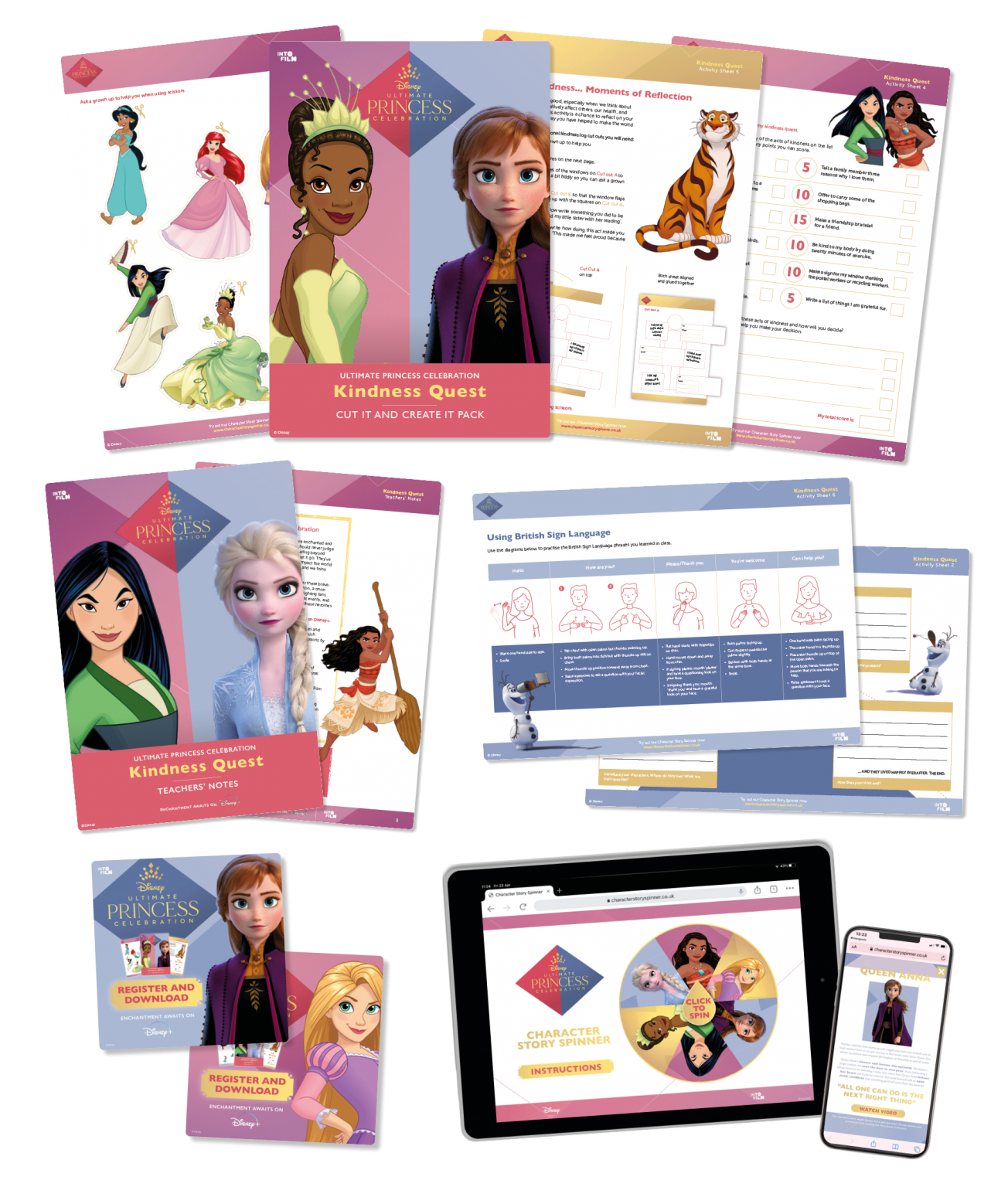 Using the interactive online Character Story Spinner, children will watch the film trailers to spark their creativity to carry out a range of challenges which incorporate PSHE Education (for the new curriculum), Citizenship, Art and Design and English/Literacy, designed to deepen their understanding of what it means to be kind, brave and helpful to others.
In an exploration of languages within their own community, children will also be challenged to learn from one another how to communicate key phrases in a new language such as French, Spanish, Welsh, Scottish Gaelic and British Sign Language. This activity aims to encourage an understanding of the value of diversity and of learning from one another.
The lessons and activities can be adapted for use in the classroom, as part of blended learning and home learning as required. The activities can also be used together as a learning sequence or you can pick and choose activities to use in the classroom, online or for homework as required.
To celebrate the launch of this resource, Into Film are also giving children the opportunity to enter a Kindness Quest competition, giving pupils the chance to win 30 Disney merchandise bundles for their class. For details on how to enter download our Ultimate Princess Celebration: Kindness Quest Competition activity sheet via intofilm.org/ultimate-princess-celebration. Terms & Conditions apply. Competition deadline: 7 June 2021.
This resource has been commissioned by The Walt Disney Company to support the Ultimate Princess Celebration.
For more information about the Ultimate Princess Celebration, click here.
To hear more about the Disney Princess Story Collection and the 14 real-life tales of courage and kindness, click here. 

About Into Film 
Into Film is an education charity that puts film at the heart of children and young people's educational, cultural and personal development.
Over half of UK schools engage with our programme of Into Film Clubs, special cinema screenings, and resources and training to support classroom teaching. Alongside rich online content
for young audiences, this provides 5–19 year olds with inspiring opportunities to learn about and with film and develop a passion for cinema.
Into Film's work is supported principally by the BFI through the National Lottery, and by the film industry through Cinema First.