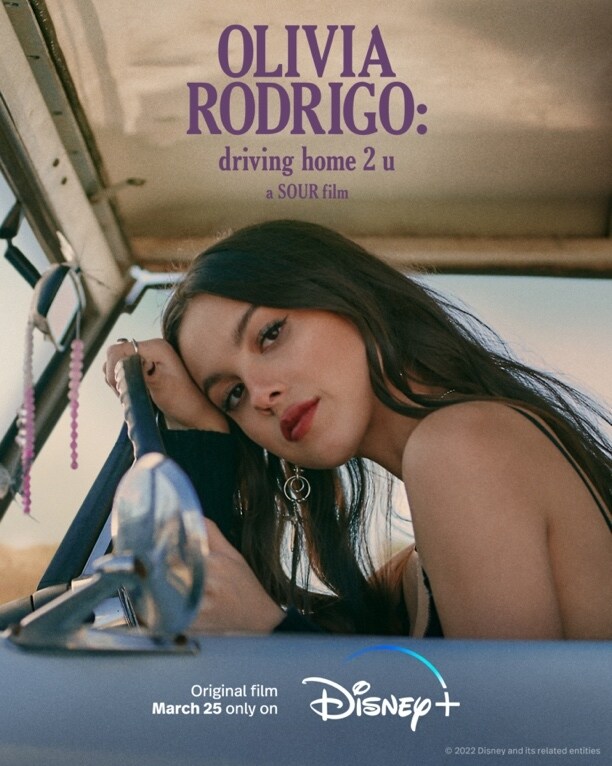 LINK TO TRAILER: https://youtu.be/-VVHUq4tOzg
TRAILER EMBED LINK: embed:<iframe width="560" height="315" src="https://www.youtube.com/embed/-VVHUq4tOzg" title="YouTube video player" frameborder="0" allow="accelerometer; autoplay; clipboard-write; encrypted-media; gyroscope; picture-in-picture" allowfullscreen></iframe>
LINK TO DOWNLOAD KEY ART: https://dmedmedia.disney.com/disney-plus/olivia-rodrigo-driving-home-2-u/logos
LONDON, U.K. (March 17, 2022) Today, multiple GRAMMY®-nominated singer-songwriter Olivia Rodrigo revealed on social media (@OliviaRodrigo & @livieshq) the official trailer and key art for her upcoming original film, "OLIVIA RODRIGO: driving home 2 u (a SOUR film)." The film will debut exclusively on Disney+ on March 25, 2022.
@OliviaRodrigo Instagram Key Art Post
@livieshq Instagram Trailer Post
For the first time, Olivia takes audiences on a familiar road trip from Salt Lake City, where she began writing her triple-platinum debut album "SOUR" (Geffen Records) to Los Angeles. Along the way, Rodrigo recounts the memories of writing and creating her record-breaking debut album and shares her feelings as a young woman navigating a specific time in her life. Through new live arrangements of her songs, intimate interviews and never-before-seen footage from the making of the album, audiences will follow her along on a cinematic journey exploring the story of "SOUR."
"OLIVIA RODRIGO: driving home 2 u" is a Disney+ original film from Disney Branded Television, directed by Stacey Lee and produced by Interscope Films and Supper Club.
About Disney+
Disney+ is the dedicated streaming home for movies and shows from Disney, Pixar, Marvel, Star Wars, and National Geographic, along with The Simpsons and much more. In select international markets, it also includes the new general entertainment content brand, Star. The flagship direct-to-consumer streaming service from The Walt Disney Company, Disney+ is part of the Disney Media & Entertainment Distribution segment. The service offers commercial-free streaming alongside an ever-growing collection of exclusive originals, including feature-length films, documentaries, live-action and animated series, and short-form content. With unprecedented access to Disney's long history of incredible film and television entertainment, Disney+ is also the exclusive streaming home for the newest releases from The Walt Disney Studios. And through Star, it offers the latest from 20th Century Studios, Disney Television Studios, FX, Searchlight Pictures, and more. For more, visit disneyplus.com, or find the Disney+ app on most mobile and connected TV devices.
About Disney Branded Television
Disney Branded Television encompasses the creative storytellers, and production and marketing teams responsible for Disney-branded television series, movies and other programming spanning live-action, animated and unscripted formats. The group helps fuel the Disney+ streaming platform and Disney Channel, Disney XD and Disney Junior linear networks with content geared toward kids, tweens, teens and families, with stories that are imaginative, aspirational and reflective of their world and experiences. Recent projects include "High School Musical: The Musical: The Series," "Monsters at Work," "The Mysterious Benedict Society" and "Marvel's Spidey and his Amazing Friends." Disney Branded Television has created some of the most iconic and award-winning properties and franchises including Peabody Award winners "Doc McStuffins" and "The Owl House"; Emmy® Award winners "Big City Greens" and "Elena of Avalor"; the beloved "Mickey Mouse" cartoon shorts plus the Disney Channel Original Movie (DCOM) franchise, comprised of more than 100 titles.
About Interscope Films
Interscope Films, a division of Interscope Records, was designed to create an avenue for talent to express their creativity and storytelling beyond the medium of music. Interscope Films was reimagined in 2019 to produce and finance content, pair artists with award-winning storytellers, and bring their creative visions to life. Projects include Billie Eilish: The World's A Little Blurry, which premiered on Apple TV+ in February 2021 and Teen Spirit starring Elle Fanning.
Media Contacts
Disney+ Media Relations
Paula Riera
Megan McDaid