Brand-new key art now available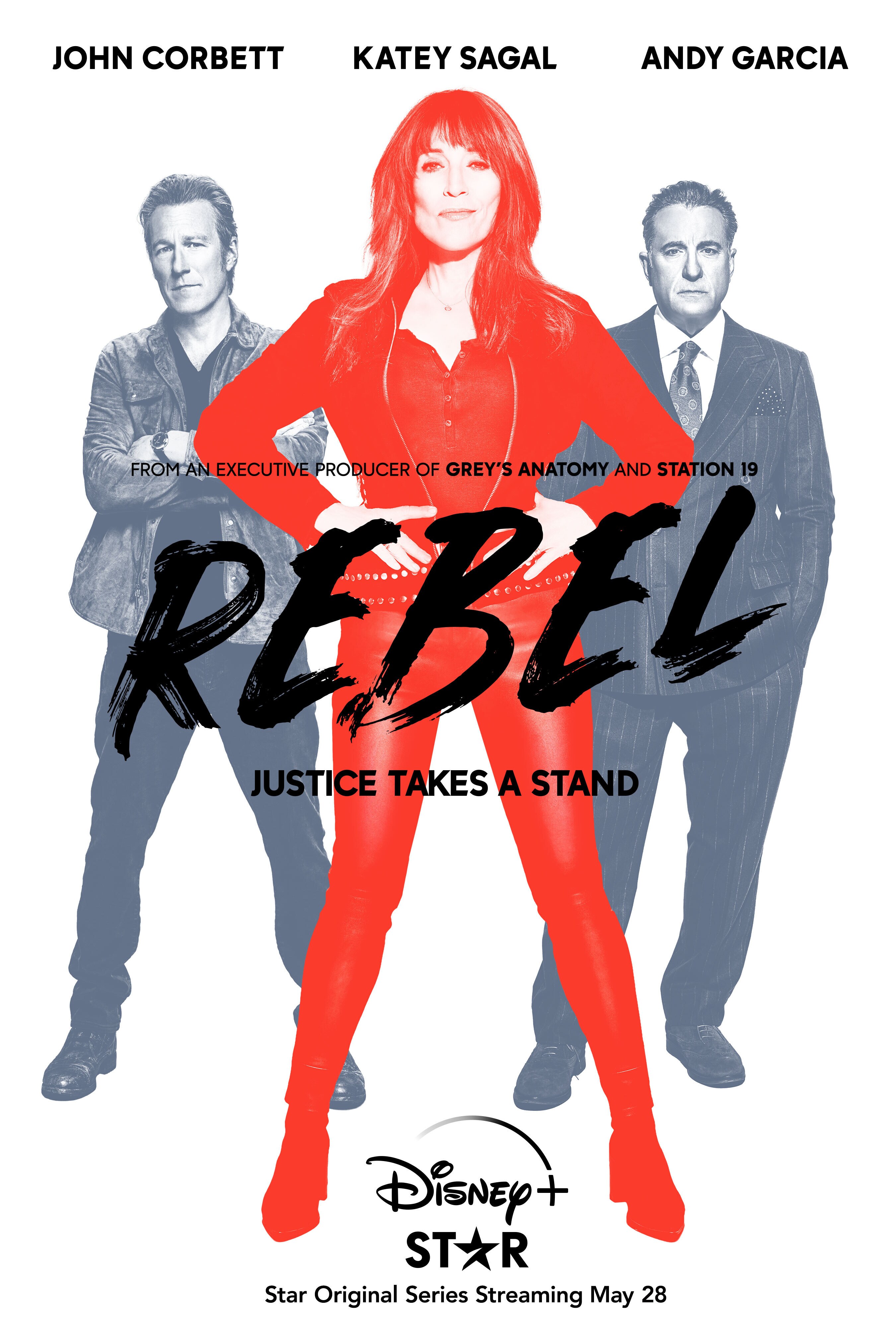 LINK TO KEY ART: https://www.dropbox.com/sh/hdtvzlzg6w3cl70/AABzcMAMy3qr-l0HJXk9GBLka?dl=0
LONDON, U.K. (9th April 2021) – Today, Disney+ revealed the premiere date for the drama series "Rebel," starring Katey Sagal. The Erin Brockovich-inspired story, executively produced by Krista Vernoff ("Grey's Anatomy," "Station 19") will stream exclusively on Star on Disney+ from 28th May. Accompanying the announcement is a first look at the brand-new key art.
Inspired by the life of Erin Brockovich today, Annie "Rebel" Bello is a blue-collar legal advocate without a law degree. She's a funny, messy, brilliant and fearless woman who cares desperately about the causes she fights for and the people she loves. When Rebel applies herself to a fight she believes in, she will win at almost any cost.
"The work that Erin Brockovich does in this world is so powerful and so important that it almost defies description. Erin works tirelessly for social, legal and environmental justice despite the lack of a formal degree. She inspires everyone she meets to become their own heroes, and somehow, she also keeps us laughing. It has been a tremendous honor to get to know Erin and to create a show inspired by her," said Vernoff.
"'Rebel' is not just my story, it is all of our stories. There is a hero that exists in all of us, and I am so excited for Krista Vernoff and ABC to bring their visionary storytelling to this series," said Erin Brockovich. "The name 'Rebel' oozes self-empowerment, courage and rising above, even in the worst of circumstances. I cannot think of anyone better to play this role than the indomitable Katey Sagal, who is such a force, as well as the rest of this extraordinary cast."
The series stars Katey Sagal as Annie "Rebel" Bello, John Corbett as Grady Bello, James Lesure as Benji, Lex Scott Davis as Cassidy, Tamala Jones as Lona, Ariela Barer as Ziggie, Kevin Zegers as Nate, Sam Palladio as Luke and Andy Garcia as Cruz.
Krista Vernoff ("Grey's Anatomy," "Station 19") is creator and showrunner of "Rebel." The series is executive produced by Vernoff and Alexandre Schmitt of Trip the Light, Erin Brockovich, John Davis and John Fox of Davis Entertainment, Andrew Stearn, Marc Webb and Adam Arkin. The series is produced by ABC Signature in association with Sony Pictures Television. ABC Signature, alongside 20th Television, is a part of Disney Television Studios.
Social Media
#Rebel
#DisneyPlusUK
@DisneyPlusUK
About Disney+
Disney+ is the dedicated streaming home for movies and shows from Disney, Pixar, Marvel, Star Wars, and National Geographic, as well as the new general entertainment content brand in select International markets, Star. As part of Disney's Media and Entertainment Distribution segment, Disney+ is available on most internet-connected devices and offers commercial-free programming with a variety of original feature-length films, documentaries, live-action and animated series, and short-form content. Alongside unprecedented access to Disney's incredible library of film and television entertainment, the service is also the exclusive streaming home for the latest releases from The Walt Disney Studios.
Disney+ Contacts
Paula Riera
Georgina Bushell