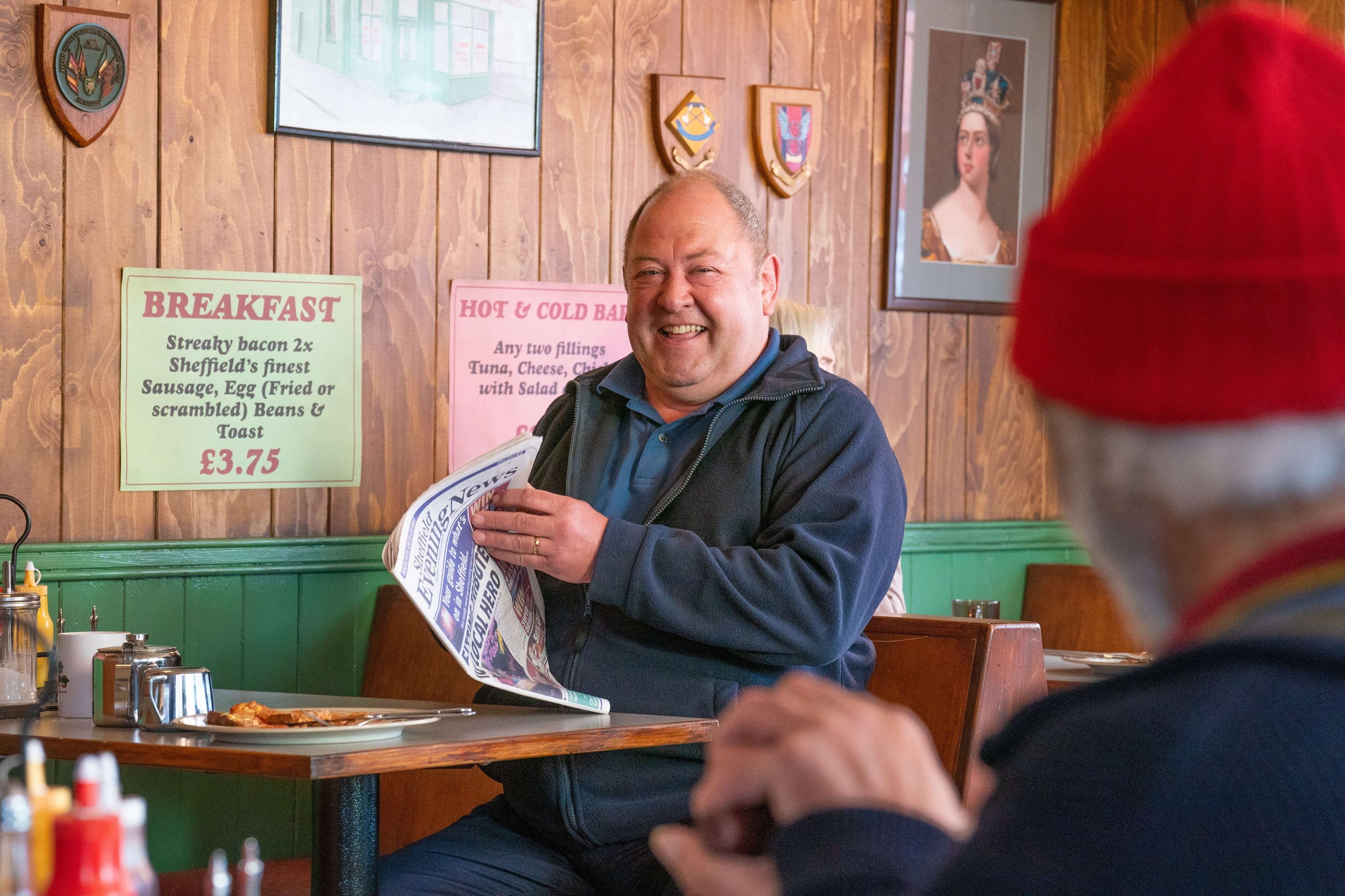 All eight first-look images available to view/download HERE
LONDON, UK (25 April, 2023) – Disney+ has today released the first-look images from the highly anticipated, brand-new Original series "The Full Monty". From the makers of the iconic BAFTA-award-winning movie, this eight-part series will premiere in the UK on Disney+ in June.
Taking place 25 years after the original British smash hit, the 8x60' series will follow the same band of brothers as they navigate the post-industrial city of Sheffield, and society's crumbling healthcare, education, and employment sectors. The comedy-drama will uncover what happened to the gang after they put their kit back on, exploring their brighter, sillier and more desperate moments. It will also highlight how the fiercely funny world of these working-class heroes – still residing in Sheffield – has changed in the intervening decades.
The original movie's ACADEMY AWARD®-winning screenwriter Simon Beaufoy returns, joined by co-writer Alice Nutter ("Accused"), with Uberto Pasolini ("Nowhere Special") also coming back as executive producer.
Among the lead cast reprising their fan-favourite roles are Robert Carlyle ("Trainspotting", "Once Upon A Time") as Gaz, Mark Addy ("Game of Thrones", "A Knight's Tale") as Dave, Lesley Sharp ("Before We Die", "Scott and Bailey") as Jean, Hugo Speer ("Britannia", "Shadow and Bone") as Guy, Paul Barber ("The Dumping Ground", "Gloves Off") as Horse, Steve Huison ("The Royle Family", "The Navigators") as Lomper, Wim Snape ("The Beaker Girls", "Gentleman Jack") as Nathan and Tom Wilkinson ("Batman Begins", "Michael Clayton") as Gerald.
The first-look images also introduce rising star Talitha Wing ("Wolfe", "Alex Rider"), who will play Gaz's teenage daughter, Destiny Schofield.
Other new cast members joining the ensemble include Paul Clayton ("The Crown", "The Split") as Lomper's husband, Dennis. Miles Jupp ("Why Didn't They Ask Evans?", "The Durrells") stars as recent divorcee and housing officer Darren, who looks up to the Monty men for advice on navigating adult life. Sophie Stanton plays Hetty, a colleague and friend of Jean, and Phillip Rhys Chaudhary ("Pretty Little Liars: The Perfectionists") joins as Dilip, Deputy Headteacher at the school. Newcomers Dominic Sharkey and Natalie Davies appear as Destiny's mates Cal and Tabani respectively, alongside Arnold Oceng, who plays a talented graffiti artist. Aiden Cook stars as wise-cracking twelve-year-old "Twiglet", while Tupele Dorgu ("Alma's Not Normal") portrays Destiny's mother, Yaz.
Writer, Creator and Exec-Producer Simon Beaufoy said, "It has been one of the great joys of my writing career to reunite this eccentric, irrepressible family of Sheffield men and women and see how 25 years, 7 Prime Ministers, and 100 broken political promises have affected their lives."
Fellow Writer, Creator and Exec-Producer Alice Nutter added, "Entering the Monty world, where community, friends and family step in when the state has so abysmally failed, has been a great personal reminder of what is good about the world we live in. The series has been a pleasure and a privilege to write on."
Simon Lewis serves as series producer. The series is executive produced for Disney+ by Lee Mason, Director, Scripted. The Original series was developed by Searchlight Television and FX.
The original 1997 BAFTA-winning movie is available to stream now on Disney+ in the UK. Tickets to a special screening of the original movie, plus a Q&A with creator Simon Beaufoy at Prince Charles Cinema, London, on 10 May are available here.
ENDS
Social Media
Twitter: @DisneyPlusUK
Instagram: @DisneyPlusUK
Facebook: @DisneyPlusUK
NOTES TO EDITORS
About Disney+  
Disney+ is the dedicated streaming home for movies and shows from Disney, Pixar, Marvel, Star Wars, and National Geographic, along with The Simpsons and much more. In select international markets, it also includes the general entertainment content brand, Star. The flagship direct-to-consumer streaming service from The Walt Disney Company, Disney+ offers an ever-growing collection of exclusive originals, including feature-length films, documentaries, live-action and animated series, and short-form content. With unprecedented access to Disney's long history of incredible film and television entertainment, Disney+ is also the exclusive streaming home for the newest releases from The Walt Disney Studios. For more, visit disneyplus.com, or find the Disney+ app on most mobile and connected TV devices.
DISNEY+ MEDIA RELATIONS
Kirsty Walker
Kirsty.Walker@disney.com
Max Damjanovic
Max.Damjanovic@disney.com
Lauren Mullem
Lauren.Mullem@disney.com
Holly Brooker
Holly.Brooker@disney.com