Lioness Captain, Leah Williamson, fronts Ultimate Princess Celebration: Time to Shine initiative from Disney Princess and Educational Charity, The Female Lead 
The Female Lead welcomes Leah Williamson, teenage YouTubers - the Mbawa sisters - and Disney Princesses to its line-up of inspirational females
The inductions come as new research shows 72 per cent of children are worried about starting school
Princess Pep Talks aimed at kids aged 3-6, co-created by Disney and The Female Lead, help to tackle children's confidence issues are available here
Leah Williamson, Emma Watson and Emma Raducanu voted most inspirational confidence role models for kids*
Tuesday 30 August 2022, London: Today marks the launch of Ultimate Princess Celebration: Time to Shine – a new role model led initiative created by Disney Princess and The Female Lead. Fronted by Lioness Captain, Leah Williamson, the campaign aims to inspire and grow the confidence of young children as they prepare to begin a new chapter – starting school – and the early years that follow.
New research suggests 72 per cent of young children are worried about this significant life event, with over half (51 per cent) of parents also sharing this anxiety.
The nationwide research commissioned by Disney, surveyed over 1,000 parents, carers and guardians and revealed that three quarters (74 per cent) are looking for tips to help build their children's confidence, and 65 per cent are seeking role models for their kids - whether other young people, female leaders or Disney Princesses.
Together Disney Princess and global educational charity, The Female Lead, have created a series of rousing pep talk videos and self-affirmation mantras on Disney Junior YouTube and @DisneyFamilyUK featuring the stories of Disney's trusted Princess characters. In October, the initiative will see new Disney Princess inspired educational resources launch in schools across the UK.
Supporting the charge is Lioness Captain, Leah Williamson, who recently captained England to Euros 2022 victory and made history in the process by becoming the first English football team, male or female, to win the European Championships. Leah was also named one of kids' most inspirational role models by parents.
The Female Lead's newest recruit, Leah Williamson, said: "Early years at school are exciting. I remember it as a time where I really started to recognise my love for football and how much I loved to play. Having the confidence to pursue endeavours are at the heart of all Disney Princess stories – so what better way to inspire children than through practising self-belief and perseverance, they can be anything they want to be!"
The Princess Pep Talks available on Disney Junior YouTube showcase stories featuring inspiring qualities like Tiana's perseverance and Rapunzel's bravery told by real life young role models YouTubers, authors and kid-trepreneurs Kirsten (14) and Aiyven (13) Mbawa from Northampton.
Recognised by The Female Lead as pioneers, Kirsten and Aiyven have both been inaugurated as the first official Young Female Leaders for the charity. The sisters shot to fame as published novelists, and now run Happier Every Chapter, a monthly book subscription service they crowdfunded on Kickstarter to promote literacy and diversity for children.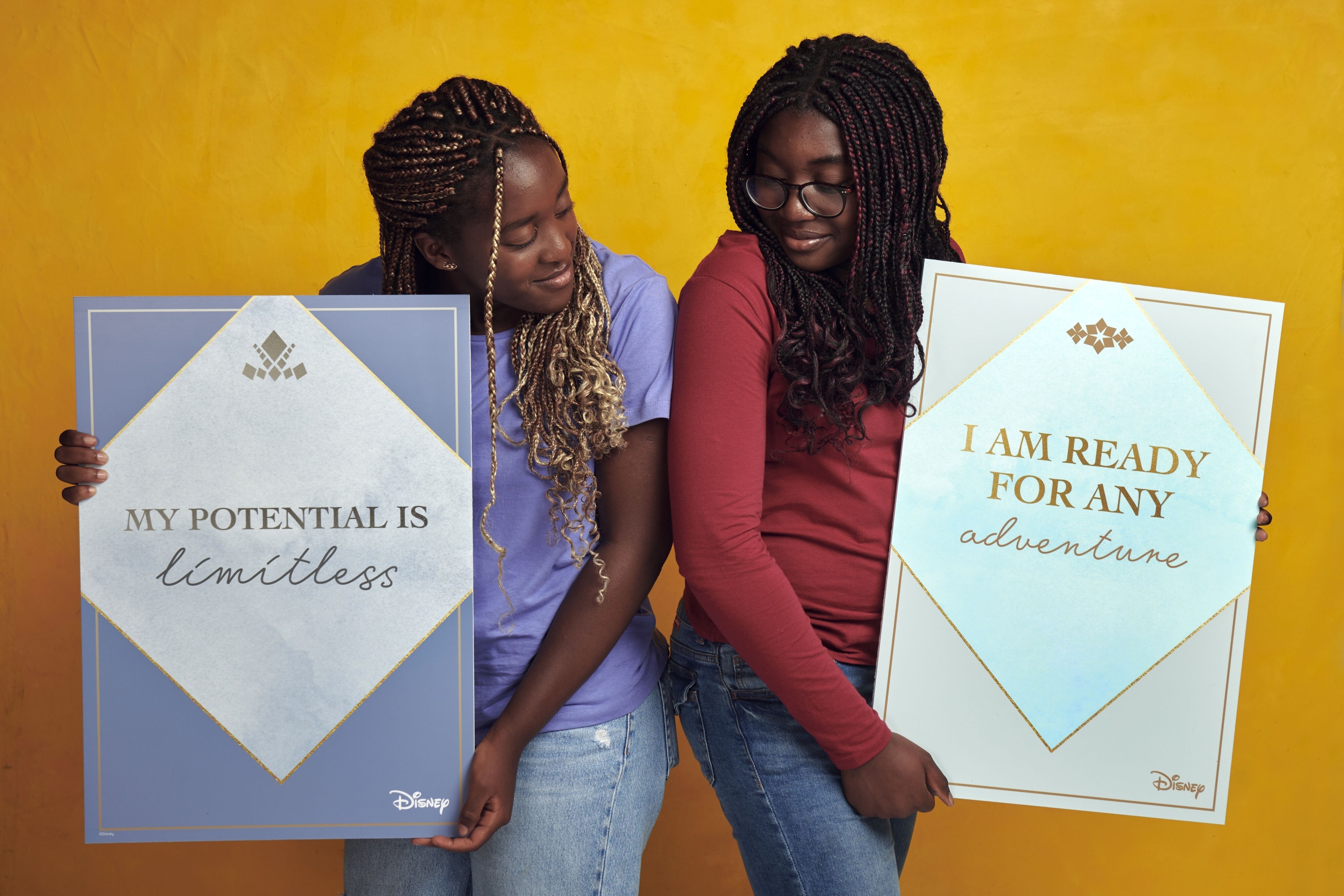 The Pep Talks see the sisters share stories themed around Disney Princess mantras, such as Elsa's 'My potential is limitless', and cover the themes of adventure, confidence and self-potential to prepare 3–6-year-old children, as they begin their early school years.

Edwina Dunn, Founder of The Female Lead, said: "We're thrilled to be welcoming Leah, Kirsten and Aiyven into our cohort of inspiring women. Teaming up with Disney Princess has allowed us to extend our efforts to lift others up in the pre-school and early years space – and we cannot wait to see the response."
At retail, parents can find an array of Disney Princess products available to help support children's imagination and play. From LEGO builds, dolls and dress-up, 74 per cent of parents, guardians and carers are already using toys and play to build their children's confidence and support important play patterns.
Sarah Fox, VP Marketing and Communications, Disney Consumer Products, Games & Publishing EMEA, said: "We know that starting school can be an emotional time for both parents and children. We hope Ultimate Princess Celebration: Time to Shine and its incredible line-up of female role models inspire kids to find the confidence they possess as they start a new chapter of their very own story – just like Disney Princesses."
To watch the new Princess Pep Talks, visit Disney Junior YouTube and to view the Disney Princess self-affirmation mantras head to @DisneyFamilyUK. Supporting product information can be found here, all available from leading toy retailers nationwide.
– ENDS –
Notes to Editors
*TOP TEN ADULT CONFIDENCE ROLE MODELS FOR KIDS (Source: FlyResearch commissioned by Disney, August 2022)
1. Leah Williamson
2. Beth Mead
3. Emma Watson
4. Kate, Duchess of Cambridge
5. Lucy Bronze
6. Emma Raducanu
7. Laura Kenny
8. Sky Brown
9. Alex Scott
10. Ariana Grande
About the research
1FlyResearch conducted the study of 1,000 parents of children aged 3-6 years old in the UK, in August 2022
Parenting Expert, Sue Atkins, who helped co-develop the programme said: "It's clear that children are experiencing a crisis in confidence, and our ambition is to help navigate this in those at the start of the early years of education, offering the tools needed to tackle the issue from the get-go. Given children are inspired by trusted role models and stories of kindness and bravery, I hope this campaign will help them as they enter what can be an overwhelming stage of life."
About The Female Lead
The Female Lead is an educational charity founded by data science entrepreneur, Edwina Dunn OBE in 2015. The charity is dedicated to both improving the visibility of positive female role models and identifying the factors that continue to limit women's progress, choices and fulfilment.
The Female Lead shares stories of women who have found diverse paths to fulfilment and achievement, amplifying their voices in order to stimulate change. Through research, analysing data and by listening to thousands of women across the whole spectrum of their educational and working lives, The Female Lead's mission is to build a substantive evidence-base to drive action that delivers real progress toward gender parity.
The campaign operates across multiple platforms to further its mission including:
• Donating thousands of copies of The Female Lead coffee-table book to schools, colleges and universities in the UK and US
• An active online and social hub with millions of global followers, championing women's stories and perspectives
• An on-going programme of research and data analysis to develop evidence-based interventions and tangible action
• A website dedicated to creating and curating free content tailored to individual women's needs and ambitions
• An active Female Lead Society programme providing free content to student-led groups every term
• An events and outreach programme to affect change with business, opinion formers and at grassroots level
About Kirsten and Aiyven Mbawa
Inaugural The Female Lead members Kirsten and Aiyven Mbawa, aged 14 and 13, are YouTubers, voracious readers and book reviewers who have each written & published a novel. To share their love of reading, they created Happier Every Chapter children book subscription service, offering diverse books, bite-size stories and treats to engage even the most reluctant reader.
About Disney Consumer Products, Games and Publishing
Disney Consumer Products, Games and Publishing (CPGP) brings the magic of The Walt Disney Company's brands and franchises—including Disney, Pixar, Marvel, Star Wars, National Geographic, and more—into the daily lives of families and fans around the world through products and experiences across more than 100 retail categories from toys and t-shirts to apps, books, video games, and more. A division of the Disney Parks, Experiences and Products segment, CPGP's global operations include: the world's largest licensing business, one of the biggest children's publishing brands, a leading licensor of interactive games across platforms, and the shopDisney e-commerce platform.