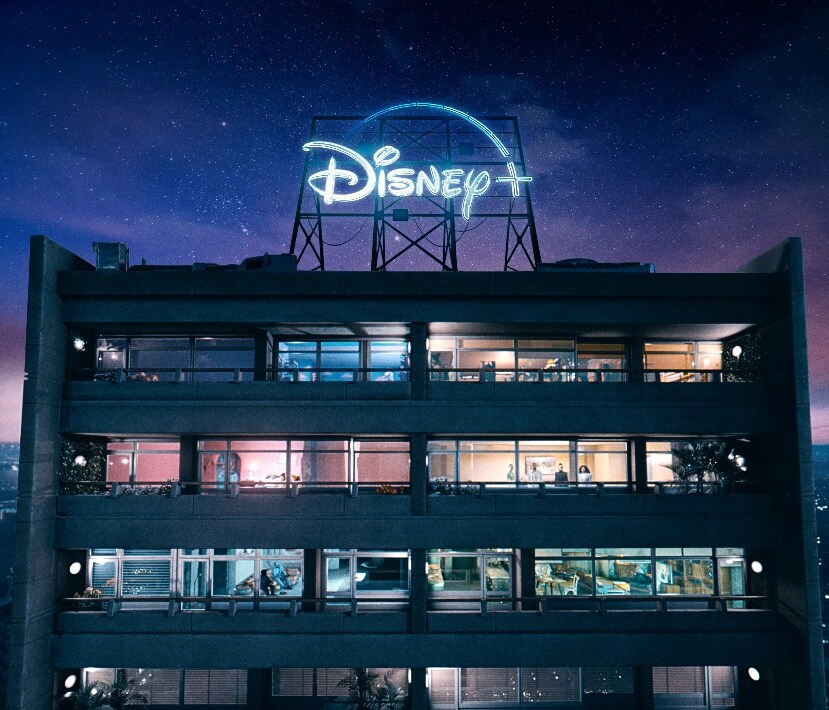 London, UK (24 January 2022) Disney+ is launching an EMEA-wide advertising campaign 'House of Disney+' which brings to life the streaming service's unique line up and iconic Disney storytelling. From more expected content like Pixar's "Toy Story" franchise and "The Simpsons" to the unexpected like all series of "The Walking Dead" and the forthcoming "The Kardashians". The campaign's ambition is to surprise and delight people with the full range of TV series and movies that are available to subscribers.

LINK TO TV SPOT: https://www.youtube.com/watch?v=TOlGBy1LFB4
EMBED CODE: <iframe width="560" height="315" src="https://www.youtube.com/embed/TOlGBy1LFB4" title="YouTube video player" frameborder="0" allow="accelerometer; autoplay; clipboard-write; encrypted-media; gyroscope; picture-in-picture" allowfullscreen></iframe>
LINK TO IMAGES: https://dam.gettyimages.com/s/pnnpj6hgcf9h4mp8k45bc9p4

The TV spot seamlessly blends live-action and CGI elements. It opens to a remixed soundtrack of Wondrous Place by 1960s singer Billy Fury as a camera descends from the sky onto a collection of apartment buildings whose silhouette resembles the iconic Disney Castle.
Slowly the camera reveals that the castle is actually a collection of separate buildings. On top of one building is an illuminated Disney+ sign from which the camera takes viewers on a journey through various apartments in which they witness live-action scenes featuring the array of content available on Disney+.
The viewer is taken through six rooms themed by "Toy Story", "The King's Man", "The Simpsons", "The Kardashians", "The Book of Boba Fett", and "The Walking Dead". The live-action scenes from each room take cues from the content the characters are watching, such as a shadow of Rex from "Toy Story" and an action scene reminiscent of "The King's Man". The film ends with the camera shot pulling out of the apartment blocks to reveal all six rooms.
The TV spot execution was created by Leo Burnett London and directed by Ian Pons Jewell and it builds on the campaign's juxtaposition idea that was created in-house. The EMEA-wide campaign will run across TV, cinema and on social.
Usama Al-Qassab, Vice President Marketing Disney+ EMEA, The Walt Disney Company, said, "Disney is synonymous with timeless storytelling and with this campaign we want to make sure viewers understand Disney+ is the home of a wide variety of iconic content. From "Encanto" and "The Book of Boba Fett" to "Pam and Tommy" and "The Walking Dead" and our upcoming slate of European originals. Our subscribers can find just about anything they are in the mood for on Disney+. Some may even be surprised by what they find."
Publicis Groupe UK's Chief Creative Officer Ben Mooge, the Publicis Imagine Power of One team inclusive of Leo Burnett London, said: "Disney+ is fast becoming known for TV and movies beyond the expected – as so many of us who time-travelled with the "Beatles: Get Back" recently can testify to. Disney has almost 100 years of rich heritage in setting the bar on storytelling and production – so we've brought the same care and craft in bringing this familiar yet surprising House of Disney+ to life. Blending CGI with live action and everything in between, Ian has helped us make a film that's worthy of the content on Disney+."
Since launching in 2019, Disney+ has generated rapid growth in subscribers. Disney+ in EMEA expanded its content offering to now offer the latest from 20th Century Studios, Disney Television Studios, FX, Searchlight Pictures, spanning a wide range of genres from reality TV, drama, comedy and sci-fi alongside content from Disney, Pixar, Marvel, Star Wars, and National Geographic. Robust parental controls ensure that Disney+ remains a suitable viewing experience for everyone in the family. Subscribers can set access limits on mature content and create PIN protected profiles, alongside the already existing Kids Profiles, to give parents and guardians peace of mind.
The campaign launches ahead of "Pam and Tommy" (2 February), "The King's Man" (9 February in UK), and "The Walking Dead" (21 February).
ENDS
Press Contacts
Disney+ Media Relations
Victoria Etaghene
Publicis
Michael Phillips
Michael.phillips@publicisgroupe.com
Creds
PUBLICIS GROUPE:
CAMPAIGN TITLE: House of Disney+
CLIENT: Disney
ADVERTISING AGENCY: Leo Burnett
PUBLICIS GROUPE UK CCO: Ben Mooge
LEO BURNETT CCO: Chaka Sobhani
LEO BURNETT ECD: Mark Elwood
CREATIVES: Ben Mooge, Drew Davies, Angus Crombie
PLANNER: David Hackworthy
BUSINESS LEAD: Steph Bates
ACCOUNT TEAM: Alex Light, Walker Hill
AGENCY PRODUCER: Megan O'Hagan
MEDIA BUYING AGENCY: Publicis Imagine
MEDIA PLANNERS: Barry Ferguson, Tara Eskandari, Rose Alexander, Deyo Adetosoye

PRODUCTION COMPANY: Kayfabe
EDITOR: Tom Lyndsey @ Trim
ASISTANT EDITORS: Helena Teixeira & Jacques Simon
PRODUCTION:
PRODUCTION COMPANY: ProdCo
DIRECTOR: Ian Pons Jewell
EDIT PRODUCER: Ella Sedgwick
EXECUTIVE PRODUCER: Jon Adams
DOP: Mauro Chiarello
PRODUCTION DESIGNER: Robin Brown
WARDROBE: We:Release
FIRST AD: James Dyer
CHOREOGRAPHER: Charlie Mayhew
SERVICE COMPANY: Radioaktive Film
EP: Sasha Bevka
PRODUCER: Tanya Sokolova
POST-PRODUCTION:
POST-PRODUCTION COMPANY: Time Based Arts
VFX SUPERVISOR: James Allen
CG SHOOT SUPERVISOR: Ihor Obukhovskyi
VFX PRODUCER: Chris Aliano
FLAME LEAD: Sheldon Gardner
NUKE LEAD: Matt Shires
CG LEAD: Sam Osborne
GRADE: Simone Grattarola
SOUND:
AUDIO POST-PRODUCTION COMPANY: String and Tins
SOUND DESIGN & MIX:: Will Cohen and Culum Simpson
MUSIC PRODUCTION: Nick Hill
MUSIC SUPERVISION: Mike Bamford and Hywel Evans
AUDIO PRODUCERS: Eimear Ní Ghuaire, Alina Miroshnichenko
MISC:
CONCEPT DESIGN: Heri Irawan, Hans Park
2D TEAM: Ollie Ramsey, Thiago Dantas, Bernardo Varela, Manolo Perez, Sarah Breakwell, Timo Huber, Ralph Briscoe, Will Robinson, Flavio Kawamoto
3D TEAM: Nick Smalley, Ben Cantor, Teodora Retegan, Ian Baird, Bethan Williams, Nigel Timms, Chris Wood, Tom Di Stasio. Yann Kacprzak, Zoé Sottiaux, Emma Malric
About Disney+
Disney+ is the dedicated streaming home for movies and shows from Disney, Pixar, Marvel, Star Wars, and National Geographic, along with The Simpsons and much more. In select international markets, it also includes the new general entertainment content brand, Star. The flagship direct-to-consumer streaming service from The Walt Disney Company, Disney+ is part of the Disney Media & Entertainment Distribution segment. The service offers commercial-free streaming alongside an ever-growing collection of exclusive originals, including feature-length films, documentaries, live-action and animated series, and short-form content. With unprecedented access to Disney's long history of incredible film and television entertainment, Disney+ is also the exclusive streaming home for the newest releases from The Walt Disney Studios. And through Star, it offers the latest from 20th Century Studios, Disney Television Studios, FX, Searchlight Pictures, and more. For more, visit disneyplus.com, or find the Disney+ app on most mobile and connected TV devices.
About Leo Burnett
Leo Burnett London is a creative agency that specialises in bringing the power of populist creativity to its clients. The agency brings people together from advertising, digital, social and brand activation backgrounds, united by a passion for problem solving and building brands that people love. Clients include McDonald's, Premier Inn, TUI, Kellogg's and Vision Express. Leo Burnett is part of Publicis Groupe UK.
www.leoburnett.co.uk • Twitter @LeoBurnettLDN • Instagram @LeoBurnettLDN