New Trailer, Key Art and Image Now Available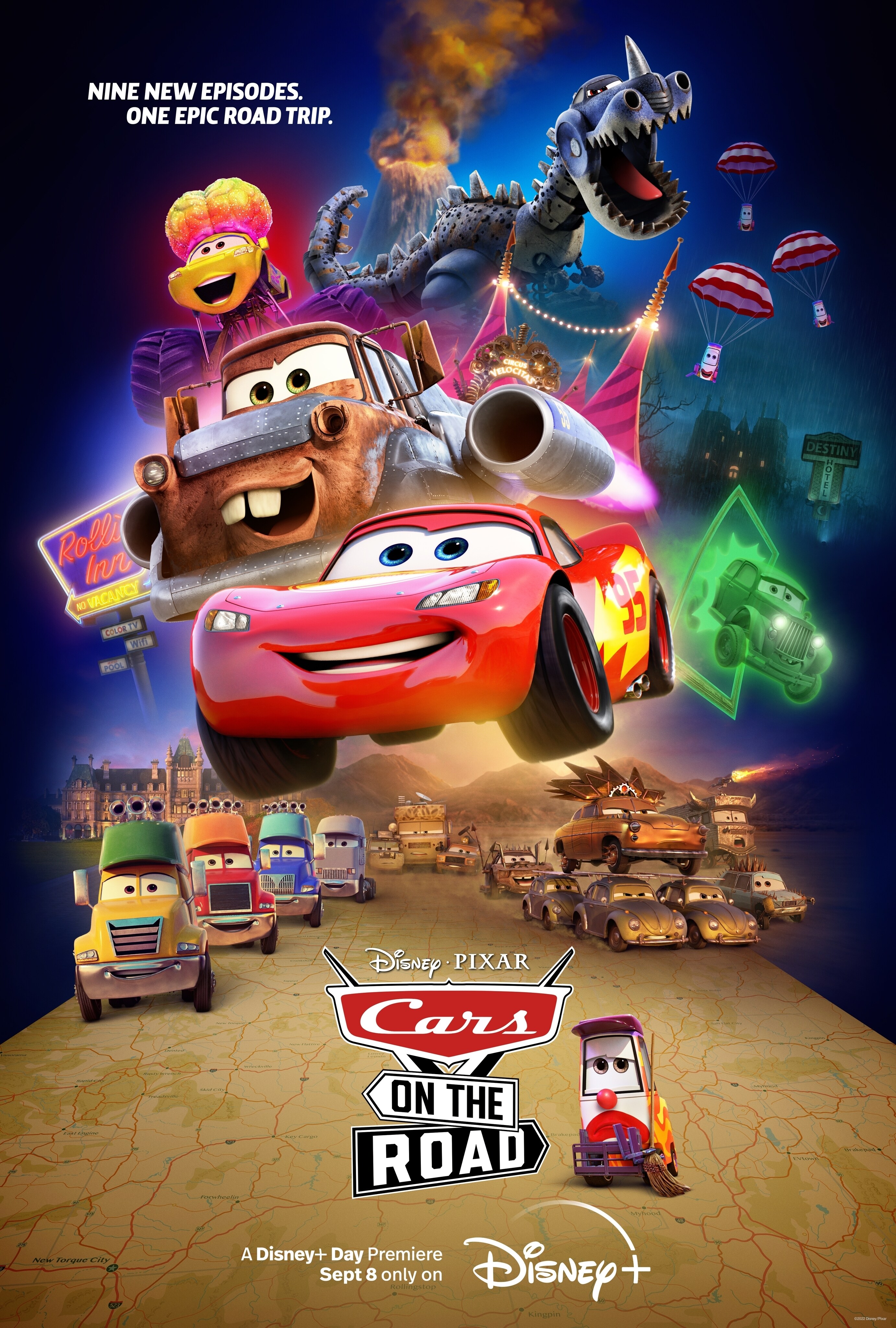 Check Out New Trailer Here: https://twitter.com/pixarcars/status/1554119764661788672
Embed Code: <blockquote class="twitter-tweet"><p lang="en" dir="ltr"><a href="https://twitter.com/hashtag/LightningMcQueen?src=hash&;ref_src=twsrc%5Etfw">#LightningMcQueen</a> and <a href="https://twitter.com/hashtag/Mater?src=hash&;ref_src=twsrc%5Etfw">#Mater</a> are back! <br><br>Watch the trailer for Disney and Pixar's Cars on the Road and start streaming the Original series, a <a href="https://twitter.com/hashtag/DisneyPlusDay?src=hash&;ref_src=twsrc%5Etfw">#DisneyPlusDay</a> premiere, September 8 on <a href="https://twitter.com/disneyplus?ref_src=twsrc%5Etfw">@DisneyPlus</a>. <a href="https://t.co/s5JhHOBcEB">pic.twitter.com/s5JhHOBcEB</a></p>— Disney•Pixar's Cars (@pixarcars) <a href="https://twitter.com/pixarcars/status/1554119764661788672?ref_src=twsrc%5Etfw">August 1, 2022</a></blockquote> <script async src="https://platform.twitter.com/widgets.js" charset="utf-8"></script>
Download Key Art Here: https://dam.gettyimages.com/s/3kgxp6gpqs275svpfhc3628
View Image Here: https://dam.gettyimages.com/s/n9fvpzcv6m2rp6h5wgsvbz
LONDON, U.K. (1 August, 2022) - In celebration of Disney+ Day, Disney and Pixar's Original series "Cars on the Road" will debut exclusively on the streaming service 8 Sept, 2022. Check out a new trailer, key art and image for Disney and Pixar's "Cars on the Road" now. The Disney+ Original series follows Lightning McQueen (voice of Owen Wilson) and his best friend Mater (voice of Larry the Cable Guy) as they head east from Radiator Springs on a cross-country road trip to meet up with Mater's sister. "The series is a romp across the country with Lightning McQueen and Mater," says director Steve Purcell. "Like any real road trip, every day is a new mini-adventure with unexpected twists and turns."
"Cars on the Road" is produced by Marc Sondheimer. The series' episodes are directed by Steve Purcell (Eps 1, 2, 8), Bobby Podesta (Eps 5, 6, 9) and Brian Fee (Eps 3, 4, 7). Composer Jake Monaco created the score for all nine episodes.
Disney+ Day will return on Thursday, 8 September, 2022, leading into D23 Expo: The Ultimate Disney Fan Event presented by Visa in Anaheim, CA. In celebration, the streaming service will host special experiences for fans and subscribers, and will premiere new content from its marquee brands – Disney, Pixar, Marvel, Star Wars, and National Geographic.
About Disney+
Disney+ is the dedicated streaming home for movies and shows from Disney, Pixar, Marvel, Star Wars, and National Geographic, along with The Simpsons and much more. In select international markets, it also includes the new general entertainment content brand, Star. The flagship direct-to-consumer streaming service from The Walt Disney Company, Disney+ is part of the Disney Media & Entertainment Distribution segment. The service offers commercial-free streaming alongside an ever-growing collection of exclusive originals, including feature-length films, documentaries, live-action and animated series, and short-form content. With unprecedented access to Disney's long history of incredible film and television entertainment, Disney+ is also the exclusive streaming home for the newest releases from The Walt Disney Studios. And through Star, it offers the latest from 20th Century Studios, Disney Television Studios, FX, Searchlight Pictures, and more. For more, visit disneyplus.com, or find the Disney+ app on most mobile and connected TV devices.
Twitter: @DisneyPlusUK, @PixarCars
Instagram: @DisneyPlusUK, @PixarCars
Facebook: @DisneyPlusUK, @PixarCars
Hashtag: #DisneyPlus
Media Contacts
Disney+ Media Relations
Lauren Mullem
Walt Disney Studios Media Relations
Edith Thomas