"Good Chemistry: The Story of Elemental" and "Carl's Date" Also Hit the Streamer Sept. 13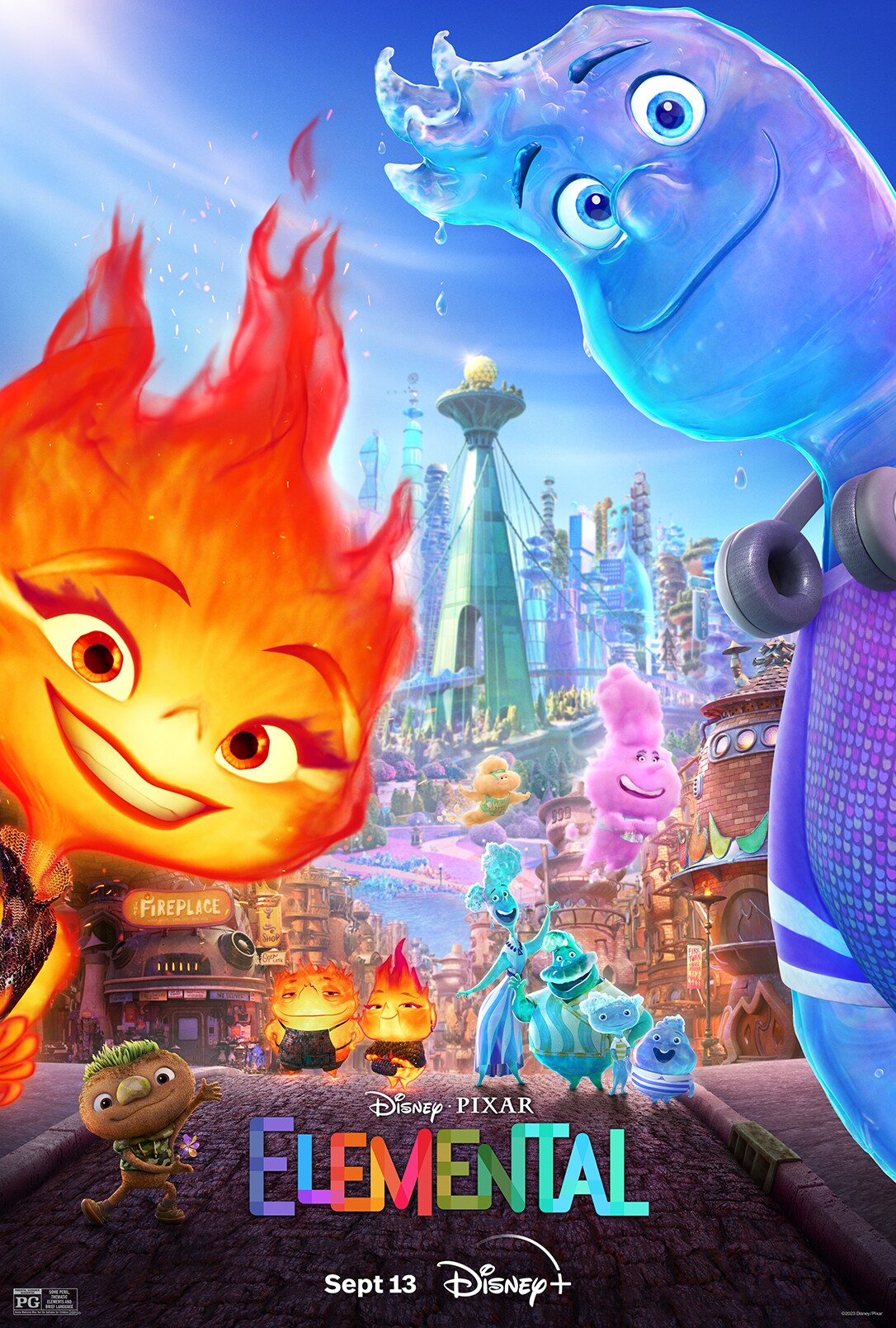 Download Key Art Here: https://dam.gettyimages.com/p/10rd3461/uk-mediakits?o=AND&q=custom_fields.Project%20Title%3A%22Elemental%22
Watch TV Spot Here: https://youtu.be/lXZ9ERAbsO0
LONDON, U.K. (September 6, 2023) – Disney+ revealed today that the fiery young woman Ember and go-with-the-flow guy Wade from Disney and Pixar's "Elemental" are venturing to the streamer next week. The original feature film begins streaming on Disney+ Sept. 13—also debuting that day is the making-of documentary "Good Chemistry: The Story of Elemental," and Pixar Animation Studios' short "Carl's Date," featuring the fan-favorite talking dog Dug. Check out a 15-second spot and key art celebrating the upcoming streaming launch of "Elemental."
Also shared this morning: Through September 20, new and returning customers can subscribe to Disney+ for £1.99/month for three months by visiting www.disneyplus.com.

Opening in cinemas this summer, Disney and Pixar's "Elemental" is among 2023's top 10-grossing films worldwide, earning $480 million in global box office. Set in Element City, where Fire-, Water-, Earth- and Air-residents live together, the original feature film introduces Ember (voice of Leah Lewis), whose friendship with a fun and sappy guy named Wade (voice of Mamoudou Athie) challenges her beliefs about the world they live in. Directed by Peter Sohn, produced by Denise Ream, p.g.a., and executive produced by Pete Docter, "Elemental" features a screenplay by John Hoberg & Kat Likkel and Brenda Hsueh with story by Sohn, Hoberg & Likkel and Hsueh.

Pixar director Peter Sohn takes viewers on a humorous personal journey through the inspiration behind Disney and Pixar's feature film "Elemental." "Good Chemistry: The Story of Elemental" traces his parents' voyage from Korea to New York, explores his dad's former grocery shop in the heart of the Bronx, and delves into his choice of a career in animation, rather than the family business. The documentary is a delightful look at the unexpected influences that led to the making of the comedy-adventure "Elemental." "Good Chemistry" is directed by Tony Kaplan and produced by Sureena Mann.


Written and directed by Academy Award® nominee and Emmy® Award winner Bob Peterson and produced by Kim Collins, "Carl's Date" finds Carl reluctantly agreeing to go on a date with a lady friend—but admittedly with no idea how dating works these days. Ever the helpful friend, Dug steps in to calm Carl's pre-date jitters and offer some tried-and-true tips for making friends—if you're a dog. The new short, which opened in front of "Elemental" in cinemas on June 16, joins an existing collection of shorts, "Dug Days," that follow the humorous misadventures of the lovable pup with the high-tech collar. "Dug Days" is currently streaming on Disney+.

SOCIAL MEDIA
Instagram: @DisneyPlusUK
Facebook: @DisneyPlusUK
TikTok: @DisneyPlus 
Hashtag: #DisneyPlusUK, #Elemental
ABOUT DISNEY+
Disney+ is the dedicated streaming home for movies and shows from Disney, Pixar, Marvel, Star Wars, and National Geographic, along with The Simpsons and much more. In select international markets, it also includes the general entertainment content brand, Star. The flagship direct-to-consumer streaming service from Disney, Disney+ offers an ever-growing collection of exclusive originals, including feature-length films, documentaries, live-action and animated series, and short-form content. With unprecedented access to Disney's long history of incredible film and television entertainment, Disney+ is also the exclusive streaming home for the newest releases from The Walt Disney Studios. For more, visit disneyplus.com, or find the Disney+ app on most mobile and connected TV devices.
MEDIA CONTACTS
Walt Disney Studios UK Publicity
Lauren Sizer
Lauren.Sizer@disney.com
Hannah Proudlock
Hannah.Proudlock@disney.com
Disney+ UK Publicity
Victoria Etaghene
Victoria.Etaghene@disney.com
Joe Coupe
Joe.Coupe@disney.com