This four-part documentary series unveils, for the first time, the life, and the career of 
the of the most popular French singer of his generation.  
The six episodes series will be available on June 15th.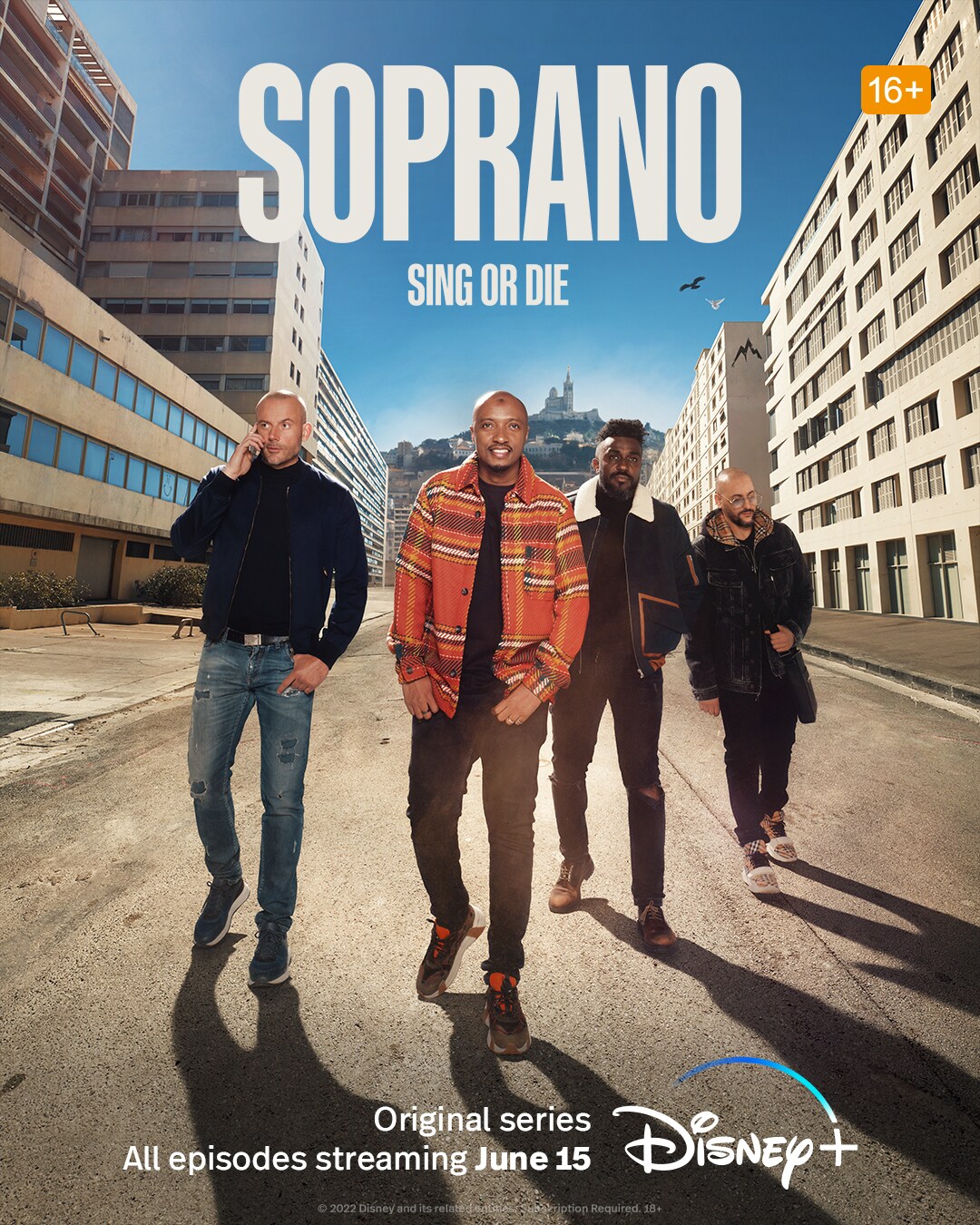 Trailer: https://youtu.be/UwM7EOeusqM
Key Art: https://dam.gettyimages.com/s/5brr7x88665bcqfvxqm5mgcx
LONDON, UK (June 6 2022) Disney+ unveils the key art and trailer of Soprano: Sing or Die. The documentary series Soprano: Sing or Die takes a new look at the journey of this unique artist, from his beginnings in the 90s in the northern districts of Marseille until the recording of his latest album in 2021. The four forty-five minutes episodes will premiere exclusively on Disney+ on June 15th.
This Disney+ Original production reveals one of the key elements of Soprano's success: friendship. We follow Saïd M'Roumbada (aka Soprano) and his crew: Mateo, Djamali and Mej all of whom have been on this journey with Soprano from the start 20 years ago.
For the first time, Soprano, Mateo, Djamali and Mej deliver thirty years of memories, doubts and hopes that have marked their way to success, complemented by exclusive testimonies of their entourage and loved ones, who saw them grow up, as well as stars who supported them from the start. Personal archives and never told before anecdotes shed new light on the unique relationship between these four friends.
The documentary series begins in Marseille and looks back at the places where they grew up, their childhood, their education, the evolution of Rap and their inspirations. The first episode is devoted to the Soprano's childhood, the genesis of the group, the birth of this unique friendship, as well as moments from the early 90's that marked them. Each episode will also be an opportunity to learn more about each of the protagonists.
Soprano's music is at the heart of the four episodes, with exclusive behind-the-scenes footage of the creation of his new album Chasseur d'Étoiles (released on September 3, 2021).
Soprano: Sing or Die is a story of French success. Soprano has become one of France's favourite personalities selling more than 3 million records and amassed more than 2.5 billion views on YouTube. With his crew, Soprano is currently preparing a mega tour of the biggest French stadiums scheduled for June 2022.
Soprano: Sing or Die is co-produced by Breath Film (Groupe Éléphant) and Only Pro.
– Ends –
About Soprano: Sing or Die
Soprano: Sing of Die, an Original documentary series, will offer unique and exclusive access to one of France's most popular recording artists as he and his crew get ready for a massive stadium tour in summer 2022. The series charts Soprano and his friends' history from their humble beginnings in Marseilles to their present-day success. Produced by Breathe Film (Groupe Éléphant) & Only Pro, this 6 part documentary series will be premiere in France exclusively on Disney+ in 2022.
About Disney+
Disney+ is the dedicated streaming home for movies and shows from Disney, Pixar, Marvel, Star Wars, and National Geographic, along with The Simpsons and much more. In select international markets, it also includes the new general entertainment content brand, Star. The flagship direct-to-consumer streaming service from The Walt Disney Company, Disney+ is part of the Disney Media & Entertainment Distribution segment. The service offers commercial-free streaming alongside an ever-growing collection of exclusive originals, including feature-length films, documentaries, live-action and animated series, and short-form content. With unprecedented access to Disney's long history of incredible film and television entertainment, Disney+ is also the exclusive streaming home for the newest releases from The Walt Disney Studios. And through Star, it offers the latest from 20th Century Studios, Disney Television Studios, FX, Searchlight Pictures, and more. For more, visit disneyplus.com, or find the Disney+ app on most mobile and connected TV devices.
About Elephant
Founded by Emmanuel Chain and Thierry Bizot in 1999, ELEPHANT is one of the leading French independent production companies for TV and digital. Its varied portfolio includes TV shows (Sept à Huit / TF1, Les Pouvoirs du Corps Humain / France 2, Le Monde de Jamy / France 3), documentaries (15 documentaries per year on Arte, France Télévisions, Canal+, etc.), TV series (Fais pas ci, Fais pas ça, Parents mode d'emploi, Innocente / France 2, La Stagiaire / France 3, Workingirls / Canal +, Le Mystère du Lac / TF1), and content for brands and companies (AXA, BNP Paribas, Danone, L'Oréal, LVMH, Pernod Ricard, SNCF). It also specializes in the creation of original formats with a distinctive editorial line for TV channels and new media. ELEPHANT comprises ten subsidiaries whose managers have stakes in the company. In 2012, the Group launched an Italian subsidiary, ELEPHANT ITALIA, that is currently producing two shows and a series for RAI (Gli italiani hanno sempre ragione, Le plus beau village italien, Come fai sbagli). At the forefront of innovative storytelling, ELEPHANT has invested in Chalkboard, a UK-based startup specializing in stock programs and new formats. The ELEPHANT catalogue features over 1,500 hours of shows, feature stories and documentaries, and over 100 hours of fiction.
MEDIA CONTACTS
Disney+ Media Relations
Max Damjanovic
Kirsty Howell