Teaser Trailer and Behind-the-Scenes Featurette Now Available 
Harvey Keitel to reprise his role as 'Peter Sadusky' in the action-packed Disney+ 
Original series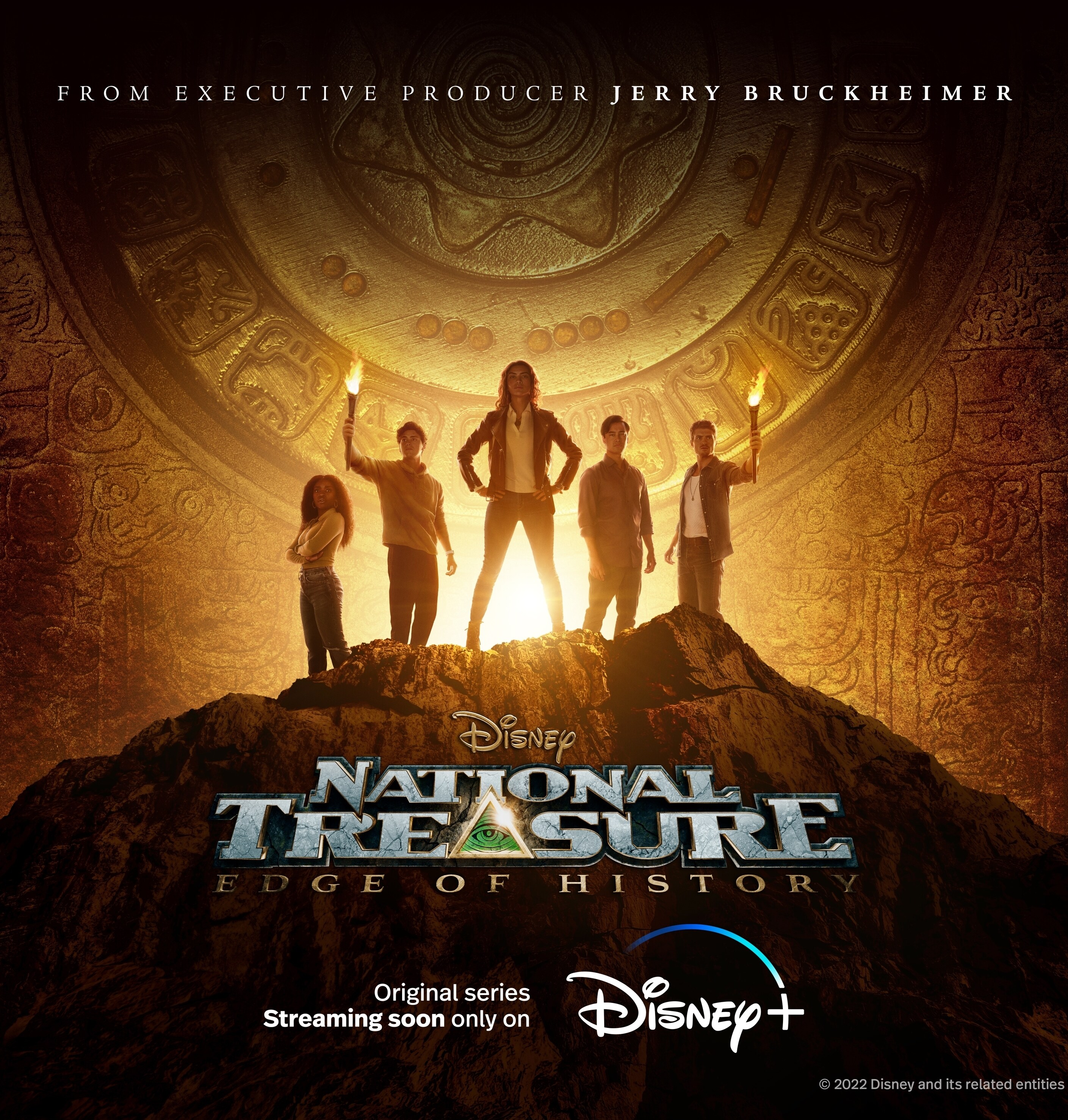 Link to View Teaser Trailer: https://www.youtube.com/watch?v=fmypBY9MlMI
Link to View BTS Featurette: https://www.youtube.com/watch?v=zvPJ-f3gdMY
Link to Teaser Art and Photos from Panel Photos: FTP Site

LONDON, United Kingdom. (22 July, 2022) The new Disney+ Original series "National Treasure: Edge of History," based on the hit film franchise, made its debut at San Diego Comic-Con today, complete with a Ballroom 20 panel, a new teaser trailer, and a behind-the-scenes look at the series. Moderated by comedian and influencer Jenny Lorenzo ("What's Up, Disney+"), the panel featured series stars Lisette Olivera, Zuri Reed, Antonio Cipriano, Jordan Rodrigues, Jake Austin Walker, Lyndon Smith and executive producers Cormac and Marianne Wibberley. Additionally, it was announced that Harvey Keitel ("Pulp Fiction"), who played Peter Sadusky in the "National Treasure" film franchise, will join the series as a guest star in the same role. The Disney Branded Television series is produced by ABC Signature for Disney+.
The series focuses on a young heroine, Jess (Lisette Olivera), a brilliant and resourceful DREAMer who embarks on the adventure of a lifetime to uncover the truth about her family's mysterious past and save a lost Pan-American treasure. During the panel, executive producers Cormac and Marianne Wibberley shared their vision for the reboot of the smash hit franchise and how incredibly thrilled they are to showcase this dream cast for the series, which also includes Academy and Tony Award®-winning actress Catherine Zeta-Jones. It was previously announced that Justin Bartha will guest star in the series, reprising his role as Riley Poole.
In addition to Olivera, the series also stars Zuri Reed ("Flatbush Misdemeanors") as Tasha, Jess' ride-or-die friend who joins the treasure hunt but is forced to reevaluate her belief system to help her best friend; Antonio Cipriano ("Jagged Little Pill" on Broadway) as Oren, a lovable but self-obsessed goofball with an encyclopedic knowledge of conspiracy theories that attempts to win back Tasha's affections; Jordan Rodrigues ("Lady Bird") as Ethan, Jess' childhood best friend who has loved her since the day they met; Jake Austin Walker ("Rectify") as Liam, a swoon-worthy struggling musician, with a permanent chip on his shoulder, who comes from a long line of treasure hunters; Catherine Zeta-Jones ("Chicago") as Billie, a badass billionaire, black-market antiquities expert and treasure hunter who lives by her own code; and Lyndon Smith ("Parenthood") as FBI Agent Ross, a dogged investigator who begins to realize there's a greater conspiracy at hand.
Jerry Bruckheimer, Cormac and Marianne Wibberley, Jonathan Littman and KristieAnne Reed executive produce the series alongside Rick Muirragui, who also serves as a writer. Jon Turteltaub is also an executive producer. Mira Nair is directing and executive producing.
Twitter: @DisneyPlusUK, @disneynt
Instagram: @DisneyPlusUK, @disneynt
Facebook: @DisneyPlusUK
Hashtag: #NationalTreasureSeries
Media Kit: https://dmedmedia.disney.com/disney-plus/national-treasure-edge-of-history
About Disney+
Disney+ is the dedicated streaming home for movies and shows from Disney, Pixar, Marvel, Star Wars, and National Geographic, along with The Simpsons and much more. In select international markets, it also includes the new general entertainment content brand, Star. The flagship direct-to-consumer streaming service from The Walt Disney Company, Disney+ is part of the Disney Media & Entertainment Distribution segment. The service offers commercial-free streaming alongside an ever-growing collection of exclusive originals, including feature-length films, documentaries, live-action and animated series, and short-form content. With unprecedented access to Disney's long history of incredible film and television entertainment, Disney+ is also the exclusive streaming home for the newest releases from The Walt Disney Studios. And through Star, it offers the latest from 20th Century Studios, Disney Television Studios, FX, Searchlight Pictures, and more. For more, visit disneyplus.com, or find the Disney+ app on most mobile and connected TV devices.
About Disney Branded Television
Disney Branded Television is a provider of original content — scripted and unscripted, live-action and animated — for Disney+, Disney Channel, Disney XD and Disney Junior, with a primary focus on imaginative, aspirational stories geared towards kids, tweens, teens and families. Among Disney Branded Television's upcoming premieres are the original movie "Sneakerella," "Zombies 3," "National Treasure," "American Born Chinese," "The Crossover," "Percy Jackson and the Olympians," "The Spiderwick Chronicles," "SATURDAYS," "The Santa Clauses," and the feature documentary "Mickey: Story of a Mouse."
About ABC Signature
One of the Disney Television Studios, ABC Signature produces many of ABC Entertainment's most significant hits, including "Grey's Anatomy," and "Station 19"; co-productions "The Good Doctor," "A Million Little Things," "The Rookie," "The Rookie: Feds" and "Home Economics," and late-night talk show "Jimmy Kimmel Live!" ABC Signature's returning and upcoming series include "grown-ish" "The Watchful Eye" and "Everything's Trash" for Freeform; "The Wilds" for Amazon and "Godfather of Harlem" for EPIX; "Bad Sisters" and "Five Days at Memorial" for Apple; "Reasonable Doubt" and "This Fool" for Hulu. For streaming service Disney +, series include "The Mighty Ducks: Game Changers," "Big Shot" and the upcoming "National Treasure: Edge of History" and "Muppets Mayhem."
Media Contacts:
Disney+
Lauren Mullem
Paula Riera