DISNEY+ SETS LAUNCH DATE FOR THE CRITICALLY-ACCLAIMED ORIGINAL SERIES "THE BEAR" IN THE UK AND IRELAND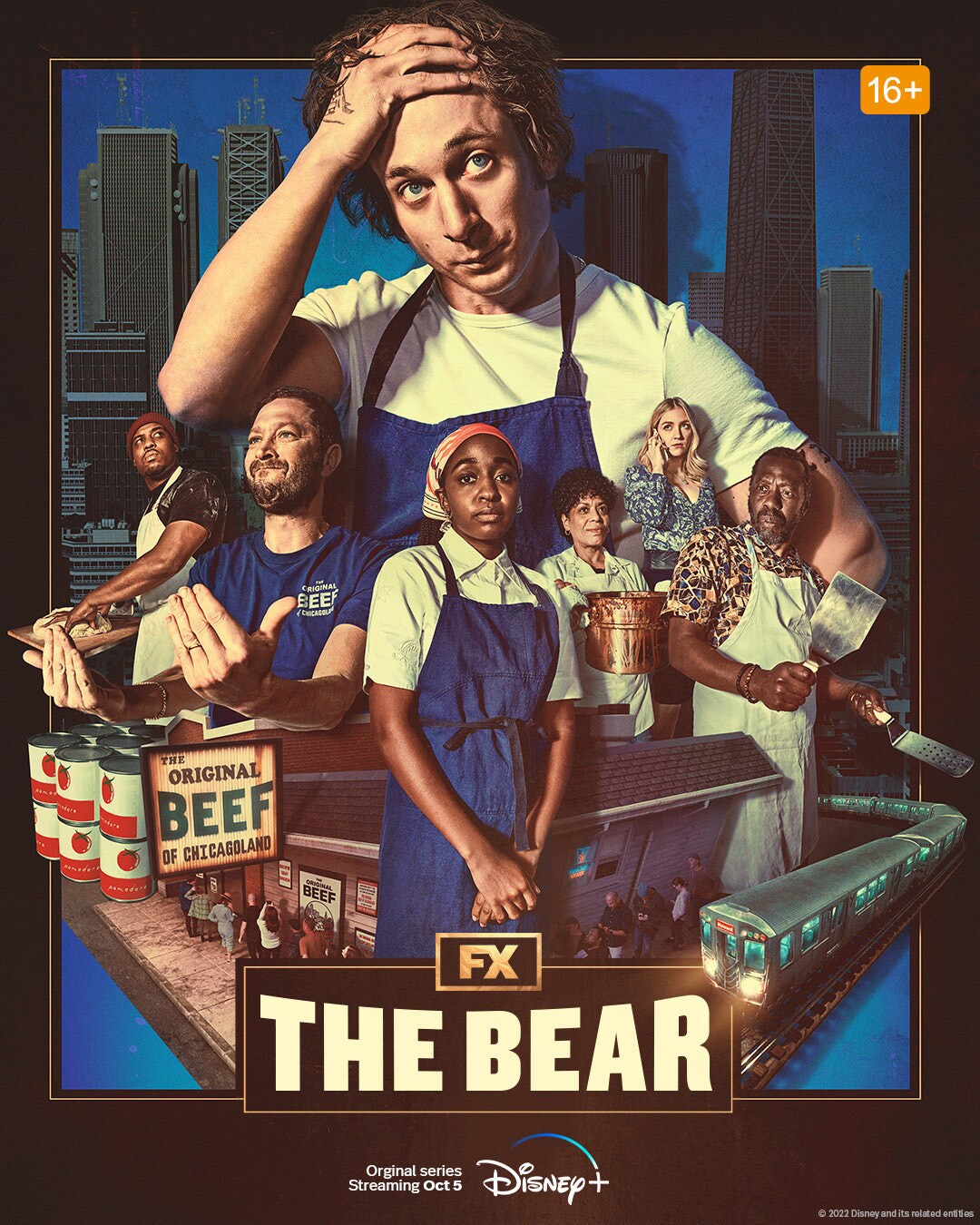 Images Available: HERE
LONDON, UK (1 September 2022) – Disney+ has confirmed that season one of the critically-acclaimed original series "The Bear" will launch on the streaming service in the UK and Ireland on 5 October, with all eight episodes available to stream.
The title joins Disney+' autumn line up of titles to stream, that includes "Andor" (21 September), "The Kardashians" (22 September), "The Old Man" (28 September) and "Candy" (12 October).
"The Bear" follows Carmen "Carmy" Berzatto (Jeremy Allen White), a young chef from the fine dining world, who comes home to Chicago to run his family sandwich shop – The Original Beef of Chicagoland – after a heartbreaking death in his family. A world away from what he's used to, Carmy must balance the soul-crushing realities of small business ownership, his strong-willed and recalcitrant kitchen staff and his strained familial relationships, all while grappling with the impact of his brother's suicide.
"The Bear" is about food, family, the insanity of the grind, the beauty of Sense of Urgency and the steep slippery downsides. As Carmy fights to transform both The Original Beef of Chicagoland and himself, he works alongside a rough-around-the-edges kitchen crew that ultimately reveal themselves as his chosen family.
In addition to White, this half-hour comedy series co-stars include Ebon Moss-Bachrach ("Richard 'Richie' Jerimovich"), Ayo Edebiri ("Sydney Adamu"), Abby Elliott ("Natalie 'Sugar' Berzatto"), Lionel Boyce ("Marcus"), Liza Colón-Zayas ("Tina"), Edwin Lee Gibson ("Ebraheim") and Matty Matheson ("Neil Fak").
"The Bear" was created by Christopher Storer (Ramy, Eighth Grade), who also serves as executive producer alongside Joanna Calo (BoJack Horseman, Undone), Hiro Murai (Atlanta, Station Eleven) and Nate Matteson (Station Eleven, The Choe Show) of Super Frog and Josh Senior, with Tyson Bidner (Ramy) serving as producer and Matty Matheson as co-producer. The series is produced by FX Productions and has been renewed for a second season.
Disney+ is available for the low price of just £7.99 per month – with no hidden costs and the ability to cancel anytime. There's something for everyone to watch, adding new TV series, blockbuster movies and exclusive originals throughout the year from our six key brands: Disney, Pixar, Marvel, Star Wars, National Geographic and Star. Series streaming exclusively on Disney+ include "Pam & Tommy", hit comedy series "Only Murders in the Building" and "The Dropout" starring Amanda Seyfried. With our endless library of entertainment spanning everything from documentaries to critically acclaimed drama, and comedy to classic animation, you'll find plenty of the stories you expect, plus so many more you wouldn't.
Robust parental controls ensure that Disney+ remains a suitable viewing experience for everyone in the family. Subscribers can set access limits on mature content and create PIN-protected profiles alongside the already-existing Kid's profile, giving parents and guardians peace of mind.
About Disney+
Disney+ is the dedicated streaming home for movies and shows from Disney, Pixar, Marvel, Star Wars, and National Geographic, along with The Simpsons and much more. In select international markets, it also includes the new general entertainment content brand, Star. The flagship direct-to-consumer streaming service from The Walt Disney Company, Disney+ is part of the Disney Media & Entertainment Distribution segment. The service offers commercial-free streaming alongside an ever-growing collection of exclusive originals, including feature-length films, documentaries, live-action and animated series, and short-form content. With unprecedented access to Disney's long history of incredible film and television entertainment, Disney+ is also the exclusive streaming home for the newest releases from The Walt Disney Studios. And through Star, it offers the latest from 20th Century Studios, Disney Television Studios, FX, Searchlight Pictures, and more. For more, visit disneyplus.com, or find the Disney+ app on most mobile and connected TV devices.
MEDIA CONTACTS
Disney+ Media Relations
Holly Brooker
Max Damjanovic