Based on True Events, Disney+ Presents the Incredible Story of the First Black Policeman in East Germany as an Exclusive Original Series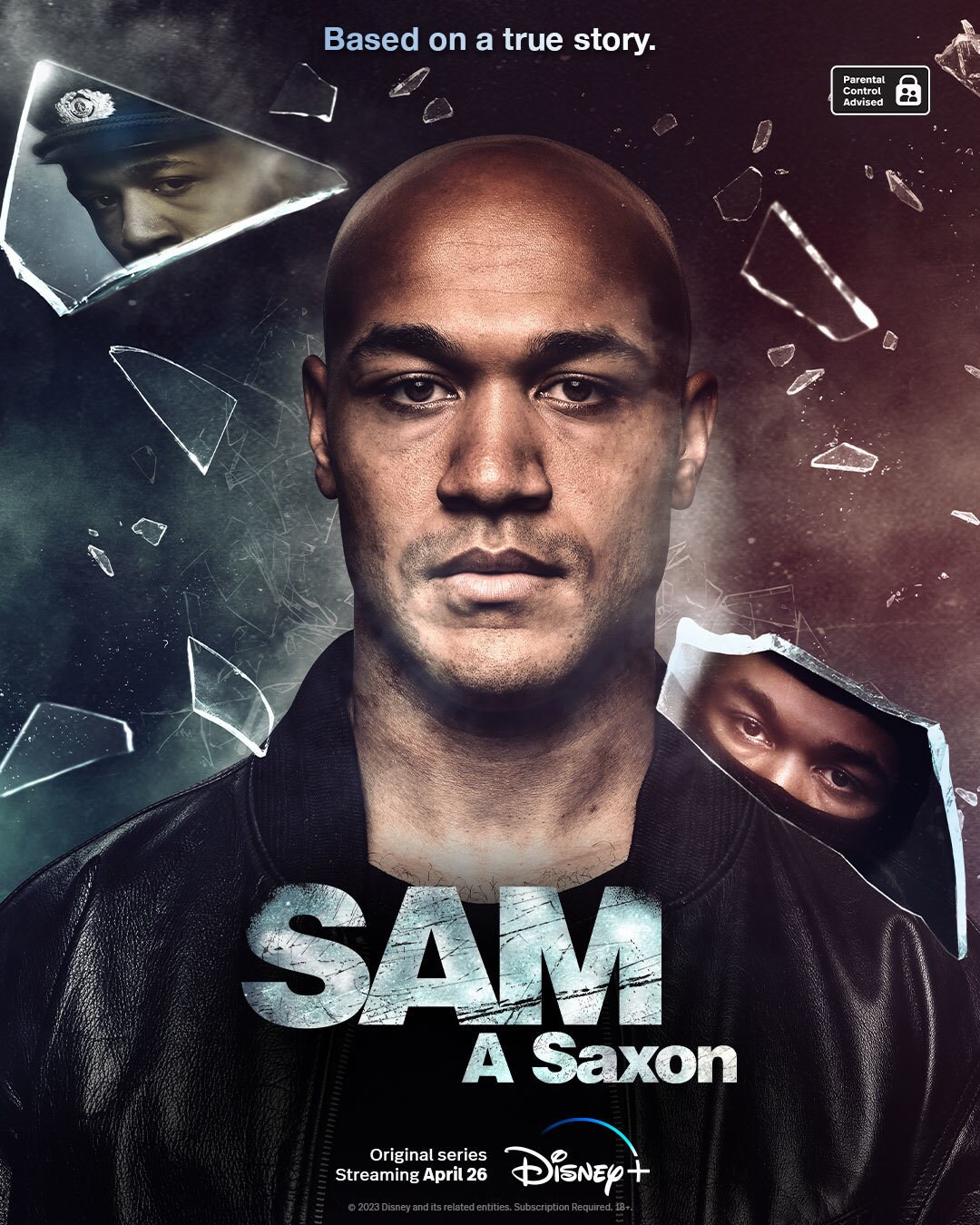 Watch Trailer: HERE

Download Key Art and Images HERE
LONDON, U.K. (April 17, 2023) – Today Disney+ released the official trailer for "Sam – A Saxon," the first German produced Original series starring Malick Bauer, Svenja Jung, Luise von Finckh, Ivy Quainoo, Thorsten Merten, Martin Brambach, Carina Wiese and Tyron Ricketts. "Sam – A Saxon" will premiere exclusively with all seven episodes available to stream on Disney+ on April 26th.
"Sam - A Saxon" is based on the incredible, true story of Samuel Meffire, the first black policeman in East Germany. This is a gripping series that follows Sam's irrepressible search for his place in an intensely prejudiced society. In his fight to overcome the system, he becomes the face of an anti-racism campaign and a symbol of a new Germany. However, his meteoric rise to fame is quickly followed by an abrupt downfall as he ends up behind bars with German tabloids branding him "public enemy #1".
International Emmy Award® winner Jörg Winger ("Deutschland83/86/89"), is showrunner for "Sam - A Saxon," Sebastian Werninger (both Big Window Productions) and Tyron Ricketts (Panthertainment) are the producers of the seven-part miniseries. "Sam – A Saxon" is executive produced by Leslie-Alina Schäfer and produced by Naomi Marne (Big Window Productions). The series was created by Tyron Ricketts, Jörg Winger and Christoph Silber ("Nordwand").
"Sam - A Saxon" unites an outstanding and diverse team, in front of as well as behind the camera. The lead directors are Soleen Yusef ("House Without Roof", "Deutschland89") and Sarah Blaßkiewitz ("Precious Ivie"), and head writers are Jörg Winger and Christoph Silber who co-wrote the scripts with the Writers Room (Malina Nnendi Nwabuonwor, Toks Körner, Tyron Ricketts, Soleen Yusef and Carolin Würfel).
"Sam - A Saxon" is based on the biography of Samuel "Sam" Njankouo Meffire. Malick Bauer ("Frau Jordan stellt gleich", "Wir") stars in the title role as Sam; Alex - Sam's mentor, with whom he shares the experience of being a Black German - is played by Tyron Ricketts. Svenja Jung, Luise von Finckh, Carina Wiese, Paula Essam, Ivy Quainoo, Thorsten Merten, Martin Brambach, Nyamandi Adrian, Aristo Luis, Daniel Klare and more can be seen in further leading roles in front of the camera of Stephan Burchardt and Max Preiss. "Sam – A Saxon" is a production of Big Window Productions in cooperation with Panthertainment for Disney+. The seven-part miniseries is sponsored by the German Motion Picture Fund (GMPF) and Medienbord Berlin Brandenburg.
ABOUT BIG WINDOW PRODUCTIONS
Big Window Productions is an UFA Fiction/Fremantle label based in Berlin. With a focus on internationally viable High-End Drama, the label develops and produces entertaining and aspirational stories, principally in English, French and German. Big Window emphasizes diversity in front of and behind the camera and places the highest value on the craft and role of the writer/producer. Jörg Winger is founder and serves as Managing Director with Sebastian Werninger and Philipp Driessen.
ABOUT PANTHERTAINMENT
Panthertainment produces film and series content with a focus on POC stories for the global marketplace. Panthertainment consults in the field of D&I storytelling. Through stories in which diversity is shown to be the norm, Panthertainment showcases alternative perspectives to the prevailing eurocentric narrative in the media world.
ABOUT DISNEY+
Disney+ is the dedicated streaming home for movies and shows from Disney, Pixar, Marvel, Star Wars, and National Geographic, along with The Simpsons and much more. In select international markets, it also includes the general entertainment content brand, Star. The flagship direct-to-consumer streaming service from The Walt Disney Company, Disney+ offers an ever-growing collection of exclusive originals, including feature-length films, documentaries, live-action and animated series, and short-form content. With unprecedented access to Disney's long history of incredible film and television entertainment, Disney+ is also the exclusive streaming home for the newest releases from The Walt Disney Studios. For more, visit disneyplus.com, or find the Disney+ app on most mobile and connected TV devices.
MEDIA CONTACT
Disney+ Media Relations
Kirsty Walker
Kirsty.Walker@disney.com