DISNEY+ REVEALS OFFICIAL TRAILER AND KEY ART FOR ORIGINAL SERIES "MIKE"
Eight-Episode Limited Series
Premieres on Disney+ Day, September 8 in the UK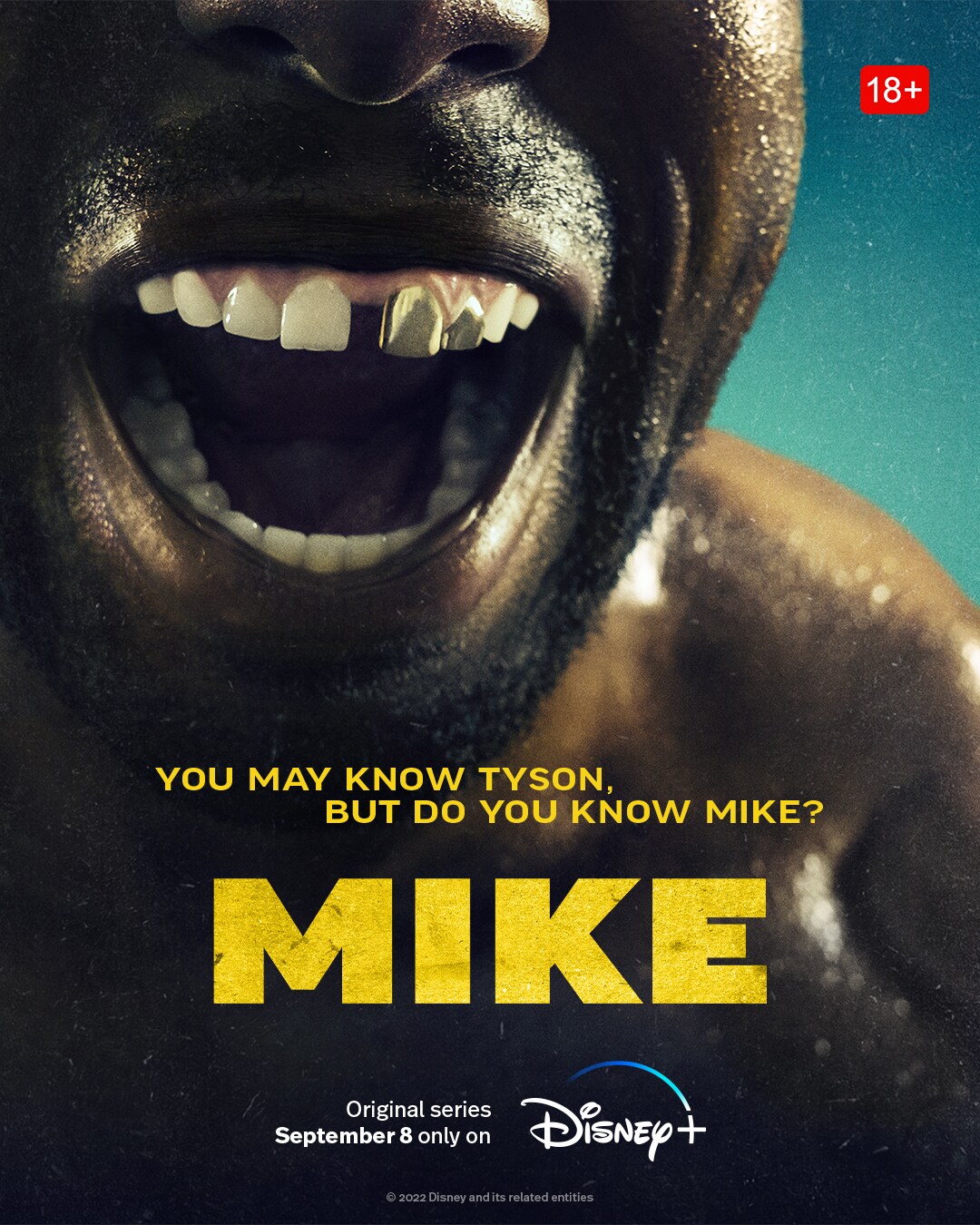 Watch the Trailer: https://youtu.be/GCtpPhZb3SY

Embed Code: <iframe width="560" height="315" src="https://www.youtube.com/embed/GCtpPhZb3SY?controls=0" title="YouTube video player" frameborder="0" allow="accelerometer; autoplay; clipboard-write; encrypted-media; gyroscope; picture-in-picture" allowfullscreen></iframe>
Download the Key Art: https://dam.gettyimages.com/s/hzwmn9mpwj8qsgn7jbhp28nq
LONDON, U.K. (July 21, 2022) – Today, Disney+ unveiled the official trailer and key art for Original limited series "Mike," an unauthorized and no-holds-barred look at the life of Mike Tyson – and it is one wild ride. The eight-episode series premieres with six episodes in the UK on Disney+ Day, September 8, under the Star banner.
From creator/screenwriter Steven Rogers and the team behind "I, Tonya" and showrunner Karin Gist, executive producer of "Our Kind of People", "Mike" explores the dynamic and controversial story of Mike Tyson. The 8-episode limited series explores the tumultuous ups and downs of Tyson's boxing career and personal life - from being a beloved global athlete to a pariah and back again. Focusing the lens on Mike Tyson, the series examines class in America, race in America, fame and the power of media, misogyny, the wealth divide, the promise of the American Dream and ultimately our own role in shaping Mike's story.
"Mike" stars Trevante Rhodes and Russell Hornsby, with guest stars Harvey Keitel, Laura Harrier, Li Eubanks, Olunike Adeliyi, and B.J.Minor.
"I, Tonya" screenwriter Steven Rogers created the series and will executive produce. Karin Gist will serve as showrunner and executive producer under her The Gist of It banner along with Claire Brown. The "I, Tonya" team of director Craig Gillespie, Clubhouse Pictures' Bryan Unkeless and Scott Morgan, and LuckyChap's Tom Ackerley and Margot Robbie will also executive produce along with Entertainment 360's Darin Friedman. Anthony Hemingway, Anthony Sparks, and Samantha Corbin-Miller executive produce as well, with Rhodes executive producing in addition to starring. 20th Television will produce.
The global celebration of Disney+ Day will return on Thursday September 8, 2022, leading into D23 Expo: The Ultimate Disney Fan Event presented by Visa in Anaheim, CA. In celebration, the streaming service will host special experiences for fans and subscribers, and will premiere new content from its marquee brands.
Robust parental controls ensure that Disney+ remains a suitable viewing experience for everyone in the family. Subscribers can set access limits on mature content and create PIN protected profiles, alongside the already existing Kid Profiles, to give parents and guardians peace of mind.
Twitter: @DisneyPlusUK
Instagram: @DisneyPlusUK
Facebook: @DisneyPlusUK
Hashtag:#DisneyPlusUK
ABOUT DISNEY+
Disney+ is the dedicated streaming home for movies and shows from Disney, Pixar, Marvel, Star Wars, and National Geographic, along with The Simpsons and much more. In select international markets, it also includes the new general entertainment content brand, Star. The flagship direct-to-consumer streaming service from The Walt Disney Company, Disney+ is part of the Disney Media & Entertainment Distribution segment. The service offers commercial-free streaming alongside an ever-growing collection of exclusive originals, including feature-length films, documentaries, live-action and animated series, and short-form content. With unprecedented access to Disney's long history of incredible film and television entertainment, Disney+ is also the exclusive streaming home for the newest releases from The Walt Disney Studios. And through Star, it offers the latest from 20th Century Studios, Disney Television Studios, FX, Searchlight Pictures, and more. For more, visit disneyplus.com, or find the Disney+ app on most mobile and connected TV devices.
ABOUT DISNEY+ DAY
Disney+ Day is an annual celebration of the Disney+ global community that debuted in 2021 and features content premieres from the streaming service's marquee brands, special experiences and offers for subscribers and fans, and more. This year, Disney+ Day returns on Thursday, September 8, leading into D23 Expo: The Ultimate Disney Fan Event presented by Visa in Anaheim, CA.
DISNEY+ MEDIA CONTACTS
Paula Riera
Joe Coupe