Trailer Features Two New Original Songs Written for the Film New Teaser Poster and Stills Now Available for the Disney+ Original Movie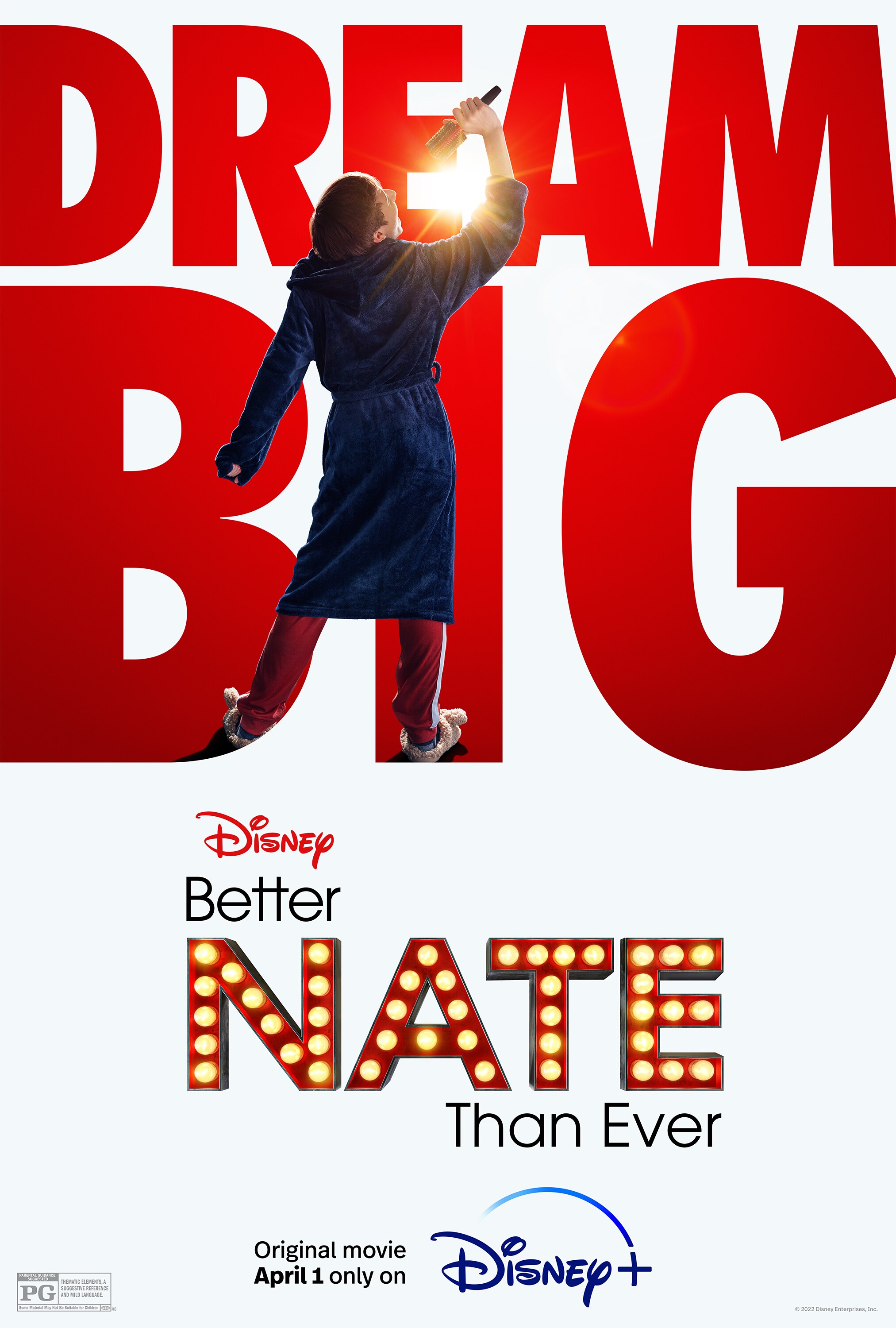 Watch Trailer: https://youtu.be/xwdQPXTMUQc
Embed Code: <iframe width="560" height="315" src="https://www.youtube.com/embed/xwdQPXTMUQc" title="YouTube video player" frameborder="0" allow="accelerometer; autoplay; clipboard-write; encrypted-media; gyroscope; picture-in-picture" allowfullscreen></iframe>
Download Teaser Poster and Stills: https://wdsprod.box.com/s/fsyx1i2ibdj9f6woct2cl1ehg6ozz7nt
LONDON, U.K. (Monday 28th February, 2022) – Disney+ has released the trailer, teaser poster and stills for Disney's "Better Nate Than Ever," a feel-good comedy adventure with showstopping musical numbers, which will debut exclusively on the streaming service April 1. The trailer features two new original songs written for the film, "Big Time," sung by Rueby Wood, who stars as Nate in the film, and "#GoAwf," sung by Aria Brooks, who stars as Libby, and Rueby Wood.
In "Better Nate Than Ever," 13-year-old Nate Foster has big Broadway dreams. There's only one problem — he can't even land a part in the school play. But when his parents leave town, Nate and his best friend Libby sneak off to the Big Apple for a once-in-a-lifetime opportunity to prove everyone wrong. A chance encounter with Nate's long-lost Aunt Heidi turns his journey upside-down, and together they must learn that life's greatest adventures are only as big as your dreams. Based on the award-winning novel.
"Better Nate Than Ever" stars Aria Brooks, Joshua Bassett, Michelle Federer and introducing Rueby Wood as Nate, with Norbert Leo Butz and Lisa Kudrow. Based upon the book by Tim Federle, the film was written for the screen and directed by Tim Federle. Marc Platt and Adam Siegel served as the film's producers, with Tim Federle and Pamela Thur as its executive producers.
About Disney+
Disney+ is the dedicated streaming home for movies and shows from Disney, Pixar, Marvel, Star Wars, and National Geographic, along with The Simpsons and much more. In select international markets, it also includes the new general entertainment content brand, Star. The flagship direct-to-consumer streaming service from The Walt Disney Company, Disney+ is part of the Disney Media & Entertainment Distribution segment. The service offers commercial-free streaming alongside an ever-growing collection of exclusive originals, including feature-length films, documentaries, live-action and animated series, and short-form content. With unprecedented access to Disney's long history of incredible film and television entertainment, Disney+ is also the exclusive streaming home for the newest releases from The Walt Disney Studios. And through Star, it offers the latest from 20th Century Studios, Disney Television Studios, FX, Searchlight Pictures, and more. For more, visit disneyplus.com, or find the Disney+ app on most mobile and connected TV devices.
Facebook: @DisneyPlusUK / @disneystudios
Twitter: @DisneyPlusUK / @DisneyStudios
TikTok: @DisneyPlusUK
Hashtag: #DisneyPlusUK
MEDIA CONTACTS
Walt Disney Studios Global Publicity
Esther Paterson
Edith Thomas
Disney+ Media Relations 
Megan McDaid