The film stars Zoey Deutch and Dylan O'Brien with Quinn Shephard directing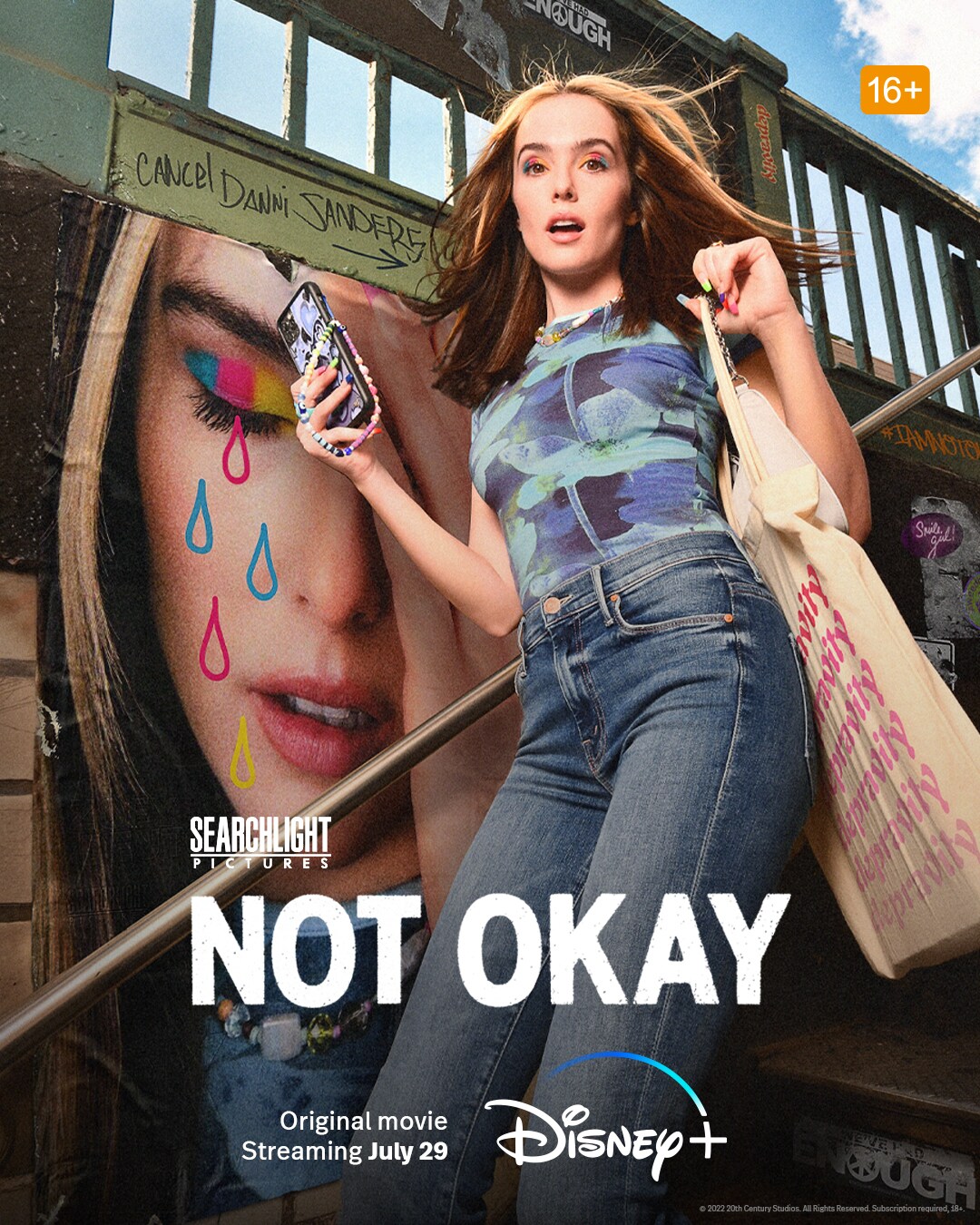 Watch the Trailer: https://youtu.be/GBLd4uurNhI

Images Available Now: https://dam.gettyimages.com/thewaltdisneystudios/notokay
LONDON, U.K. (21 July, 2022) – Today, Disney+ released the key art and trailer for "NOT OKAY", a film coming to Disney+ in the UK on 29 July. NOT OKAY is directed and written by Quinn Shephard, and stars Zoey Deutch, Dylan O'Brien, Mia Isaac, Embeth Davidtz, Nadia Alexander, Tia Dionne Hodge, and Negin Farsad. Brad Weston and Caroline Jaczko produced.
"NOT OKAY" follows Danni Sanders (Zoey Deutch), an aimless aspiring writer with no friends, no romantic prospects and — worst of all — no followers, fakes an Instagram-friendly trip to Paris in the hopes of boosting her social media clout. When a terrifying incident strikes the City of Lights, Danni unwittingly falls into a lie bigger than she ever imagined. She "returns" a hero, even striking up an unlikely friendship with Rowan (Mia Isaac), a real trauma survivor dedicated to societal change, and scooping up the man of her dreams, Colin (Dylan O'Brien). As an influencer and advocate, Danni finally has the life and audience she always wanted. But it's only a matter of time before the facade cracks, and she learns the hard way that the Internet loves a takedown.
Twitter: @DisneyPlusUK
Instagram: @DisneyPlusUK
Facebook: @DisneyPlusUK
Hashtag: #DisneyPlusUK
ABOUT DISNEY+
Disney+ is the dedicated streaming home for movies and shows from Disney, Pixar, Marvel, Star Wars, and National Geographic, along with The Simpsons and much more. In select international markets, it also includes the new general entertainment content brand, Star. The flagship direct-to-consumer streaming service from The Walt Disney Company, Disney+ is part of the Disney Media & Entertainment Distribution segment. The service offers commercial-free streaming alongside an ever-growing collection of exclusive originals, including feature-length films, documentaries, live-action and animated series, and short-form content. With unprecedented access to Disney's long history of incredible film and television entertainment, Disney+ is also the exclusive streaming home for the newest releases from The Walt Disney Studios. And through Star, it offers the latest from 20th Century Studios, Disney Television Studios, FX, Searchlight Pictures, and more. For more, visit disneyplus.com, or find the Disney+ app on most mobile and connected TV devices.
ABOUT SEARCHLIGHT PICTURES
Searchlight Pictures is a global specialty film company that develops, produces, finances and acquires motion pictures for both worldwide theatrical and streaming releases. It has its own marketing and distribution operations, and is part of The Walt Disney Studios, a division of The Walt Disney Company. Founded in 1994 as Fox Searchlight Pictures, the company's titles have grossed over $5 billion worldwide, amassing 46 Academy Awards including five Best Picture winners since 2009: Slumdog Millionaire, 12 Years a Slave, Birdman, The Shape of Water, and Nomadland; 51 BAFTA Awards, 28 Golden Globe Awards, and 10 Grammy Awards. Searchlight recently released Guillermo del Toro's Academy Award Nominated Nightmare Alley; Wes Anderson's The French Dispatch; as well as Ahmir "Questlove" Thompson's Oscar-winning documentary feature Summer Of Soul (…Or, When The Revolution Could Not Be Televised) with Hulu and in partnership with Disney's Onyx Collective; the Hulu Original Limited Series "The Dropout'' from Elizabeth Meriwether; Mimi Cave's FRESH; Andrew Ahn's Fire Island; and Sophie Hyde's Good Luck to You, Leo Grande. Upcoming releases include Quinn Shephard's Not Okay; Tom George's See How They Run; Martin McDonagh's The Banshees of Inisherin; Mark Mylod's The Menu; and Sam Mendes' Empire of Light. The company includes Searchlight Television, which develops and produces series for streaming, network, and cable partners.
MEDIA CONTACTS
Walt Disney Studios Relations
Edith Thomas
Alex Rowland
Disney+ Media Relations
Lauren Mullem