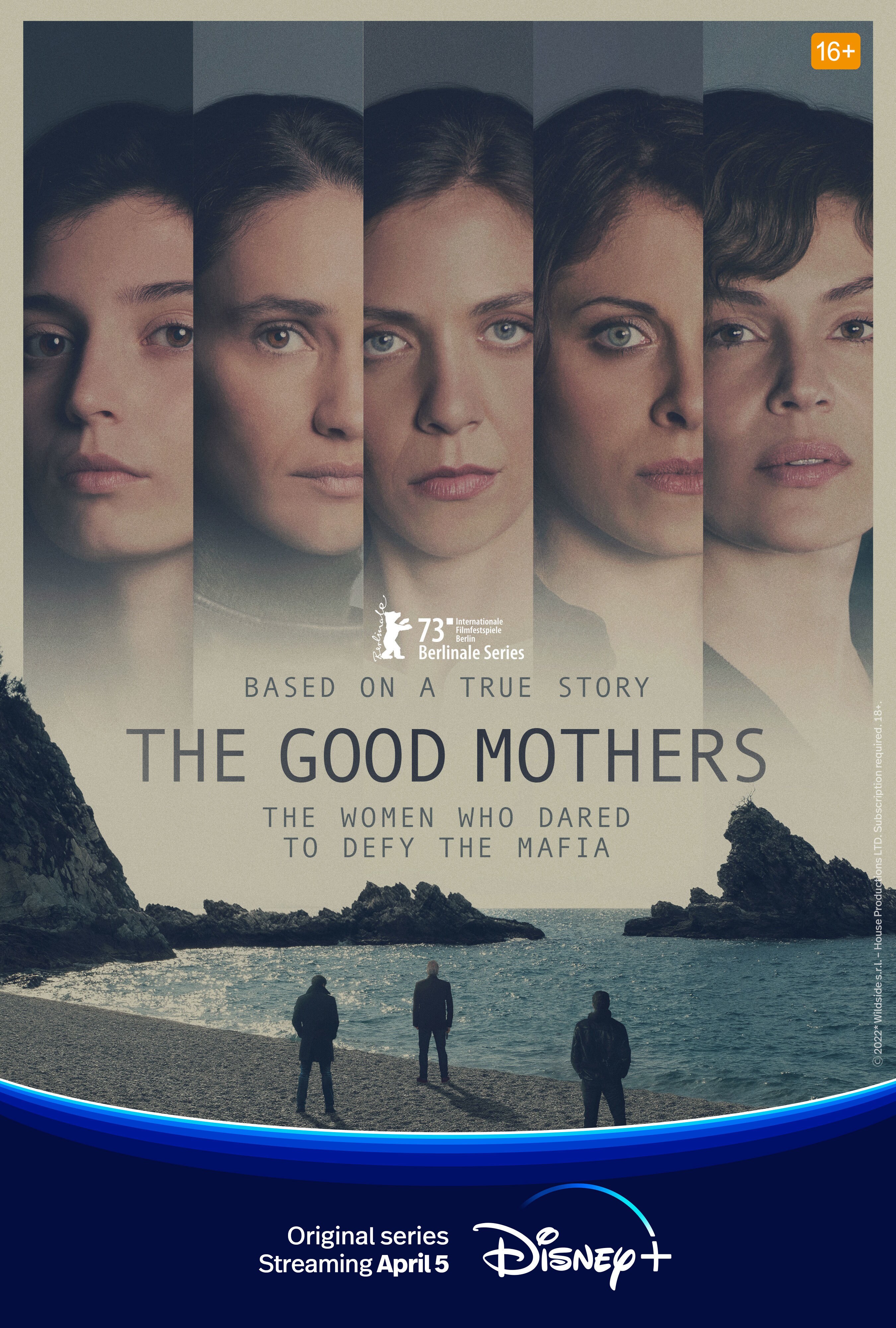 Presented Today and in Competition at the 73rd Berlin International Film Festival
in the "Berlinale Series" Section
Produced by Juliette Howell, Tessa Ross and Harriet Spencer for House Productions and by Mario Gianani and Lorenzo Gangarossa for Wildside, a Fremantle company
Link to Key Art: https://dam.gettyimages.com/s/rk3m85crj3jmnt733jxqtvh
Trailer Link: https://youtu.be/7OR9--AmLPc
London, UK (21st February, 2023) – Disney+ announced today that Italian Original Series "The Good Mothers" will premiere on 5 April on the streaming service with all six episodes available at launch. The debut date was revealed today during a press conference held in Berlin with some of the cast and filmmakers present.
The upcoming Disney+ series – about the 'Ndrangheta seen entirely from the perspective of the women who dared to challenge it – is competing at the 73rd Berlin International Film Festival in the "Berlinale Series" section, where the first two episodes will have their world premiere this evening, Tuesday 21 February. "The Good Mothers" is nominated for the Berlinale Series Award, established this year, and the first prize to be awarded specifically for a series in the festival's history.
The cast includes Gaia Girace ("My Brilliant Friend") as Denise Cosco, Valentina Bellè ("Catch-22", "Medici") as Giuseppina Pesce, Barbara Chichiarelli ("Suburra – The series", "Bad Tales") as Anna Colace, Francesco Colella ("ZeroZeroZero", "Trust") as Carlo Cosco, Simona Distefano ("The Traitor") as Concetta Cacciola, Andrea Dodero ("Thou Shalt Not Hate") as Carmine and with Micaela Ramazzotti ("Like Crazy", "The First Beautiful Thing") as Lea Garofalo.
"The Good Mothers" is a multi-layered narrative that follows the shocking true story of three women who were born into the deadliest of the Italian Mafia clans, and how they worked with a courageous female prosecutor to bring it down from the inside. The women must fight their own families for the right to survive and build a new future for their children.
Based on the gripping book by George Polk award-winning journalist Alex Perry and adapted for the screen by BAFTA nominee Stephen Butchard (Bagdad Central, The Last Kingdom), the project is directed by BAFTA and EMMY nominated Julian Jarrold (The Crown, Becoming Jane) and award-winning Elisa Amoruso ( Sirley, Chiara Ferragni: Unposted) and is produced by House Productions ("Sherwood", "The Wonder") and Wildside ("My Brilliant Friend", "Anna") a Fremantle company.
Based on a true story, "The Good Mothers" follows the story of Denise, daughter of Lea Garofalo, Maria Concetta Cacciola and Giuseppina Pesce, three women who dared to defy the 'Ndrangheta mafia. To help them, prosecutor Anna Colace, having just arrived in Calabria, has an intuition: to be able to defeat the 'Ndrangheta clans, you need to focus on the women. It is a strategy that brings with it great risk: The 'Ndrangheta is famous and feared for its iron fist and insidious power. "The Good Mothers" follows Denise, Giuseppina and Maria Concetta in their attempt to free themselves from the criminal power and collaborate with the authorities.
"The Good Mothers" is executive produced by Juliette Howell, Tessa Ross and Harriet Spencer for House Productions, Mario Gianani and Lorenzo Gangarossa for Wildside, a Fremantle Company and Alessandro Saba for Disney+.
Disney+ is available for £7.99 per month – with no hidden costs and the ability to cancel anytime. There's something for everyone to watch, adding new TV series, blockbuster movies and exclusive originals throughout the year from our six key brands: Disney, Pixar, Marvel, Star Wars, National Geographic and Star. Enjoy a pick from our European Originals, including the hilarious UK series "Extraordinary", France's "Oussekine" and Italy's "Ignorant Angels". With our endless library of entertainment spanning everything from documentaries to critically acclaimed drama, and comedy to classic animation, you'll find plenty of the stories you expect, plus so many more you wouldn't.
Social Media
Twitter: @DisneyPlusUK
Instagram: @DisneyPlusUK
Facebook: @DisneyPlusUK
TikTok: @DisneyPlus
Hashtag: #DisneyPlusUK; #TheGoodMothers
About Disney+
Disney+ is the dedicated streaming home for movies and shows from Disney, Pixar, Marvel, Star Wars, and National Geographic, along with The Simpsons and much more. In select international markets, it also includes the general entertainment content brand, Star. The flagship direct-to-consumer streaming service from The Walt Disney Company, Disney+ is part of the Disney Media & Entertainment Distribution segment. The service offers an ever-growing collection of exclusive originals, including feature-length films, documentaries, live-action and animated series, and short-form content. With unprecedented access to Disney's long history of incredible film and television entertainment, Disney+ is also the exclusive streaming home for the newest releases from The Walt Disney Studios. For more, visit disneyplus.com, or find the Disney+ app on most mobile and connected TV devices.
About House Productions:
Launched in 2016 by Tessa Ross and Juliette Howell, House Productions brings the best of film and television together to create quality storytelling, be it on the big or small screen. In December 2021, BBC Studios acquired the company which now sits within the global content company's portfolio of indies.
Recent productions include the hit BBC One drama SHERWOOD, written by acclaimed playwright James Graham and directed by Lewis Arnold and starring David Morrissey and Lesley Manville, which became a huge critical and ratings success and critically acclaimed LIFE AFTER LIFE, an adaptation of the Kate Atkinson bestseller from Bash Doran, directed by John Crowley and starring Thomasin MacKenzie for BBC Two; Sebastián Lelio's psychological thriller feature, THE WONDER, a co-production with Element Pictures for Netflix, which premiered at The London Film Festival in October and was released to critical acclaim on the platform in November 2022 and BREXIT - THE UNCIVIL WAR, a single film again written by James Graham, starring Benedict Cumberbatch and Rory Kinnear.
Upcoming projects alongside THE GOOD MOTHERS, are SIX FOUR, an intense crime thriller, set and filmed in Glasgow, starring Kevin McKidd, from award winning writer Gregory Burke which will launch in 2023 on ITVX. Filming has recently finished on STARVE ACRE, a stylistic modern horror, based on the novel by Andrew Michael Hurley, from BAFTA Award nominated writer and director Daniel Kokotajlo, starring Matt Smith and Morfydd Clark; and on THE IRON CLAW, written and directed by Sean Durkin and starring Zac Efron, Maura Tierney and Lily James; and Edward Berger's CONCLAVE, an adaptation from Peter Straughan of the Robert Harris best-selling conspiracy thriller, starring Ralph Fiennes, Stanley Tucci and John Lithgow, has just started principal photography.
About Wildside
Founded in 2009, the company has produced award winning movies with talents such as Bernardo Bertolucci, Marco Bellocchio and Saverio Costanzo, competing in Europe's most renowned festivals (Cannes, Venice, Berlin), and has also accomplished a long streak of commercial hits.
For TV, Wildside has produced three seasons of the local adaptation of IN TREATMENT; 1992, 1993 and 1994; THE YOUNG POPE and THE NEW POPE by Academy Award director Paolo Sorrentino and starring Jude Law for HBO/SKY/CANAL; THE MIRACLE, the debut in television of the writer Niccolò Ammaniti for SKY/ARTE; MY BRILLIANT FRIEND directed by Saverio Costanzo, based on the Best Seller quadrilogy by Elena Ferrante for HBO/RAI, WE ARE WHO WE ARE by Luca Guadagnino for HBO/SKY and ANNA for SKY/ARTE by Niccolò Ammaniti and it's currently postproducing EVERYBODY LOVES DIAMONDS for Prime Video. Among many movies, Wildside has produced ME AND YOU by Bernardo Bertolucci, THE EIGHT MOUNTAINS by Academy Award nominated director Felix van Groeningen and Charlotte Vandermeersch (Jury Prize at Cannes International Film Festival 2022), was the Italian partner on PAVAROTTI by Academy Award Winning Director Ron Howard, and L'IMMENSITÀ by Emanuele Crialese starring Academy Award winner Penélope Cruz and has a slate of several upcoming films and tv series with top European filmakers. Wildside is part of Fremantle, one of the largest creators, producers and distributors of television brands in the world.
Press Contacts
Disney+ Media Relations
Kirsty Walker
Kirsty.Walker@disney.com