Documentary Film From Supper Club 
Streams Exclusively on Disney+ March 18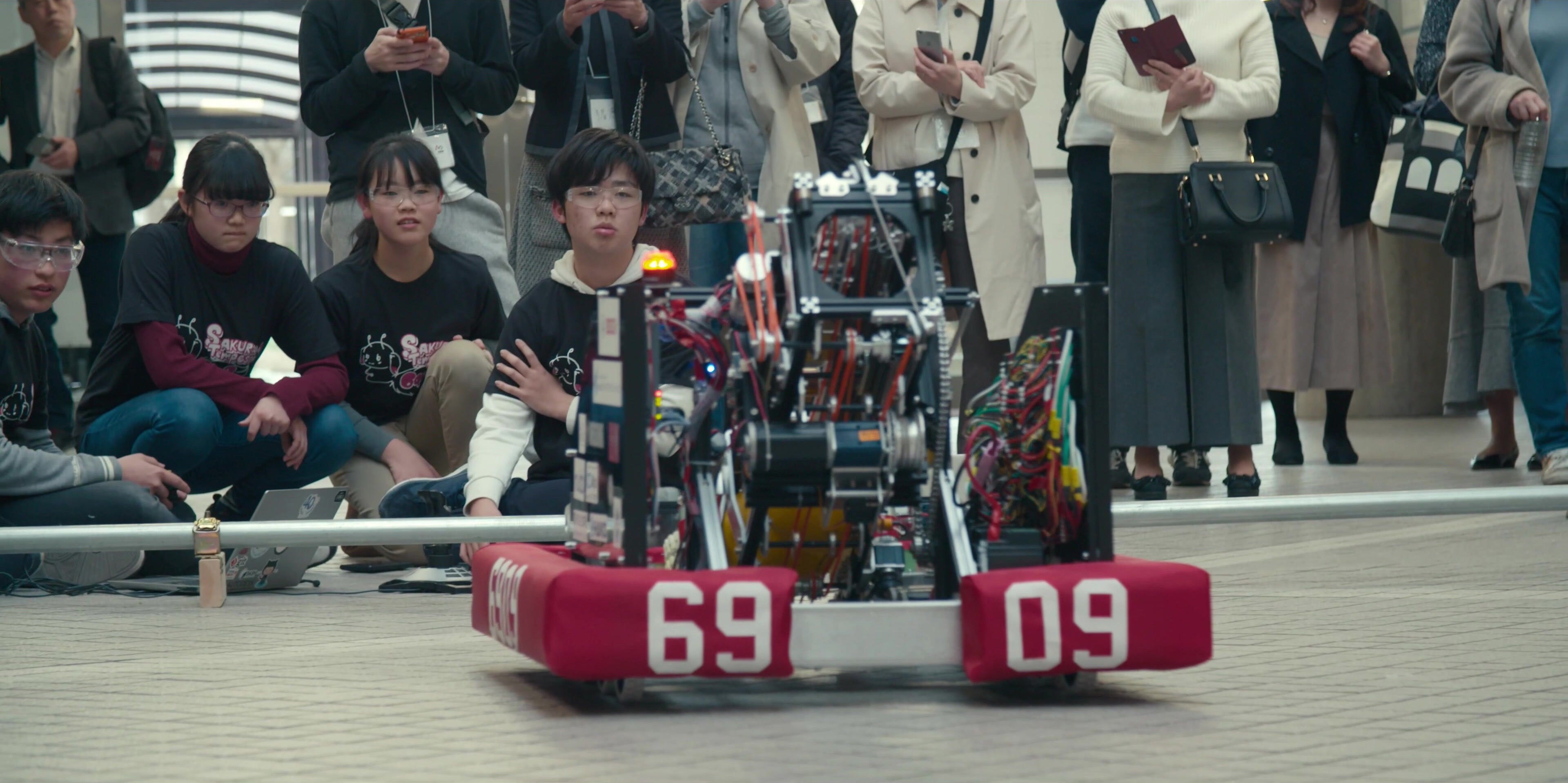 Link to Trailer: https://www.youtube.com/watch?v=AjIISbARc20
Embed Code: <iframe width="560" height="315" src="https://www.youtube.com/embed/AjIISbARc20" title="YouTube video player" frameborder="0" allow="accelerometer; autoplay; clipboard-write; encrypted-media; gyroscope; picture-in-picture" allowfullscreen></iframe>
Link to photo: https://wdsprod.box.com/s/nnarv84h1w3prqag8sydxq2lg1ram3cl
LONDON, U.K. (2 February, 2022) – Today, Disney+ announced that "More Than Robots," an original documentary presented by Supper Club and Disney+ and made in partnership with FIRST®, will premiere at the world-renowned SXSW (South by Southwest) Film Festival on March 14. On Friday, March 18, the documentary will stream exclusively on Disney+. Disney+ also unveiled the trailer for "More Than Robots," which is available via the link above.
"More Than Robots" follows four teams of teenagers from around the world as they prepare for the 2020 FIRST® Robotics Competition. Get to know teams from Los Angeles, Mexico City and Chiba, Japan as they work towards the goal of taking their unique designs all the way to the highly competitive global championships. Although they are faced with overcoming challenges along the way, such as having limited resources within their community or putting everything on hold because of a world-wide pandemic, the kids persevere and learn that there is a lot more to the competition than just robots.
For more than 20 years, Disney has supported FIRST® with financial, in-kind and mentorship resources, and together with Lucasfilm's philanthropic initiative Star Wars: Force for Change, FIRST® continues to bring hands-on learning opportunities and mentorship to more young people around the world, empowering them to not only think big, but to develop the skills needed to be the next generation of innovators.
"More Than Robots" is directed by Gillian Jacobs in her feature-length documentary directorial debut. Award-winning Supper Club founders Jason Sterman, Brian McGinn, and David Gelb are the producers. Lucasfilm's Michael Garcia and Christine Beebe serve as executive producers, with Jacqui Lopez as co-executive producer.
SOCIAL MEDIA:
Twitter: @DisneyPlusUK
Instagram: @DisneyPlusUK
Facebook: @DisneyPlusUK
Hashtag: #DisneyPlusUK
About Disney+
Disney+ is the dedicated streaming home for movies and shows from Disney, Pixar, Marvel, Star Wars, and National Geographic, along with The Simpsons and much more. In select international markets, it also includes the new general entertainment content brand, Star. The flagship direct-to-consumer streaming service from The Walt Disney Company, Disney+ is part of the Disney Media & Entertainment Distribution segment. The service offers commercial-free streaming alongside an ever-growing collection of exclusive originals, including feature-length films, documentaries, live-action and animated series, and short-form content. With unprecedented access to Disney's long history of incredible film and television entertainment, Disney+ is also the exclusive streaming home for the newest releases from The Walt Disney Studios. And through Star, it offers the latest from 20th Century Studios, Disney Television Studios, FX, Searchlight Pictures, and more. For more, visit disneyplus.com, or find the Disney+ app on most mobile and connected TV devices.
About Supper Club
Supper Club is the independent production company founded by award-winning filmmakers Jason Sterman, David Gelb and Brian McGinn. Specializing in the development and production of original non-scripted and scripted entertainment, Supper Club is dedicated to elevated storytelling across all platforms and formats. Supper Club founders have garnered 9 Emmy® nominations, and two wins, including Outstanding Documentary or Nonfiction Special. Supper Club continues to produce non-fiction programming through their development and production deal with The Walt Disney Company.
About FIRST ®   
FIRST ®  is a robotics community that prepares young people for the future through a suite of inclusive, team-based robotics programs for ages 4-18 (PreK-12) that can be facilitated in school or in structured afterschool programs. An international not-for-profit organization founded by accomplished inventor Dean Kamen in 1989, FIRST has a proven impact on STEM learning, interest, and skill-building well beyond high school. Boosted by a global support system of mentors, coaches, volunteers, alumni, and sponsors that include over 200 of the Fortune 500 companies, teams operate under a signature set of FIRST Core Values to conduct research, fundraise, design, and build robots, then compete and celebrate at local, regional, and international events. High school students are eligible for more than $80 million in college scholarships. Learn more at firstinspires.org
PRESS CONTACTS:
Walt Disney Studios Publicity
Edith Thomas
Esther Paterson
Disney+ UK Media Relations
Megan McDaid