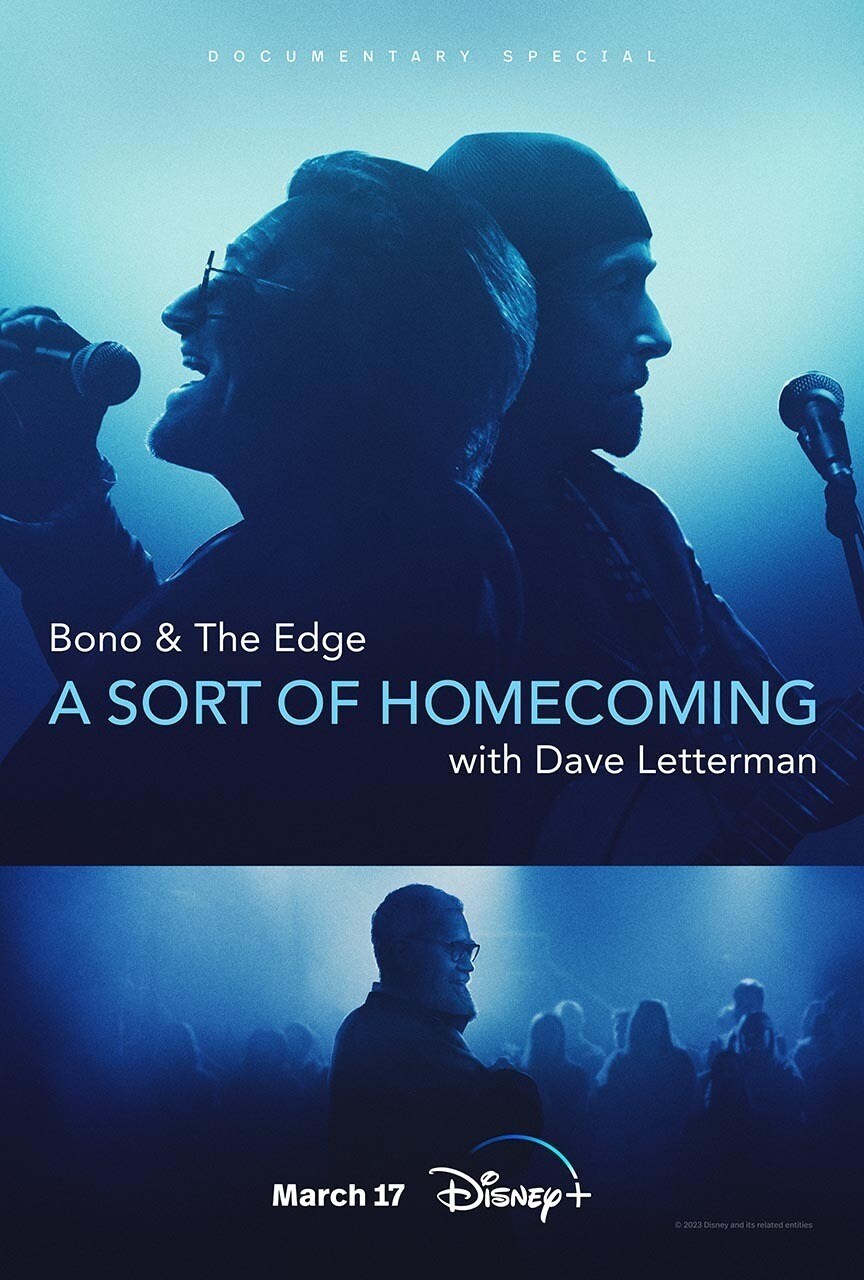 LINK TO TRAILER: https://www.youtube.com/watch?v=BjAdRYM9iR4
TRAILER EMBED CODE: <iframe width="560" height="315" src=https://www.youtube.com/embed/BjAdRYM9iR4title="YouTube video player" frameborder="0" allow="accelerometer; autoplay; clipboard-write; encrypted-media; gyroscope; picture-in-picture; web-share" allowfullscreen></iframe>
LINK TO DOWNLOAD KEY ART & STILLS: https://dam.gettyimages.com/s/55m8vqxscg8t2zpbv7fvt6gp 
LONDON, U.K. (23 February, 2023) – Disney+ reveals the official trailer and key art for the highly anticipated docu-special, "Bono & The Edge: A Sort of Homecoming, with Dave Letterman," is set to premiere globally on Disney+ on 17 March, St. Patrick's Day, coinciding with U2's highly anticipated album "Songs Of Surrender" ― a collection of 40 seminal U2 songs from across the band's catalog, re-recorded and reimagined.
In the docu-special, from Disney Branded Television, Academy Award®-winning filmmaker Morgan Neville captures Dave Letterman on his first visit to Dublin to hang out with Bono and The Edge in their hometown, experience Dublin, and join the two U2 musicians for a concert performance unlike any they've done before.
From Brian Grazer and Ron Howard's Imagine Documentaries, Neville's Tremolo Productions, and Dave Letterman's Worldwide Pants, "Bono & The Edge: A Sort of Homecoming, with Dave Letterman" is part concert movie, part travel adventure plus a whole lot of Bono and The Edge, with Dave's humor throughout.
As well as the concert performance itself, the docu-special will focus on the extraordinary relationship between Bono and The Edge and how it has developed across 45-plus years of close friendship to become one of the most remarkable songwriting partnerships in the history of rock 'n' roll, plus document Dublin through Dave's eyes as he experiences Bono and The Edge's home city for the first time.
Letterman, who accepted an invitation from the two U2 bandmates to join them in Dublin for his first-ever visit to Ireland, has a 25-year relationship with U2 but had previously only spent time with the Bono and The Edge in the U.S. As well as being their honored guest at an intimate concert performance at a local landmark, the former Ambassador Cinema building at the top of O'Connell Street on Dublin's Northside, Dave embarks on his own exploration of the city. He visits the legendary Forty Foot swimming spot on a freezing cold morning and rides the DART commuter train north from Co. Wicklow. Letterman also inspires a brand new U2 song written by The Edge and Bono and narrowly escapes having to perform at a sing-song at the legendary McDaid's pub off Grafton Street with an equally legendary bunch of artists and musicians, including Bono, The Edge, Glen Hansard, Markéta Irglová, Imelda May, Loah, Saint Sister, Grian Chatten of Fontaines D.C., and Dermot Kennedy, whose voice Bono describes as a "sonic boom."
U2's new album titled "Songs Of Surrender" ― a collection of 40 seminal U2 songs from across the band's catalog, re-recorded and reimagined for 2023 in sessions spanning the last two years, to be released in full on Friday, 17 March. The first track to be made available from this brand new set of recordings is the anthemic "Pride (In The Name Of Love)," listen here. "Songs Of Surrender" is curated and produced by The Edge and sees the band revisit some of the most celebrated songs of their 40-plus year career, including "With Or Without You," "One," "Beautiful Day," "Sunday Bloody Sunday" and "Invisible," for a musical reimagining resulting in a completely new recording of each track, to include the arrangements and, in some cases, new lyrics.
"Bono & The Edge: A Sort of Homecoming, with Dave Letterman" is produced by Imagine Documentaries, Tremolo Productions, and Dave Letterman's Worldwide Pants. For Imagine Documentaries, Brian Grazer, Ron Howard, Sara Bernstein and Justin Wilkes are executive producers; Séamus Murphy-Mitchell is producer; and Meredith Kaulfers and Mike Sweeney are co-executive producers. For Tremolo, Morgan Neville is director and producer, and Caitrin Rogers is executive producer. For Worldwide Pants, Tom Keaney is executive producer, and Mary Barclay is co-executive producer. For Disney Branded Television, Marc Buhaj is vice president, Unscripted and Nonfiction, and Marjon Javadi is vice president, Documentary Films and Docuseries.
Disney+ is available for £7.99 per month – with no hidden costs and the ability to cancel anytime. There's something for everyone to watch, adding new TV series, blockbuster movies and exclusive originals throughout the year from our six key brands: Disney, Pixar, Marvel, Star Wars, National Geographic and Star. Enjoy a pick from our range of music documentaries, including Billie Eilish's "Happier Than Ever: A Love Letter to Los Angeles", Olivia Rodrigo's "Driving Home to You" and the unforgettable "If These Walls Could Sing". With our endless library of entertainment spanning everything from documentaries to critically acclaimed drama, and comedy to classic animation, you'll find plenty of the stories you expect, plus so many more you wouldn't.

About U2
Bono, The Edge, Adam Clayton and Larry Mullen Jr. met as teenagers at Dublin's Mount Temple School and in 1978 U2 was formed. From the beginning, U2 were marked out by their drive and ambition, forming as a band - as they've said - "before they could play."
Forty years later, U2 is acknowledged as one of the best live acts in the world. The band has toured the globe countless times, released 14 studio albums, sold over 170 million albums and won numerous awards, including 22 Grammys and Amnesty International's Ambassador of Conscience award. U2 were inducted into the Rock and Roll Hall of Fame in 2005 and have twice been nominated for an Academy Award for Best Original Song: in 2003 for 'The Hands That Built America' for Gangs of New York, and in 2014 for 'Ordinary Love' for Mandela: Long Walk to Freedom.
U2's fourteenth studio album Songs Of Experience – the companion release to 2014's Songs Of Innocence - was released in December 2017 debuting at #1 on the Billboard 200, setting U2 apart as the only band in history to have topped the chart in four successive decades.
In 2018, the U2 hit the road with the eXPERIENCE + iNNOCENCE Tour, an arena production which saw the band continue to push the creative boundaries of technology and engineering. And following 2017's acclaimed stadium run with The Joshua Tree Tour - the record-breaking smash hit tour celebrating the band's seminal 1987 album The Joshua Tree – The Joshua Tree Tour took U2 to New Zealand, Australia, and Japan, as well as bring "the biggest band in the world" (The Guardian) to Singapore, Seoul, Manila and Mumbai for the very first time. In November, 2019, the band released a track in collaboration with A.R. Rahman titled 'Ahimsa', which was performed live at Mumbai's, D.Y. Patil Stadium. In 2020, SiriusXM and U2 announced the launch of U2 X-Radio, a complete immersion into the work and influences of the band from the Northside of Dublin, all curated by U2. And in May 2021, Bono and The Edge collaborated with Dutch DJ Martin Garrix to create the track 'We Are The People' the official anthem for the UEFA 2020 European Football Tournament.
Songs Of Surrender – a collection of 40 seminal U2 songs from across the band's catalogue, re-recorded and reimagined for 2023 in sessions spanning the last two years, will be released in full on Friday 17th March.

About Disney+
Disney+ is the dedicated streaming home for movies and shows from Disney, Pixar, Marvel, Star Wars, and National Geographic, along with The Simpsons and much more. In select international markets, it also includes the general entertainment content brand, Star. The flagship direct-to-consumer streaming service from The Walt Disney Company, Disney+ offers an ever-growing collection of exclusive originals, including feature-length films, documentaries, live-action and animated series, and short-form content. With unprecedented access to Disney's long history of incredible film and television entertainment, Disney+ is also the exclusive streaming home for the newest releases from The Walt Disney Studios. For more, visit disneyplus.com, or find the Disney+ app on most mobile and connected TV devices.

About Tremolo Productions
Helmed by filmmaker Morgan Neville, Tremolo Productions is an Academy Award, Grammy Award and Emmy Award winning production company concentrating on quality non-fiction storytelling. Films and television include Won't You Be My Neighbor?, Roadrunner: A Film About Anthony Bourdain, Miss Americana, They'll Love Me When I'm Dead, Ugly Delicious, 20 ft from Stardom, Shangri-la, Best of Enemies, Abstract: The Art of Design, Keith Richards: Under the Influence, Watch the Sound with Mark Ronson, and Song Exploder.

About Imagine Documentaries
Imagine Documentaries was formed in 2018 by Imagine Entertainment Executive Chairmen Brian Grazer and Ron Howard with a focus on developing and producing premium feature documentaries and non-scripted television. Imagine Documentaries, based out of New York, is run by award-winning producer Sara Bernstein and has been recognized as a prolific and premiere documentary storyteller, working with the most visionary filmmakers in the industry and garnering multiple Emmy award nominations and wins for its' vast production slate. Recent releases include Sacha Jenkin's Louis "Armstrong's Black & Blues" (AppleTV+); The Volcano: Rescue from Whakaari" (Netflix) from Rory Kennedy, which reached #1 on Netflix globally; Amy Poehler's documentary feature directing debut and Emmy-winning "Lucy and Desi", on the personal and professional partnership between Lucille Ball and husband Desi Arnaz; Ron Howard's Emmy-nominated documentary feature film "We Feed People" profiling the humanitarian work of chef Jose Andres and the World Central Kitchen organization (National Geographic Films); the Emmy-winning feature "Who Are You, Charlie Brown?" (AppleTV+), "Light & Magic" from Lawrence Kasdan about George Lucas' pioneering visual effects house Industrial Light and Magic (Disney+); the Rory Kennedy directed feature "Downfall", investigating Boeing's 737-Maxd airplane crashes (Netflix); "Julia", the definitive documentary on Julia Child, directed by Julie Cohen and Betsy West (Sony Pictures Classic); and Joe Berlinger's "Crime Scene" anthology series, The Vanishing at the Cecil Hotel and The Times Square Killer, which both reached the top #5 globally on Netflix.
Upcoming productions include the Martin Scorsese directed feature "Personality Crisis: One Night Only" (Showtime) on the New York Dolls and New York's 1970's music scene; "Judy Blume Forever," a documentary feature about pioneering author Judy Blume from Davina Pardo and Leah Wolchock for Amazon; "The Supermodels", a docuseries featuring the iconic careers of Naomi Campbell, Cindy Crawford, Linda Evangelista and Christy Turlington (AppleTV+); "The Dynasty", a new documentary event series about the New England Patriots; and a Ron Howard-directed feature about Jim Henson for Disney+; and "David Blaine's Beyond Belief" (NatGeo/Disney+).

About Worldwide Pants
WORLDWIDE PANTS, INC. (WPI) is the production company founded by David Letterman in 1993, which created, produced and owns more than 4000 hours of television content, and has co-produced an array of award-winning television shows, films and music performances, winning dozens of Emmy awards and multiple Peabody awards. WPI produced all episodes of THE LATE SHOW WITH DAVID LETTERMAN. Among the musical performances on Letterman's shows were the debut television appearances for iconic recording artists including Talking Heads, Nas, REM and Lizzo among many others. Letterman and WPI also created the online concert series LIVE ON LETTERMAN, a series of hourlong live webcast performances from the Ed Sullivan Theater which debuted in 2010 with Pearl Jam, and over the five-year run had more than 50 performances, including J.Cole, St. Vincent, Taylor Swift, and Adele. Worldwide Pants also co-produced the 2014 HBO docu-series FOO FIGHTERS: SONIC HIGHWAYS. WPI has also co-produced MY NEXT GUEST NEEDS NO INTRODUCTION, a long-form doc/interview show on Netflix, featuring iconic guests including Barack Obama, Tina Fey, JAY-Z, Volodymyr Zalenskyy, Malala, Lizzo, Melinda Gates and Dave Chappelle.

About Disney Branded Television
Disney Branded Television encompasses the creative storytellers, and production and marketing teams responsible for Disney-branded television series, movies and other programming spanning live-action, animated and unscripted formats. The group helps fuel the Disney+ streaming platform and Disney Channel, Disney XD and Disney Junior linear networks with content geared toward kids, tweens, teens and families, with stories that are imaginative, aspirational and reflective of their world and experiences. Recent projects include "High School Musical: The Musical: The Series," "Monsters at Work," "The Mysterious Benedict Society," "Growing Up," and "Marvel's Spidey and his Amazing Friends," as well as upcoming "Elton John Live: Farewell from Dodger Stadium." Disney Branded Television has created some of the most iconic and award-winning properties and franchises, including Peabody Award winners "Doc McStuffins" and "The Owl House"; Emmy® Award winners "Big City Greens," "Turning the Tables with Robin Roberts," and "Elena of Avalor"; the beloved "Mickey Mouse" cartoon shorts plus the Disney Channel Original Movie (DCOM) franchise, comprised of more than 100 titles.
Social Media
Facebook: @DisneyPlusUK
Twitter: @DisneyPlusUK
Instagram: @DisneyPlusUK
Hashtags: #DisneyPlus
MEDIA CONTACTS
Disney+ Media Relations
Morgan Epperson
Morgan.Epperson@disney.com