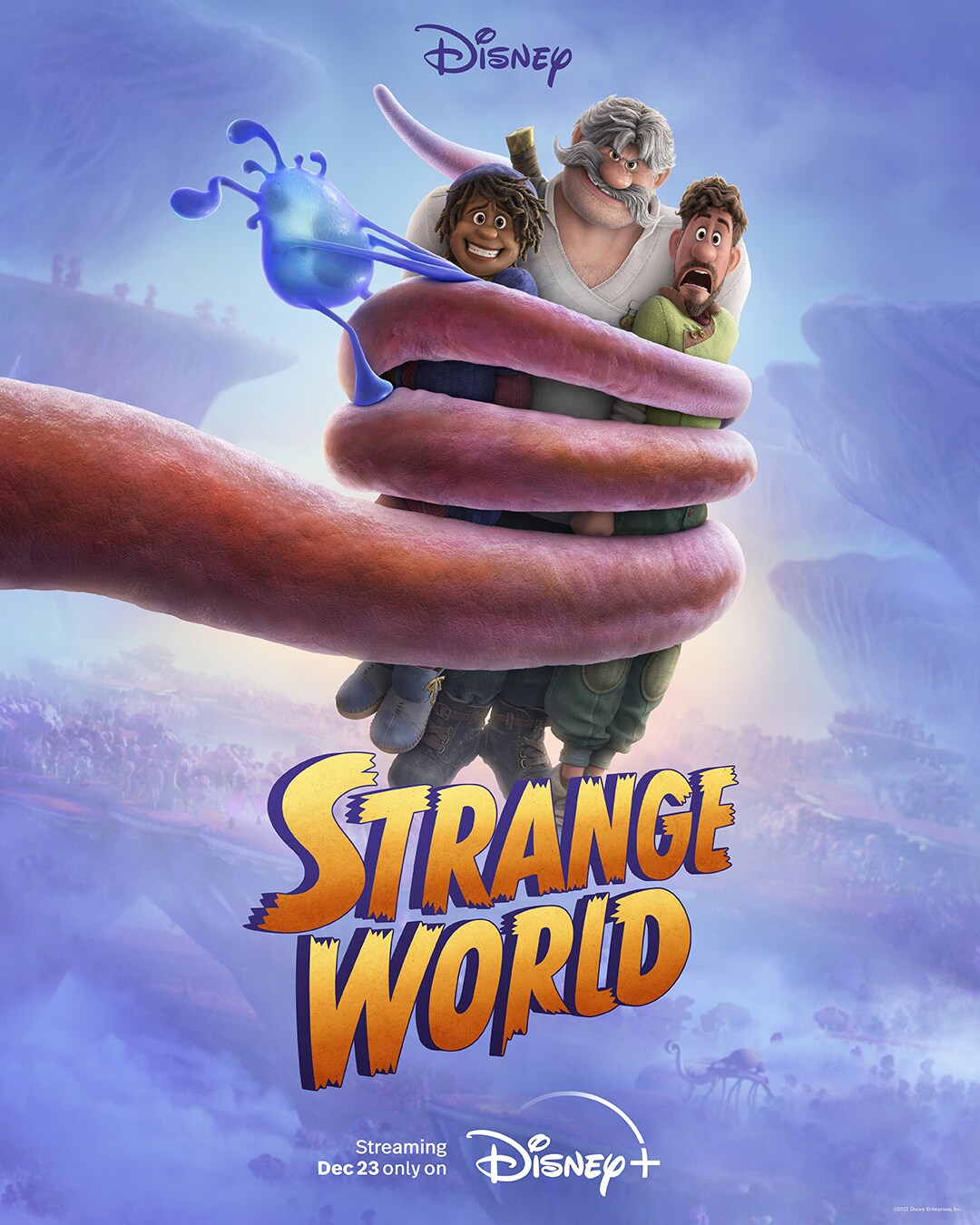 Download Key Art: HERE

LONDON, U.K. (Dec. 12, 2022) – Disney+ has an exciting Christmas gift for fans as Walt Disney Animation Studios' "Strange World" is heading to the streaming service beginning Dec. 23. New key art is now available to download and share.
"Strange World" introduces a legendary family of explorers, the Clades, as they attempt to navigate an uncharted, treacherous land alongside a motley crew that includes a mischievous blob called Splat; Legend, the family dog; and a slew of ravenous creatures. The voice cast includes Academy Award®- and Tony Award®-nominated actor Jake Gyllenhaal as Searcher Clade, a family man who finds himself out of his element on an unpredictable mission; Emmy®- and two-time Golden Globe®-nominee Dennis Quaid as Searcher's larger-than-life explorer father, Jaeger; comedian, actor, writer, filmmaker and musician Jaboukie Young-White as Searcher's 16-year-old, adventure-seeking son, Ethan; actress, producer, bestselling author and TIME100 cover honoree Gabrielle Union as Meridian Clade, an accomplished pilot and Searcher's partner in all things; and critically acclaimed actress, producer, director and fine artist Lucy Liu as Callisto Mal, Avalonia's fearless leader who spearheads the exploration into the strange world. Helmed by director Don Hall (Oscar®-winning "Big Hero 6," "Raya and the Last Dragon") and co-director/writer Qui Nguyen (co-writer "Raya and the Last Dragon"), with Roy Conli (Oscar®-winning "Big Hero 6," "Tangled") producing, "Strange World" is in theaters now.
Disney+ is available for £7.99 per month – with no hidden costs and the ability to cancel anytime. There's something for everyone to watch, adding new TV series, blockbuster movies and exclusive originals throughout the year from our six key brands: Disney, Pixar, Marvel, Star Wars, National Geographic and Star. Series streaming exclusively on Disney+ include the world's most famous family "The Simpsons", hit comedy series "Solar Opposites" and all episodes of "Grey's Anatomy". With our endless library of entertainment spanning everything from documentaries to critically acclaimed drama, and comedy to classic animation, you'll find plenty of the stories you expect, plus so many more you wouldn't.
Twitter: @DisneyPlusUK / @Strange World
Instagram: @DisneyPlusUK / @StrangeWorld
Facebook: @DisneyPlusUK / @StrangeWorldMovie
TikTok: @DisneyPlus
Hashtag: #DisneyPlusUK
ABOUT DISNEY+
Disney+ is the dedicated streaming home for movies and shows from Disney, Pixar, Marvel, Star Wars, and National Geographic, along with The Simpsons and much more. In select international markets, it also includes the general entertainment content brand, Star. The flagship direct-to-consumer streaming service from The Walt Disney Company, Disney+ is part of the Disney Media & Entertainment Distribution segment. The service offers an ever-growing collection of exclusive originals, including feature-length films, documentaries, live-action and animated series, and short-form content. With unprecedented access to Disney's long history of incredible film and television entertainment, Disney+ is also the exclusive streaming home for the newest releases from The Walt Disney Studios. For more, visit disneyplus.com, or find the Disney+ app on most mobile and connected TV devices.
Media Contacts
Disney+ Media Relations
Disney+ Press Office
DisneyPlus.UK.Press.Office@disney.com
Walt Disney Studios Publicity
Lauren Sizer
Lauren.Sizer@disney.com
Rebecca Mader
Rebecca.Mader@disney.com
Alicia Goodison
Alicia.Goodison@disney.com