SAM MENDES' FIRST SOLO SCREENPLAY STARS OLIVIA COLMAN, MICHEAL WARD, COLIN FIRTH, TOBY JONES, CRYSTAL CLARKE AND TANYA MOODIE WITH TOM BROOKE AND HANNAH ONSLOW ALSO JOINING THE CAST
Searchlight Pictures announced the start of principal photography on Sam Mendes' (1917, Skyfall, American Beauty) feature film EMPIRE OF LIGHT, starring Academy Award winner Olivia Colman, Micheal Ward, Academy Award winner Colin Firth, Toby Jones, Crystal Clarke and Tanya Moodie. Tom Brooke and Hannah Onslow join the previously announced cast. Produced by Academy Award nominee Pippa Harris (1917, Call The Midwife, Penny Dreadful) and Mendes under their Neal Street Productions, the film will be released theatrically by Searchlight Pictures.
EMPIRE OF LIGHT is set in and around a beautiful old cinema on the south coast of England in the 1980's. The film will shoot in Margate, England and along the Kent coastline through May.
"I'm really thrilled to be working with so many wonderful collaborators across both cast and crew on such a personal project," said Sam Mendes. "It's a particular thrill to be working for the first time with Olivia Colman, and to be working once again with my long-term collaborator Roger Deakins."
Producer Pippa Harris adds, "We are delighted to be working with Searchlight on EMPIRE OF LIGHT, and couldn't hope for better partners. They have been incredibly collaborative and supportive as we embark on this new venture together."
"This is a dream partnership for us, between the singular Sam Mendes, Pippa Harris, and the outstanding cast led by Olivia, Micheal, and Colin," commented Searchlight Presidents Matthew Greenfield and David Greenbaum. "We're very excited for the road ahead."
Tom Brooke recently starred in "The Crown" for Netflix, BBC/Netflix's "The Bodyguard", "Preacher" for AMC Networks, A24's How to Talk to Girls at Parties and The Death of Stalin for IFC Films. Hannah Onslow is currently starring in BBC/AMC Networks' "This Is Going to Hurt" and was previously in BBC/PBS Masterpiece's "Ridley Road". Brooke is represented by B-Side Management and Management 360, and Onslow by Gordon and French.
The filmmaking team includes longstanding Mendes' collaborators including Academy Award nominated Producer Pippa Harris, Academy Award winning Director of Photography Roger Deakins (1917, Blade Runner 2049, Skyfall, The Shawshank Redemption), who reunites for his fifth collaboration, Academy Award nominated Hair and Make Up Designer Naomi Donne (The Batman, 1917, Skyfall), Academy Award Winning Editor Lee Smith (1917, Dunkirk, Inception, The Dark Knight), Academy Award Winning Sound Mixer Stuart Wilson (1917, Star Wars VII – The Force Awakens, Skyfall) Casting Director Nina Gold (The Power of the Dog, 1917), Executive Producer Michael Lerman (1917, Spectre, Skyfall), Executive Producer Julie Pastor (1917, Informer), and Co-Producer Lola Oliyide (1917, Britannia).
Joining the team are Production Designer Mark Tildesley (No Time To Die, Phantom Thread, In the Heart of the Sea, 28 Days Later), Costume Designer Academy Award winner Alexandra Byrne (Emma, Dr Strange, Guardians of The Galaxy, Mary Queen of Scots, Elizabeth The Golden Age), and Co-Producer Celia Duval (Belfast, A Boy Called Christmas). EMPIRE OF LIGHT is being overseen by Searchlight Pictures' Head of Film Production and Development, Katie Goodson-Thomas, Director of Development and Production, Pete Spencer, and Creative Executive, Cornelia Burleigh.
About the cast:
Olivia Colman - The Lost Daughter, The Favourite, The Crown.
Micheal Ward - Small Axe: Lovers Rock, Top Boy, The Beautiful Game.
Colin Firth - The Staircase, Supernova, 1917, The King's Speech, A Single Man.
Toby Jones - First Cow, Tinker Tailor Soldier Spy,
Tom Brooke - The Crown, The Bodyguard, Preacher, How to Talk to Girls at Parties, The Death of Stalin,
Hannah Onslow - Ridley Road, Call The Midwife, This is Going to Hurt
Tanya Moodie - Motherland, A Discovery of Witches, Star Wars Ep IX – Rise of the Skywalker.
Crystal Clarke - Sanditon, The Electrical Life Of Louis Wain, Ordeal By Innocence.
CAST (FROM LEFT):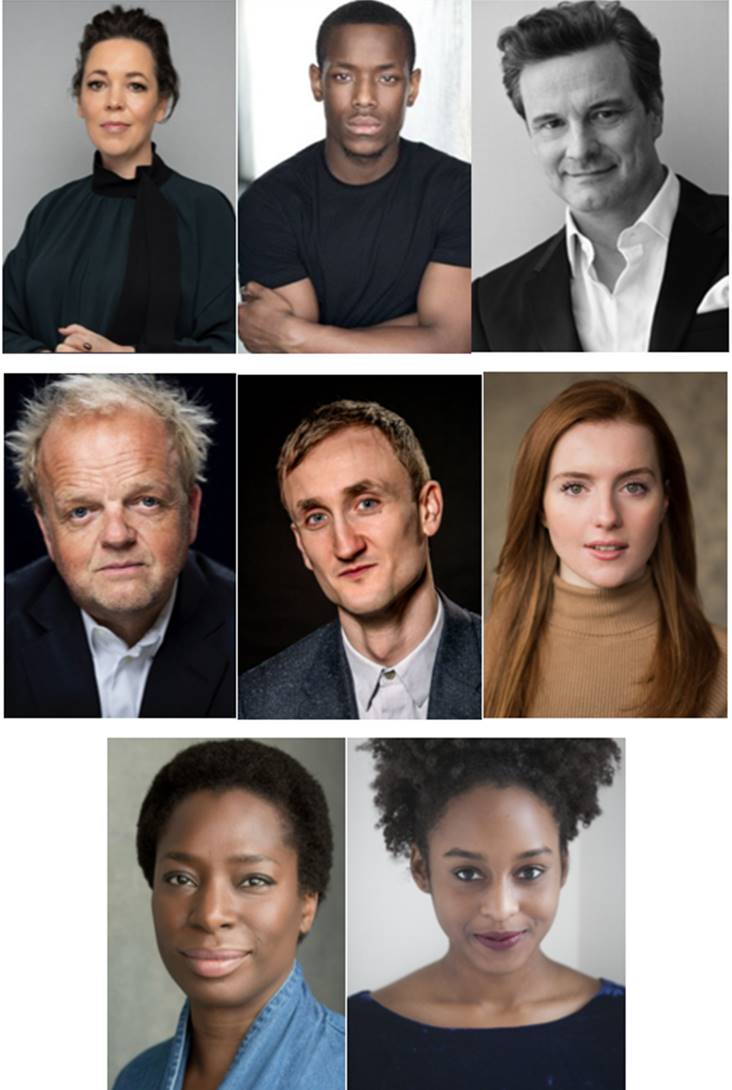 PHOTO CREDITS (FROM LEFT):
Colman: Chris Baker
Ward: Michael Shelford
Firth: Mariano Vivanco
Jones: Andrew Ogilvy
Brooke: Clive Barda
Onslow: Pip
Moodie: Michael Shelford
Clarke: A.P. Wilding
NOTES TO EDITORS:
Sam Mendes and Roger Deakins previous collaborations: Jarhead (2005); Revolutionary Road (2008); Skyfall (2012); 1917 (2019)
ABOUT SEARCHLIGHT PICTURES
Searchlight Pictures is a global specialty film company that develops, produces, finances and acquires motion pictures for both worldwide theatrical and streaming releases. It has its own marketing and distribution operations, and is part of The Walt Disney Studios, a division of The Walt Disney Company. Founded in 1994 as Fox Searchlight Pictures, the company's titles have grossed over $5 billion worldwide, amassing 43 Academy Awards including five Best Picture winners since 2009: Slumdog Millionaire, 12 Years a Slave, Birdman, The Shape of Water, and Nomadland; 49 BAFTA Awards, and 28 Golden Globe Awards. Searchlight recently released Guillermo del Toro's Academy Award nominated Nightmare Alley, Wes Anderson's The French Dispatch, as well as Ahmir "Questlove" Thompson's award-winning and Academy Award nominated documentary feature Summer Of Soul (…Or, When The Revolution Could Not Be Televised) with Hulu and in partnership with Disney's Onyx Collective. Upcoming releases include the Hulu Original Limited Series "The Dropout" from Michael Showalter, Mimi Cave's FRESH, Sophie Hyde's Good Luck to You, Leo Grande, Tom George's See How They Run, Andrew Ahn's Fire Island, Mark Mylod's The Menu, Martin McDonagh's The Banshees of Inisherin, and Sam Mendes' Empire of Light. The company includes Searchlight Television, which develops and produces series for streaming, network, and cable partners.  The company includes Searchlight Television, which develops and produces series for streaming, network, and cable partners. 
ABOUT NEAL STREET PRODUCTIONS
Neal Street Productions is run by Sam Mendes, Pippa Harris, Caro Newling, and Nicolas Brown and has been successfully producing award-winning film, TV and theatre for over 15 years.
Neal Street's diverse film and television slate includes the hugely successful Call the Midwife for the BBC which has recently commissioned series 12 and 13 of the hit show. John Logan's Penny Dreadful and Penny Dreadful: City of Angels for Showtime; the award-winning The Hollow Crown for the BBC; three series of Jez Butterworth's Britannia for Sky/Epix, and the BAFTA-nominated, contemporary thriller Informer for BBC/Amazon. Neal Street's film projects have included Revolutionary Road for Paramount and DreamWorks, Things We Lost in the Fire for DreamWorks, and Jarhead for Universal. More recently, 1917, Neal Street's First World War epic, directed by Sam Mendes and co-written by Sam Mendes and Krysty Wilson-Cairns for Amblin and Universal, starred George MacKay, Dean-Charles Chapman, Mark Strong, Andrew Scott, Richard Madden, Colin Firth and Benedict Cumberbatch. The film won over 100 awards, including 2 Golden Globes for Best Picture and Best Director, 3 Academy Awards for Best Cinematography, VFX and Sound Mixing, and 7 BAFTAs including Best Film, Best British Film and Best Director.
In theatre, recent productions include Jez Butterworth's Olivier and Tony award-winning The Ferryman; The Lehman Trilogy which had sell-out runs in both the West End and on Broadway and will be touring in the US starting in Los Angeles at the Ahmanson Theatre in March 2022; as well as the multi-award winning A Very Expensive Poison written by Lucy Prebble, performed at the Old Vic
Neal Street Productions is an All3Media company, All3Media is owned jointly between Discovery Communications and Liberty Global.
FOR MORE INFORMATION:
SEARCHLIGHT UK PRESS CONTACTS:
Victoria Cox
Edith Thomas