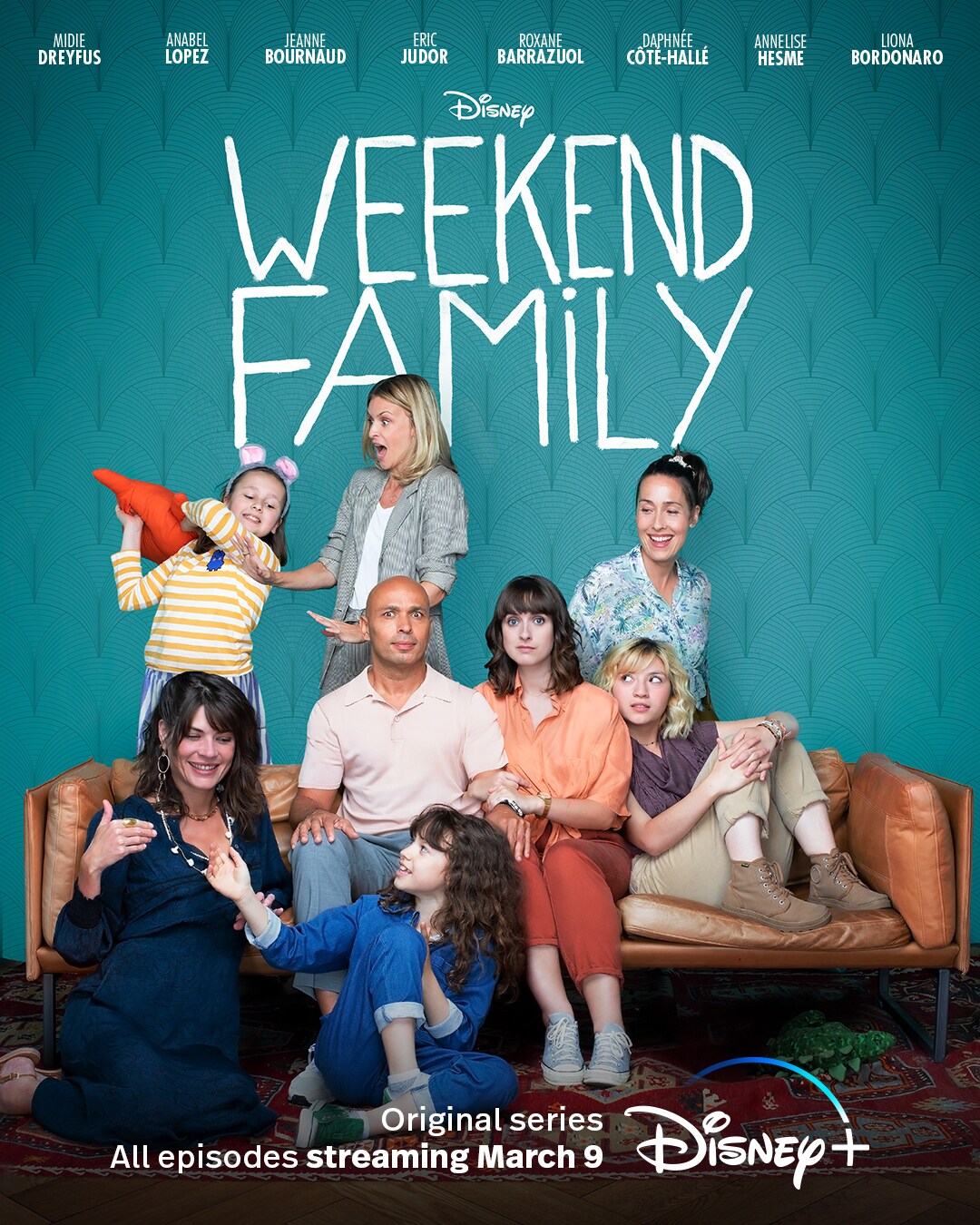 TRAILER: https://youtu.be/0bvgiR5OQHo
EMBED LINK: <iframe width="560" height="315" src="https://www.youtube.com/embed/0bvgiR5OQHo" title="YouTube video player" frameborder="0" allow="accelerometer; autoplay; clipboard-write; encrypted-media; gyroscope; picture-in-picture" allowfullscreen></iframe>
KEY ART: https://dam.gettyimages.com/s/c3vmvkn6xgjqc92cvbxjrzqm
LONDON, UNITED KINGDOM (24 February 2022) – Disney+ announced today that "Weekend Family," the first French Disney+ Original series, will stream all eight episodes exclusively on Disney+ in the UK from 9th March. Disney+ also debuted the official trailer, and key art for the series.
"Weekend Family" follows the exploits of a chaotic, endearing 'super-blended' family. Every weekend, fun-loving Fred (Eric Judor) has custody of his three very different daughters – idealistic Clara (Liona Bordonaro); quirky Victoire (Midie Dreyfus); and demanding Romy (Roxane Barrazuol). This would be complicated enough, but their three mothers (Annelise Hesme, Jeanne Bournaud and Annabel Lopez) and Fred's best friend Stan (Hafid F. Benamar) are always on the scene as well, making the weekends a little bit more frenetic. But Fred has fallen in love again, and he wants to move his girlfriend in with him. Emmanuelle (Daphné Côté Hallé) is a Canadian emigrant with no experience of parenting, and only a half-finished PhD in child psychology. With the support of Fred and the not-so-helpful advice of her best friend, Cora (Sephora Pondi), Emmanuelle will have to put her books and theories aside and find her own way as step-mother to this crazy weekend family.
The eight-episode family comedy is directed by Pierre-François Martin-Laval ("Gaston Lagaffe", "Serial Teachers", "Fahim") and Sophie Reine ("Cigarettes et Chocolat Chaud").
Baptiste Filleul is the show's creator. Head writers are Géraldine de Margerie and Nour Ben Salem. Sandra Ouaiss, Dorothée Woillez and Nathalie Majdar of Elephant are producing for Disney+.
Twitter: @DisneyPlusUK
Instagram: @DisneyPlusUK
Facebook: @DisneyPlusUK
Hashtag: #WeekendFamily
PRESS CONTACTS:
Disney+ UK Media Relations
Lauren Goddard
Kirsty Howell
About Disney+
Disney+ is the dedicated streaming home for movies and shows from Disney, Pixar, Marvel, Star Wars, and National Geographic, along with The Simpsons and much more. In select international markets, it also includes the new general entertainment content brand, Star. The flagship direct-to-consumer streaming service from The Walt Disney Company, Disney+ is part of the Disney Media & Entertainment Distribution segment. The service offers commercial-free streaming alongside an ever-growing collection of exclusive originals, including feature-length films, documentaries, live-action and animated series, and short-form content. With unprecedented access to Disney's long history of incredible film and television entertainment, Disney+ is also the exclusive streaming home for the newest releases from The Walt Disney Studios. And through Star, it offers the latest from 20th Century Studios, Disney Television Studios, FX, Searchlight Pictures, and more. For more, visit disneyplus.com, or find the Disney+ app on most mobile and connected TV devices.