Tracee Ellis Ross Narrates Six-Part Series, 
Streaming on August 18th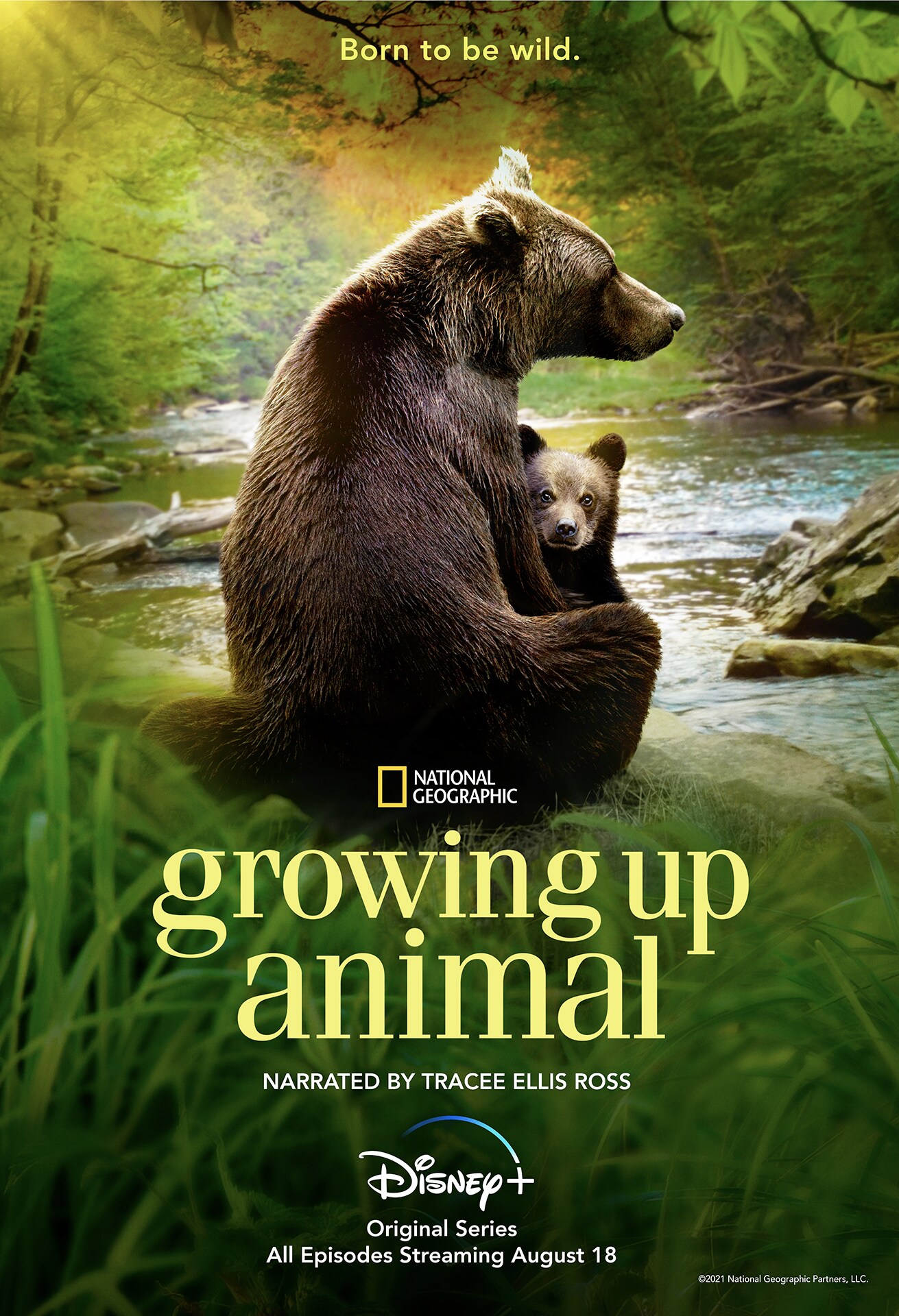 Today, Disney+ shared the official trailer and key art of the newest arrival, "Growing Up Animal," a six-part Original Series from National Geographic, streaming on August 18th on Disney+. The series, narrated by Emmy-nominated star of "black-ish," producer and CEO Tracee Ellis Ross, follows animal mothers and babies from the womb to the outside world as they face the triumphs and trials of nature. Each hour-long episode is an intimate look into the birth of a different iconic animal: grizzlies, sea lions, elephants, African wild dogs, chimpanzees and lions. All six episodes will be available to stream on the premiere day.

TRAILER: https://youtu.be/mp95CANoJI8
EMBED: <iframe width="560" height="315" src="https://www.youtube.com/embed/mp95CANoJI8"title="YouTube video player" frameborder="0" allow="accelerometer; autoplay; clipboard-write; encrypted-media; gyroscope; picture-in-picture" allowfullscreen></iframe>
KEY ART AND MEDIA KIT: https://dmedmedia.disney.com/disney-plus/growing-up-animal
"'Growing Up Animal' gives an incredible up-close glimpse into the world of animal mothers and babies," said narrator Tracee Ellis Ross. "From the early stages of pregnancy to their adorable first helpless moments in the big, wide world, it is remarkable to see how each animal's unique instincts and adaptations help them endure the harsh realities of their environment."
The six-episode series is an in-depth examination, using unique technology to allow viewers to experience first-hand what these mothers and babies endure during the path to new life. As each episode follows the pregnant mother's journey, scientifically accurate in utero baby animal silicone models are used to portray the miracles happening within the womb. These scenes depict a realistic view of the animals at various stages in fetal development. Animal researchers and world-renowned scientists gathered the data and scans to make these models as accurate and life-like as possible, especially for the series.
"Growing Up Animal" is produced by Wall to Wall Media for National Geographic. For Wall to Wall Media, executive producers are Jeremy Dear and Dominic Weston. For National Geographic, executive producer is Pamela Caragol; senior vice president of unscripted development and production is Janet Han Vissering.
@DisneyPlusUK
#DisneyPlusUK
About Disney+
Disney+ is the dedicated streaming home for movies and shows from Disney, Pixar, Marvel, Star Wars, and National Geographic, along with The Simpsons and much more. In select international markets, it also includes the new general entertainment content brand, Star. The flagship direct-to-consumer streaming service from The Walt Disney Company, Disney+ is part of the Disney Media & Entertainment Distribution segment. The service offers commercial-free streaming alongside an ever-growing collection of exclusive originals, including feature-length films, documentaries, live-action and animated series, and short-form content. With unprecedented access to Disney's long history of incredible film and television entertainment, Disney+ is also the exclusive streaming home for the newest releases from The Walt Disney Studios. And through Star, it offers the latest from 20th Century Studios, Disney Television Studios, FX, Searchlight Pictures, and more. For more, visit disneyplus.com, or find the Disney+ app on most mobile and connected TV devices.
About National Geographic Partners LLC:
National Geographic Partners LLC (NGP), a joint venture between the National Geographic Society and Disney, is committed to bringing the world premium science, adventure and exploration content across an unrivaled portfolio of media assets. NGP combines the global National Geographic television channels (National Geographic Channel, Nat Geo WILD, Nat Geo MUNDO, Nat Geo PEOPLE) with National Geographic's media and consumer-oriented assets, including National Geographic magazines; National Geographic studios; related digital and social media platforms; books; maps; children's media; and ancillary activities that include travel, global experiences and events, archival sales, licensing and e-commerce businesses. Furthering knowledge and understanding of our world has been the core purpose of National Geographic for 132 years, and now we are committed to going deeper, pushing boundaries, going further for our consumers … and reaching millions of people around the world in 172 countries and 43 languages every month as we do it. NGP returns 27 percent of our proceeds to the nonprofit National Geographic Society to fund work in the areas of science, exploration, conservation and education. For more information visit natgeotv.com or nationalgeographic.com, or find us on Facebook, Twitter, Instagram, Google+, YouTube, LinkedIn and Pinterest.
Media Contacts:
Disney+:
Jess Maciver
National Geographic:
Nadia Aziz